Summary:
See what makes Adam Killian a true Falcon Legend! The Best Of Adam Killian gives you eight scorching hot, full-length scenes from some of Falcon's greatest titles of all time that makes this collection a must own.
Description / Review:

Scene 01: Best Men, Part 2 - The Wedding Party
Cast: Zeb Atlas and Adam Killian
Adam Killian is best man at a wedding guests when he finds Zeb Atlas in the shower. The cameraman shoots the muscleman soaping up, the suds sliding off his brawny arms and chest, luscious ass, monstrous pecs and abs. Zeb's killer smile soon gets Adam naked and in the shower, thrilled to be sucking cock. Zeb fucks Adam every which way, each thrust making him moan with pleasure. The action is so intense that when Adam shoots his load, he almost falls over.
Scene 2: The Trainer
Cast: Ty Colt, Leo Giamani, and Adam Killian
Ty Colt knows how fierce his physique is so it comes as no surprise when Adam Killian asks to photograph him. When Leo Giamani - an equally impressive paragon of male pulchritude joins the modeling session, things heat up and when Adam jumps in, it's a bonafide symposium of the gods. As the action proceeds, it's Adam's oral skills that drive Ty and Leo crazy. He is downing their cocks deep inside his throat and then he is up their asses with his tongue. A 3-man daisy-chain follows with Ty inside Leo inside Adam. Then Leo screws Adam from behind while he works Ty over, sucking his cock and rimming his ass. The models trade places but Adam doesn't care; he's still getting it from both ends and loving every moment. With Ty still inside him, Adam beats himself off and cums in gooey gobs. Leo follows suit blasting Adam's chest with his spooge, and Ty finishes just as strong.
Scene 3: Morning Wood
Cast: Adam Killian, Derrek Diamond, and Trent Davis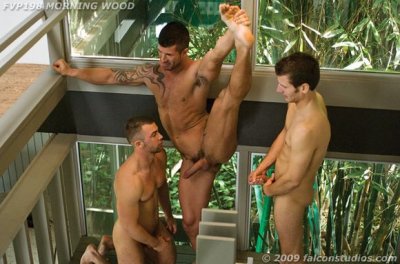 Out on their morning jog, Derrek Diamond and Trent Davis come upon a stranded biker - Adam Killian - sidelined with a flat tyre and no help in sight. Trent suggests they all head home to repair the bike and Adam agrees. But all the strenuous exercising - the running, the biking - has them hot, bothered and dying to work off the bridled energy. Derrek and Trent are the perfect hosts and treat the tattooed hunk to more than just a two-man blowjob and ass rimming. After exploring the mountainside on their snowmobiles, Adam Killian and Tony Buff stop to enjoy the view and catch their breath. From landscape to the form of their partner, both men are exhilarated by the view - anxious and ready unveil their own glory in the natural splendour. Waiting to see who'll fly into his airspace, Samuel Colt tweaks his tits and plays with his cock and balls. His dick shaft is pierced on the underside, just below the mushroom tip, with a sizeable hole from his Prince Albert. Superstud Adam Killian is smitten and can't keep his eyes, hands or mouth off of the big man. All that tongue travelling and fevered deep-throating excite both men and generate more play with Samuel giving as good as he gets. With over two hours of the hot and hung Adam Killian - can you resist?
Scene 04: Snap Shot
Cast: Adam Killian and Gavin Waters
Gavin Waters and Adam Killian tear into each other like wild dogs, kissing and grabbing in an aggressively playful manner. Then Gavin opens wide to swallow and savor Adam's stiff cock. They find a sofa to nest in and Adam starts nursing on Gavin's uncut cock. Then he munches his friend's pink butt hole, licking it clean with spit. Adam upends Gavin so the blond stud's butt is smack in his face and he resumes rimming. Even upside down, Gavin can lean in and suck his assailant's cock. Wanting more, the tattooed stud screws Gavin up the ass. He continues pumping hard, even as Gavin manages to cram a dildo up his ass. The men work up a sweat as Gavin rides Adam's cock until he finally busts his nut. Then he lovingly and orally facilitates his man's explosive follow-up.
Scene 05: The Other Side Of Aspen 6
Cast: Adam Killian and Tony Buff
After exploring the mountainside on their snowmobiles, Adam Killian and Tony Buff stop to enjoy the view and catch their breath. From landscape to the form of ...
Scene 06: Rhodes Rules
Cast: Samuel Colt and Adam Killian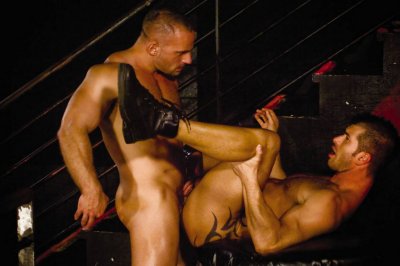 Samuel Colt sits in plain view for everyone to watch as he strokes his stiff staff and plays with his balls. He's an undeniable force to be reckoned with, inviting any worthy takers to go a round with him; but no wimps need apply. And so, like a moth to a flame, super stud Adam Killian glides into Samuel's aura and attacks the big man's big cock with his open mouth. Sloppy slurping and heavy deep throating action have both suckee and sucker enthralled and lost in a macho man dream. Samuel soon takes his turn working on his new friend's dick, clamping his lips tight around the shaft and sucking it down. He finger-fucks Adam's manhole then dives face first in between his cheeks so he can rim his ass, lubing it up for the fucking he's got planned. Samuel exerts total domination over his partner as he pile drives his hot rod in and out with fierce punches until he makes Adam cum. Then lying back in Adam's arms, he jerks himself off and shoots gobs of cum. The messier the better.
Scene 07: From: Snap Shot
Adam Killian, Landon Conrad, and Jayden Grey
Jayden Grey continues his investigative meandering until he's surprised by Adam Killian and abducted. The ruffian drags the frightened photographer to his waiting partner-in-crime, Landon Conrad. Adam force feeds his stiff dick into Jayden's mouth while Landon snaps away, filming the young shutterbug's humiliation. But Jayden manages to cope and soon he's got both their cocks down his throat without any resistance. The lusty threesome move and groove into different combinations sucking cock and eating ass, with the young interloper getting worked over and roughened up. Adam and Landon stuff their meat poles into Jayden at both ends. Then they ratchet up the action by simultaneously cramming both their dicks into Jayden's ass. Its sheer pleasure despite the pain and Jayden screams his surrender. Adam then lies down. He nibbles Jayden's dick while Landon fucks him and one after the other they all climax and cum.
Scene 08: Fahrenheit
Cast: Adam Killian and Lucas Young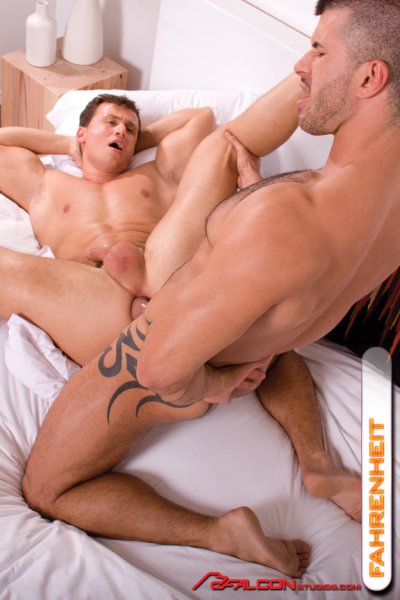 Adam Killian and Lucas Young can't stop smiling as they clutch each other playing grab ass. Adam pulls Lucas' butt cheeks apart to expose his hole, then slaps and jiggles the twin mounds as he pokes a finger inside. "Assmaster" Adam goes to town licking, prodding and jamming a couple of fingers inside his boy toy's booty. He reaches between Lucas' legs and pulls his dick back to suck on it before burying his snout back inside the asscrack. Then with his crazy strength, Adam stands dragging Lucas up with him so they're 69ing vertically. He continues eating ass while Lucas is upended sucking cock. Then they fall back on the bed with Lucas' mouth still clamped onto Adam's cock. Mounting Adam, Lucas skewers himself onto his cock and bobs up and down, loudly vocalizing with every bounce. They twist into different positions with Adam fucking Lucas and their groans grow louder. Adam finally pulls out and shoots his wad all over, and Lucas is quick to respond with his own milky explosion.