Summary:
See what makes Pierre Fitch a true Falcon Legend! Eight scorching hot, full-length scenes from some of Falcon's greatest titles of all time make this collection a must own.
Description / Review:
Scene 1 from Born To Be Bad
Cast: Bobby Williams and Pierre Fitch
Bobby Williams fucks around with buddy, Falcon Exclusive Pierre Fitch, while watching porn together.
Scene 02: from Through The Woods
Cast: DC Chandler and Pierre Fitch
Before leaving for his trek to Grandma's house, Pierre must take a deep-dicking from his well-endowed roommate D.C. Chandler.
Scene 03: From Long Shot...Making The Game
Cast: Chad Knight, Filippo Romano and Pierre Fitch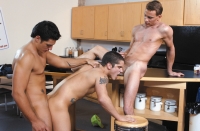 Barrett Long listens (non-sexual role) as hunky teacher Chad Knight interrupts Pierre Fitch and Filippo Romano in the Home Ec kitchen...they've dropped their spoons in order to take a taste of something else. The two hungry boys are eager to get a few pointers from Chad as the tenderize their meat. Chad works himself into the mix...savoring both his students cocks and letting them get a good fill of his own. As Pierre slurps on Chad's cock, Filippo takes Pierre from behind...pumping his cock deep in Pierre's hungry hole. Chad needs a piece of that ass and Pierre is eager to please...sitting down on Chad's stiff cock and riding it hard. The lesson in Home Ec ends with each stud contributing to a thick white layer of appetizing frosting.
Scene 04: From Through The Woods
Cast: Tristan Adonis and Pierre Fitch
Pierre Fitch jumps out of Mr. Wolf's car and runs into Tristan Adonis, who offers him a ride. Instead of giving him a ride with his car, Tristan gives Pierre's bubble butt the ride of its life.
Scene 05: from Spokes III
Featuring Tyler Marks, Derrick Vinyard, Justin Wells, Dakota Rivers, Jeremy Hall, Pierre Fitch ad Ralph Woods
With the initiation coming up, Mason Wyler can't stay away from the barn. His buddy, Ross Stuart is there too, but it turns out he's already part of the gang. That leaves Mason as the new recruit and he's gotta take on the entire club, one member at a time, making for the most explosive gangbang ever caught on film. It's Mason's ass versus all eight members of the gang. Will he make it? Better yet, will he even survive? Featuring Tyler Marks, Derrick Vinyard, Justin Wells, Dakota Rivers, Jeremy Hall, Pierre Fitch ad Ralph Woods.
Scene 06: From Through The Woods
Featuring Gus Mattox and Pierre Fitch
When he finally arrives at Grandma's house, Pierre Fitch finds she's been replaced by Mr. Wolf (Gus Mattox). Gus finally gets a crack at Pierre's legendary ass in the spectacular finale to this "Little Red Riding Hood" tale.

Scene 07: From Big Dick Club
Featuring Brad Star and Pierre Fitch
Brad Star gets the action started by fucking Pierre Fitch. So turned on by his amazing cock, Brad sits on it. As Pierre pile-drives his virgin ass, he literally fucks the cum out of him.
Scene 08 From the Falcon Alone With Series
Featuring Pierre Fitch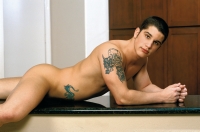 Pierre Fitch reveals himself in an interview and jacks off for the camera.