Description / Review:
Join Superstar Zak Spears as he works his way through seven hot and hairy men including favorites Danny Vox, Thom Barron, Filippo Romano, and Chet Roberts only to meet his match in Exclusive Brad Patton. Each extended scene in this two-hour journey through a dark and sultry world of leather, jockstraps, and animal abandon will satisfy your deepest sexual hunger.
If you're into rough and demanding sex, Zak Attack will send you into a sexual frenzy you'll want to experience over and over again.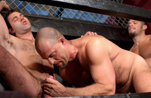 Scene 1: Danny Vox and Mario Ortiz start the action off with a sizzling session of jock-sniffing, rimming and cock-sucking. Zak Spears watches from a distance and is drawn into Danny and Mario's lusty games. The action intensifies and each man spurs the others into a frenzy of sexual indulgence.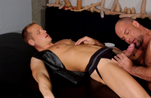 Scene 2: Experience an intense session of sucking, fucking, and ass-play featuring Zak Spears and returning Falcon man Thom Barron. These two talented players get down to some serious sexual play and Zak knows just what it takes to satisfy Thom's hungry and eager desire.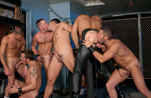 Scene 3: Enjoy a steamy group effort featuring the combined skills of Mario Ortiz, Chet Roberts, Filippo Romano, Joshua Adams, and newcomer Daxx Reed. These guys know what they want and waste no time getting down to the business of sexual collaboration. When Zak wanders by, he can't resist the urge to join the crowd and the ensuing series of sexual accomplishments will leave you breathless.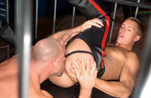 Scene 4: Witness the incredibly hung Brad Patton's first amazing leather scene as he submits Zak's greedy affections and expert skills. The erotic interplay is intense as these demanding studs work themselves to the edge of satiation and into release.