Summary:
The world's hottest poolside sex series continues when a new cast of muscular hung hunks take over a Palm Springs resort in Trunks 8! Director Christian Owen brings you more oiled up bodybuilders with big juicy bubble-butts and giant throbbing cocks bursting out of their speedos in nonstop scorching hot action. Covermen Jimmy and Luke lead this cast of heat-stroking hunks. Grab your trunks and join the party!

Description / Review:

Scene 1: Jimmy Durano and Jake Wilder
Jake Wilder stops by the pool and finds Jimmy Durano soaking up some rays poolside. He asks the tan Brazilian stud for some service and before you know it, Jimmy pulls his long beautiful cock out of his trunks and begins to slobber up and down on it. The two super-buff studs decide the heat's too much so they get in the water. Jimmy's big uncut tool pops out and Jake quickly gobbles it up, struggling to fit the fat rod in his mouth. Jake's blow job gets Jimmy worked up for more so be puts Jake on his knees and begins to drill his beefy white butt. Jake's big dick and balls hang down and swing to the beat of Jimmy's thrusts. Jake begs for a load and Jimmy pulls out to oblige, shooting a thick glaze all over Jake's sweaty chest right before Jake adds his to his stomach.
Scene 2: Donnie Dean, Luke Adams and Jake Wilder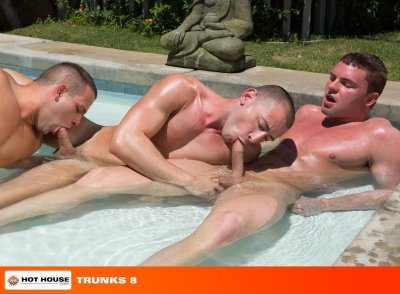 Donnie Dean and Luke Adams miss their fuck-buddy Jake Wilder so they crash the gate at Jake's sugar daddy's estate and cannonball into his swimming pool. Jake tries to reprimand them but there's no way he can resist the two horny little studs' invitation for a hot three-way. He dives into the pool and kicks back in the shallow end so Donnie and Luke can worship his sun-drenched body. Luke and Jake kiss while Donnie massages the growing bulge in Jake's trunks. As soon as Donnie whips out Jake's hard cock both he and Luke take turns sucking the huge meat. Luke turns his attention to Donnie's big round ass then flips him over so that he can suck Donnie's dick while Donnie sucks Jake. The cock-sucking train continues until Jake decides to move the action poolside. He stretches out with his giant cock in the air and orders Donnie to sit on it. The sight of Donnie being fucked with his hard cock flopping around drives Luke wild. He grabs Donnie's dick and sits down on it, creating an unbelievably hot three-way reverse cowboy. The young ripped hunks bounce up and down on each other's cocks until all three blow their loads.
Scene 3: David Benjamin and Mitch Vaughan
David Benjamin discovers his neighbours having a three-way and goes over to share some hot photos he took with his fuck buddy Mitch Vaughn. Mitch turns his attention from the nasty pictures to David and pulls him into the water so they can worship each other's muscular bodies. David pulls Mitch's hard-on out of his trunks and swallows the rock-hard monster all the way to Vaughn's huge nuts. David's dick needs some attention so he hops out of the pool and fucks Mitch's face hard before bending over and spreading his perfectly smooth ass cheeks for Vaughn's thick cock. Vaughn straddles Benjamin and plows him deep. The two chiseled hunks move over to the grass so David can ride Mitch until he pulls out and showers Benjamin's ass with cum. Ready to explode, Benjamin stands over Vaughn and pulls on his cock until he shoots his load all over Mitch's giant chest and washboard abs.
Scene 4: Fabie Stallone and Sean Duran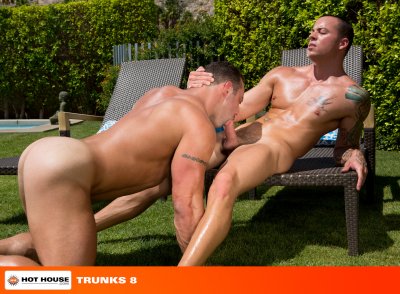 Fabio Stallone has been hired to erase some incriminating footage of a three-way that was captured by security cameras the day before. Sean Duran sees Stallone and decides to go out to clean the pool in hopes of getting a closer look at the bulge growing in the muscular stud's trunks. As soon as Stallone comes down off the ladder he whips out his giant uncut anteater and shoves it down Duran's hungry throat. Duran makes a pig of himself on Fabio's huge cock then kicks back on a lawn chair so Fabio can return the favor. Stallone sucks Sean's rock hard dick and licks his sweaty bubble-butt but it's not long before he flips him over to fuck his ass. Fabio thrusts his mammoth meat deep in Sean's hole and pounds him mercilessly under the blazing sun. Stallone and Duran move over to the grass where Sean gets on all fours and opens his hole wide for more hardcore ass pounding. Fabio slams Duran's ass then pulls out and shoots his load all over the tanned hunk. Duran rolls over and jerks a load out of his own thick dick while Fabio continues to beat his still-hard meat. Looks like he's ready for more!