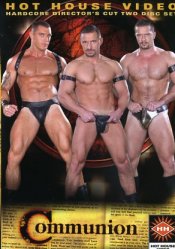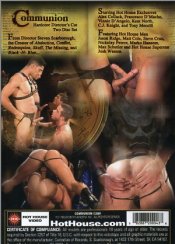 Summary:
From Director Steven Scarborough, The Creator of the Abduction Series, Skuff Trilogy, The Missing, and Black -N- Blue, comes Communion, a new chapter in leather. Scarborough's at the top of his film-making game here, with six chapters of devilish inspiration sure to break you free from the bondage of plebeian thinking. Commence the rites of Communion with 13 members of the Hot House Brethren. Hot House Exclusives Alex Collack, Francesco D'Macho, and Vinnie D'Angelo compel you to dress in the vestments of leather and comply with the sacred rituals divined in this Hardcore Director's Cut. This two disc set features a shocking hardcore bonus scene initiating Josh Weston in a life-changing ritual of manhood never before seen in his expansive career. New York legend DJ Little Rock also spins magic in the air with sexy beats and incantations. Reach out your hands and join in the circle of orgasmic communion. Come together...
Description / Review:
Scene 1: C.J. Knight, Marko Hansom, Max Schutler, Nickolay Petrov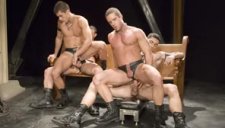 Subservient cock worshipers C.J. Knight and Max Schutler are on their knees before horse-hung masters Nickolay Petrov and Marko Hansom. The tops remove their leather cod pieces to reveal enormous erections that the eager suck monsters greedily suck to the base. Petrov and Hansom direct their sex slaves to please each other, pushing Schutler's face deep into Knight's bubble-butt. With Knight's asshole lubed in spit, Petrov steps up to shove his massive tool deep into the twitching hole. Schutler sucks Knights cock while Petrov pounds his ass. Petrov surrenders Knight's hole to Hansom and turns his attention to Schulter. Next the two tops order Schutler and Knight to sit down on their rock hard cocks. They push themselves up and down, fucking themselves with their partners' ramrods. Schutler thrusts himself down onto Hansom's cock and furiously jacks off, blowing his load and eating it off his own hand. Knight is next, leaving a puddle of thick white cum on the floor beneath him. The tops finally blow, shooting streams of hot spew on the two spent studs below.
Scene 2: Francesco D'Macho, Jason Ridge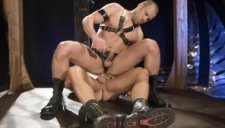 Chiseled, tattooed hunk Francesco D'Macho and leather top stud Jason Ridge face off in a test of will. D'Macho grants Ridge permission to suck his fat, uncut cock, then requests to suck Ridge's hard tool. Ridge pumps his face, then stands up and offers his puckered hole to D'Macho, who services him well. Now that his hole is wet, Ridge is ready for action. D'Macho complies, producing a huge dildo and shoving it deep into Ridge's hole. After teasing Ridge with the fake cock, D'Macho throws him down and gives him the real thing, power-fucking Ridge's round ass. Next it's D'Macho's turn. Ridge flips him over and shows him who's boss, rolling him over on his back and shoving his hard cock deep into D'Macho's perfect ass. Just when you think it's over, Ridge surprises D'Macho by sitting down and riding him again. Now on their knees, both men stroke their cocks over the black dildo. Ridge covers it with his own cum and sits down on it, taking it to the base. D'Macho shoots his load on Ridge's face and licks off the thick glop of salty seed.
Scene 3: Matt Cole, Steve Cruz, Vinnie D'Angelo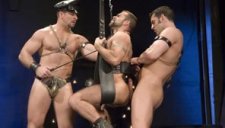 Iron-clad top stud Vinnie D'Angelo cracks the whip, breaking the strong-willed Steve Cruz with the help of big-dicked stud Matt Cole. Cruz hangs from the ceiling in a customized swing, allowing his hard cock and hairy hole to be easily played with. D'Angelo takes a riding crop and whips Cruz while Cole eats his ass. D'Angelo puts Cruz to the test, making him beg for Cole's monster meat. Cole eagerly obeys, shoving his cock up Cruz's ass and pulling him back and forth in the swing. Watching the two men proves to be too much for D'Angelo who shoves his own fat cock deep inside Cruz. D'Angelo treats Cruz like a weight training bag, each thrust of his cock like a punch to his hungry hole. Now released from the swing, Cruz devours D'Angelo's cock like crazy. Cole returns to fuck Cruz again then rolls over and offers his ass to D'Angelo. Finally Cole and Cruz shoot their loads all over D'Angelo's boots who showers his own load on them both.
Scene 4: Francesco D'Macho, Tony Mecelli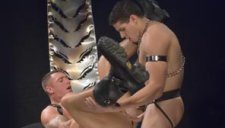 Francesco D'Macho and Tony Mecelli enter the muscle arena to show off and worship each other's bodies. D'Macho is first on his knees, deep-throating Mecelli's massive tool. Mecelli then goes down on D'Macho, taking every inch of his long, uncut cock. Dominant Mecelli puts D'Macho on his back and thrusts him to choke on his extra-long cock. D'Macho gags and nearly suffocates as Mecelli shoves his snake deep down his throat. Without warning, Mecelli steps around and fucks D'Macho's hole. The two spit at each other and egg each other on. Mecelli pulls out and both men shoot, leaving D'Macho covered in spew.
Scene 5: Alex Collack, Josh Weston, Kent North, Vinnie D'Angelo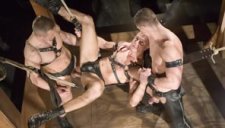 Alex Collack, Kent North and Josh Weston stand with their hands shackled overhead and at the mercy of Vinnie D'Angelo. D'Angelo frees Weston and North and puts them at the base of the altar where they are driven to service Collack. North and Weston take turns swallowing Collack's thick, uncut meat. North moves behind Weston for some serious butt play and rimming, driving Weston wild while he sucks off Collack. Now that Weston's hole is primed, North stands up and drives his huge tool deep inside. Collack and North spin Weston around like their own private sex toy, taking turns on his puckered hole. Greedy sex pig North secures the sling and lays back so Collack can suck his hole. Collack stands up and shoves his rod deep into North's spit-covered hole. Weston takes over, fucking North with his formidable cock, pumping him mercilessly while Collack prepares three dildos. Weston and Collack each sit on one and ream North's gaping hole with the third. Eventually Weston is back on his knees and receives a cum bath from his fellow hedonists.
Scene 6: Alex Collack, Josh Weston, Kent North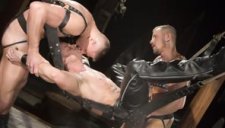 The insatiable threesome from Chapter 5 return, this time ready to take Superstar Josh Weston to new levels of pleasure. For the first time ever on film, Weston opens his hole to the probing fists of his co-stars. Collack begins by working Weston's hole with his fingers, working his way up to his wrist. Weston's cries of ecstasy grow as Collack pushes his forearm deeper into his hole. Collack offers Weston his hand to bite as the emotions and sensations of being fisted surge through Weston's body. Collack pries Weston's hole open so Weston himself can shove his hand inside. What follows is an unbelievable rite of manhood. North once again proves he is the greediest hole in the business as he stands over Collack and Weston, lowering himself onto their fists. At first the two men take turns until North reaches down and entwines both arms together. North's hole opens and takes both hands in at once. Finally Weston returns to his place between the men, riding a dildo as all three men shoot their loads.
Additional Information
Categories: UK R18 / XXX Gay Adult,
Running Time: 180 mins, Year: 2007
Price: Around £29*
Starring: Francesco D'Macho, Alex Collack, Vinnie D'Angelo, C.J. Knight, Jason Ridge, Josh Weston, Kent North, Marko Hansom, Matt Cole, Max Schutler, Nickolay Petrov, Steve Cruz, Tony Mecelli
Director: Steven Scarborough
Studio: Hot House
Buy Gay DVDs online at: Simply-Adult, Homoactive, Radvideo (USA) & TLAVideo (USA)
Download and Streaming: Hot House, See also: www.gayvod.co.uk
Homoactive Downloads: Hot House Video
Member site: Click here to visit Hothouse.com
Country: USA, Language: English
Additional info: No Regional Coding