Summary:
In the world of luxury real estate, houses and condos aren't all that's 'On the Market,' because these cocky realtors will do anything it takes to close a deal! Award winning director Tony Dimarco takes you inside a competitive real estate office where the horny agents never stop cruising for high-priced listings and high-intensity hookups. Wesley Woods takes a break from consulting his client to dominate muscled delivery man Johnny V, indulging in deep oral and heavy man-ramming. Dive into the fast-paced world of high-stakes real estate, where luxury, glamour, and sexual conquest are all 'On the Market.'
Scene 1: Johnny V, Wesley Woods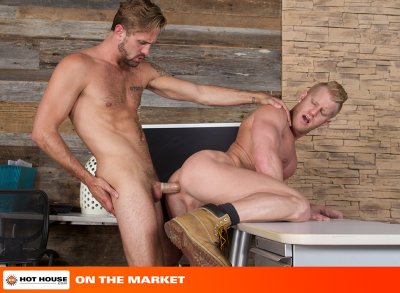 It takes balls to negotiate a good deal, and confident, muscled hunk Wesley Woods has some of the biggest balls around. As Wesley counsels his client on the phone, Johnny V enters the office with a special delivery, but the only package that Wesley cares about is the one between his legs. Guiding Johnny's hand to his hard cock, Wesley unleashes his thick meat to get sucked. Johnny works Wesley's cock from tip to base, also sucking on his huge nuts. Wesley pushes down on Johnny's neck, urging the stud to swallow even deeper. Stripping off his shirt and shorts, Johnny reveals his perfect bodybuilder physique: bulging pecs, thick arms, washboard abs, and a firm ass. Wesley slobbers on Johnny's cock, slicking up the shaft all the way down to Johnny's ginger bush. Putting a leg up on the desk, Johnny presents himself for rimming, and Wesley dives in. Saliva rolls down Johnny's crack as Wesley licks and fingers the tight pink center. Wesley slaps his cock against Johnny's ass before thrusting inside, and Johnny submits control. With his big nuts slapping against Johnny's ass, Wesley cockily dominates the ripped muscle stud. Johnny flips on his back and jerks his cock as Wesley fucks him, spewing his semen all over his rippling stomach. With his balls drained, Johnny sinks to his knees and opens his mouth to catch Wesley's massive load: thick ropes of pearly white cum that splatter across Johnny's lips and dribble off his chin. Now that Wesley's package has been serviced, he's ready for his next conquest!
Scene 2: Austin Wolf, Dustin Holloway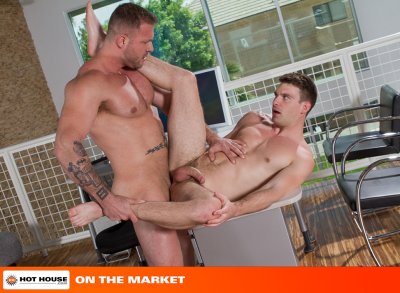 Junior agent Dustin Holloway gets called up the stairs to his boss' office. Austin Wolf is an intimidatingly handsome power broker, and Dustin is a bit nervous about making a good impression. Fortunately, Austin is happy to give Dustin a way to impress him. As Dustin sits in the office chair, Austin undoes his belt and pulls out his monster cock. While Dustin wraps his lips around Austin's tool, Austin unbuttons his dress shirt, revealing massive arms, bulging pecs, and plenty of tattoos. Dustin moves up on to the desk so that Austin can return the oral favor, sucking Dustin's cock and tugging on his low-hanging balls. Throwing his leg over Austin's muscled shoulder, Dustin presents his ass for a rim job. After licking Dustin's hole, Austin probes the tight entry with a finger and massages Dustin's prostate. Dustin turns over and assumes the doggy style position. Teasing Dustin's ass with the tip of his cock, Austin finally thrusts inside with powerful strokes. Dustin's firm ass wraps around Austin's girthy cock as he slides in and out. Leaning back on a chair, Austin points his cock at the ceiling, and Dustin climbs on for a ride. As Austin thrusts up from below, Dustin uses his powerful legs to fuck himself on Austin's hard, pumping meat. Jumping back up on the desk, Dustin takes Austin's cock missionary style and strokes himself until he cums on his treasure trail. Pulling out, Austin jerks out his load on Dustin's stomach and leans in for a closing kiss.
Scene 3: Wesley Woods, Skippy Baxter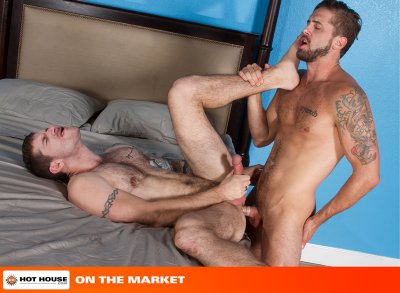 Power realtor Wesley Woods shows off the amenities of a new home to his client, Australian hunk Skippy Baxter. Reaching the bedroom, Skippy let's Wesley know that he's interested -- interested in going down on Wesley's fat cock. Eagerly, Wesley drops his trousers and shoves his girthy boner down Skippy's throat. They unbutton their shirts, revealing ripped torsos dusted with hair. Skippy jumps up on the bed in doggy style position and spreads his cheeks for Wesley to deliver a deep tongue bath. Probing Skippy's ass with a finger, Wesley's cock throbs as he prepares for penetration. Mounting Skippy from behind, Wesley pounds his ass with mighty thrusts, and his fat balls slap against Skippy's taint. They change positions with Wesley on his back and Skippy riding Wesley's cock. Transitioning to missionary position, Skippy hooks a leg over Wesley's shoulder and enjoys the deep penetration of Wesley's stiff dick. As Wesley pounds away, Skippy jerks himself off until his cum explodes in pearly drops all over his hairy abs. Kneeling above Skippy's face, Wesley unleashes a thick white load that smother's Skippy's chin.
Scene 4: Tegan Zayne, JJ Knight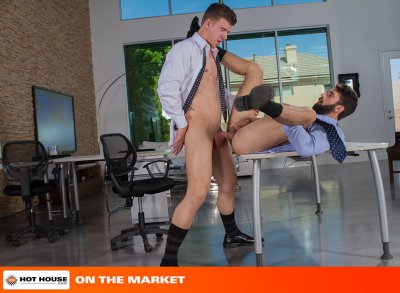 Eager assistant Tegan Zayne is in the office trying to figure out how to complete a short sale, JJ Knight comes over to help him resolve the tricky issue. When they solve that problem, they move on to a harder challenge for Tegan: servicing JJ's massive, throbbing cock, but Tegan is up for the task. Undoing his fly, JJ unleashes his enormous slab of meat, and Tegan stretches his mouth around its incredible girth. Tegan tongues the giant head and uses his hands to stroke the hefty shaft. JJ's heavy balls hang low and swing back and forth as he fucks Tegan's scruffy face. Pulling down his pants, Tegan exposes his exceptionally furry ass for JJ to rim. With great enthusiasm, JJ dives in tongue first, lubing Tegan's hole with plenty of spit. Leaning back in his chair, JJ invites Tegan to sit down on his thick fuck stick. Tegan's own cock bounces in the air as he rides JJ's tool. Laying back on the office desk, Tegan gets pummeled missionary style, and JJ ramps up the power of his thrusting. With so many inches inside him, Tegan gets closer and closer to the edge. Jerking his cock in time with JJ's thrusting, Tegan explodes with a spurting cum fountain, blasting semen high in the air and raining globs of cum down on his torso. Almost instantly, JJ blows his load, squirting a geyser across Tegan's body and landing on the shoulder of his blue dress shirt.
Additional Information
Categories: UK R18 / XXX Gay Adult,
Running Time: 90 mins, Year: 2016
Price: From around £30*
Starring: Austin Wolf, Dustin Holloway, JJ Knight, Johnny V, Skippy Baxter, Tegan Zayne, Wesley Woods
Director: Nick Foxx, Tony Dimarco
Studio: Hot House
Buy Gay DVDs online at: Simply-Adult, Homoactive, Radvideo (USA) & TLAVideo (USA)
Download and Streaming: Hot House, See also: www.gayvod.co.uk
Homoactive Downloads: Hot House Video
Member site: Click here to visit Hothouse.com
Country: USA, Language: English
Additional info: No Regional Coding