With different gay sub-labels such as Euroboy Hard, Euroboy Sport, Euroboy Express, Euroboy XXX and Euroboy Collections, Euroboy has been one of the most prolific gay twink porn studios of recent years. Primarily featuring young British twinks, a few Euroboy gay dvd releases use European and South American models.

Auditions - Gay DVD - Studio: Euroboy XXX
Ever wondered what goes on, and comes off, at a Euroboy audition? In Euroboy XXX: Auditions you get the opportunity to be a porn director and see what really happens on the Euroboy casting couch with ten young British hopefuls. Explicit interviews, teasing stripteases, dildo play, and a hot wank by each of these lads await you in two hours of Britain's finest!
Bad Lads Bed and Breakfast - Studio: Euroboy XXX

The latest Euroboy XXX DVD directeed by clive Roberts featuring horny british lads. Bad lads and sweet innocence come together in this superb British dvd from Euroboy that engulfs six full scenes in nearly two hours of great action. One young twink enters the Bad Lads Bed & Breakfast, books in, then heads straight into the shower for a cool down.
Barely Legal - Gay DVD - Studio: Euroboy XXX
In the garden, on the shop floor and round at their mate's house - they may be Barely Legal, but these young studs are addicted to cock and don't care who sees them in action. These boys love getting their holes stretched and dicks sucked in ten cock-stirring scenes from the Euroboy vaults.


Cock for Cash - Studio: Euroboy XXX
Smooth British teen boys are for hire in Euroboy XXX: Cock For Cash. Hung young Ryan selects three gorgeous rent boys for a pert bums in the air line up. He watches them fuck and suck together, then they screw him rigid in a horny four-way daisy chain.
Colossal Cocks Collection - Studio: Euroboy XXX

Collosal Cocks Collection 1 brings you ten titanic scenes featuring Euroboy's biggest stars and includes scenes from: Soccer Lads, Rugby Lads, Beach Volley Boys, Confessions, Boys With Big Cocks, Outsize Pursuits, Auditions, Soccer Jocks and Tennis Lads.
Colossal Cocks Ultimate Collection part 2 - Studio: Euroboy XXX
Collosal Cocks Ultimate Collection has over 60 hot boys in 30 scenes of cock pumping, arse banging action. See the cream of Euroboy bend over and take up to ten inches of meat in this mammoth two disc collector's edition. There's more than nine hours of action, so this fantastic dvd set will have you coming back time and again.
Colossal Cocks 3 - Studio: Euroboy XXX
Monster cocks slam into tight holes in Collosal Cocks Collection 3, the third superb installment in the Collosal Cocks series. Full to the brim with boy scouts, rugby lads, soccer jocks and the guys that give cock for cash. Three massive hours, ten colossal scenes, and sixteen gorgeous lads mix it up in this fantastic collection!
Confessions - Studio: Euroboy XXX
These are the stories that the lads didn't want to tell but Euroboy made it worth their while. All the fantasies that these cute twinks have dreamed about coming to life for you to enjoy. Plenty of facial cum-shots, cum eating, three-somes and hard fucking!
Corruption - Studio: Euroboy Premier
The boys are back in Corruption, and the sex is hotter than ever! Eight stunning young guys star in two hot threesomes and three filthy duets, all linked together by a tale of gay mafia and the seedy underworld of London.
Cum Eating Rancheros - Studio: Euroboy XXX
Saddle up and head on out with the Cum-Eating Rancheros. After a young twink finds his boyfriend fucking a young slut in their bed, he heads off to stay with his friend in the countryside. Join him to find out just how many dicks you can suck and fuck out in the sticks! Two sexy lads get to work on each other in the storeroom.
The Dildo Diaries Vol 1- Studio: Euroboy XXX
Compilaton hot dildo action from the following Euroboy titles:- Summertime Sleaze, THrob, Cum Shopping, Dirty Chavs, Hotel Amsterdam, Corruption, Auditions and Soccer Jocks
Dirty Chavs Innit - Gay DVD - Studio: Euroboy XXX
This hot new Euroboy Film lifts the pants on the cute, young chavs working behind the scenes at a london sex shop see every sex-filled stage in the production process....
Essex Lads - Gay DVD - Studio: Euroboy XXX
Ever wondered what goes on, and comes off, at a Euroboy audition? In Euroboy XXX: Auditions you get the opportunity to be a porn director and see what really happens on the Euroboy casting couch with ten young British hopefuls. Explicit interviews, teasing stripteases, dildo play, and a hot wank by each of these lads await you in two hours of Britain's finest!
Euroboy Hard 1 - Boys With Big Cocks - Studio: Euroboy XXX
These slim young guys each pack between 8 and 10 inches of throbbing hard cock. No over-muscled US hunks, but five young English boys (18-22) gritting their teeth as they take each other's huge cocks - and loving every second of it.
Euroboy Hard 2 - Fucking Flick - Gay DVD - Studio: Euroboy XXX
Six horny guys aged between 18-23 give their all for your pleasure in 100 minutes of white-hot scenes featuring sucking, fucking, licking and cumming! Loads of horny penetration and close-up rimming and cock-sucking as well as dido fun.
Euroboy Hard 3 - Throb! - Gay DVD - Studio: Euroboy XXX
These boys are 100% gay British lads and the sex is passionate and real. If you are looking for the best British porn featuring younger cuter guys then look no further.
Euroboy Hard 4 - Gay Boy Gang Bang - Studio: Euroboy XXX
The film is a lengthy 1 hour 42 minutes, and features eight models in five scenes, all filmed on location in Gran Canaria. The boys are all young, well-hung, and drop dead gorgeous. The outdoor locations are great, and with three group-sex scenes and two duo scenes, we guarantee this film will get you going!
Euroboy Hard 5 - Hot 'N' Horny Holiday! - Studio: Euroboy XXX
If you've ever wanted to know what young British gay lads get up to on holiday, here's your chance to find out. From great 3-way action in the local sleaze bar, to redhead Marc being shafted in every position by gorgeous Danny, it's 90 minutes of hot'n'horny action....
Euroboy Hard 6 - Hotel Amsterdam - Studio: Euroboy XXX
Six sexy young English lad, 18-23, grit their teeth and take each other's hug cocks- and love it. When Jared and Kristian check into the hotel, they can't wait to get down to kinky sex games!
Euroboy Hard 7 - Arse 'N' All - Gay DVD - Studio: Euroboy XXX
A XXX football kit fingering and fucking frenzy from start to finish! Big dick wanking, locker room threesome and shower scene. Straight off the pitch these young kit-lads show where their real ball skills lie.
Euroboy Hard 8 - Teens XXX Cum Facial - Studio: Euroboy XXX
When these cute young Brit boys go shopping in London, it's throbbing cock and creamy cum they're after! Packed with the cutest lads we could find, it's almost two hours of non-stop sucking, fucking, rimming, dildos and hot spunk.
Euroboys International - Studio: Euroboy XXX
Falcon model Jerome, 20 years old from Paris, fucks Latino stud Juan, 22 from Lisbon, with his monster, huge cock. Charles, the chauffeur from London, hides away in the garden for a crafty wank, plus great solo scenes from Michael, 19 from Birmingham. Janosz, 22 from Budapest and Neil (Max English) puts in one of his earliest screen performances.
Fucking Amerika - Studio: Euroboy XXX
Michael Amerika is hot, horny and hung - and in Fucking Amerika proves he's one of the hottest Euroboys ever. He loves slamming his big cock into other boy's tight holes and he likes to bend over and take as many dicks in his bubble butt as possible. Michaels' butter-wouldn't-melt smile and his perfect body are the things that make him so sought-after and idolised by so many.
Ging Gang Goolies - Studio: Euroboy XXX
What do gay scouts do when they are alone in the woods? Watch and find out in Euroboy XXX: Ging Gang Goolies. A cock measuring content by the campfire turns into a raunchy threesome with one lucky scout taking all of those inches up his tight young arse.
In Tents Orgasms - Gay DVD - Studio: Euroboy XXX
Each summer the Gay Pioneers meet at Camp Euroboy to welcome their new members. Put together a group of horny fresh 18 yr old lads, balls brimming with juicy young cum and anything can happen.
In Your Face Files 2 - Studio: Euroboy XXX

In Your Face Files brings you fucking and facial madness featuring the hottest twinks Euroboy has to offer! In a changing room three sweaty lads have a tongue and tackle session, kissing and groping each other's boners before they fall to their knees to gorge on cock. After some wet and messy arse licking, they pull at their throbbing todgers before a cute young blonde takes a deep spit-roasting from his well hung mates! Running time 180 (Compilation DVD)
Jock Strapped - Studio: Euroboy Express
Strap in and get ready for the ride of your life in Jock Strapped. Featuring scenes from the very best scenes in the Euroboy series, these hot segments feature action from Auditions, Soccer Jocks and Football Fuck, to name but a few! Sniff, lick and fuck your way through these gorgeous guys in their bulging jockstraps. Cute, exposed arses get licked, fucked and pounded into submission by these hot, young studs. Compilation - Over 3 hours long.
Outsize Pursuits - Gay DVD - Studio: Euroboy XXX
8 lads in six filthy alfresco scenes. Slim vigin Alex strugglees to take a 10" monster cock in his arse and another 9" in his mouth. Watch jets of hot cum smother his face and dildos slammed in to gaping teen holes.
Online - Gay DVD - Studio: Euroboy XXX
Ever wondered what happens behind the scenes of a gay porn website. Euroboy XXX online gives you a chance to see all the filthy action before it hits the web.
Raunchy Rancheros - Gay DVD - Studio: Euroboy XXX
The parents are away, so the farmhands will play... with the owners' son! Eight smooth hung latino lads in a cum-drenched poolside orgy, 3 outdoor threesomes plus two hot one-on-one duos!
Riding Bruno (2 DVD Set) - Studio: Euroboy XXX
Meet Bruno, the sexiest courier in London, as he rides from fuck to fuck. Taking huge dicks in all his holes along the way, he's a cum-eating bottom on a mission! Riding Bruno is a special edition two-dvd set!
Soccer Jocks - Gay DVD - Studio: Euroboy XXX
No sex before a game? No way. These lads get dildoed, sucked and fucked in a locker room threesome. Kicking off is Ali and Ste who return to the locker room after a practice penalty shoot-out. Returning to the locker room, Ste discovers that someone has put a dildo in his locker..
Sports Day Special - Gay DVD - Studio: Euroboy

Forget the egg and spoon race - these boys are more about the sack race in this Sports Day Special. Wanna see how fast they can shoot-off in a friction burning race to the finish line? Euroboy XXX are proud to deliver this collection of the very best sport and cock addicted twinks in a battle to be the best. Expect heavy competition in the fucking championships and open your mouth in complete and utter awe at the spunk shooting range and watch their balls as they dribble in their trackies!
Summertime Sleaze - Gay DVD - Studio: Euroboy XXX
Sizzling Summer sex. Watch eight of the horniest, sexiest British Lads around in a two hour Sexathon of non-stop cock-sucking, fucking, rimming, dildo action and spurting cum shots. Watch boyfriends Reece and Aaron in the pation garden licking each other's monster cocks in a great 69 position.
The Corruption Of Youth - Gay DVD - Studio: Euroboy XXX
The Corruption Of Youth features explicit confessions from sex-crazed twinks, spunk-eating farm boys and young lads who love having their arse filled by big fat cocks. Euroboy have gathered together the very best scenes of today's youth and what they get up to inside and outside the house. Tight arses, big cocks and gallons of spunk make this three hour dvd one of the hottest twink-fests around! Compilation DVD
Tight and Tender -Gay DVD - Studio: Euroboy XXX
These smooth Euroboys may be Tight & Tender, but they can't wait to fuck on camera, with some of them taking a cock up their tight holes for the very first time! A little sore from being in the sun a bit too long, two cute twinks retire to their hotel room for a siesta and a massage with some cooling aftersun lotion. A three hour cavalcade of cum drenched boys in a compilation of scenes from Euroboy's hottest titles! Compilation DVD

Young Fuckers - Gay DVD - Studio: Euroboy XXX
Euro twinks are at it again in Young Fuckers, with three hours of non-stop boy on boy action! The hottest young tops powerfuck keen bottom boys - their pumped up cocks slamming into tight young holes before spunk is spilled all over perfectly smooth bodies. The scouts are on their annual camping trip and when the camera ventures inside one of the tents, we are greeted with a sight for sore eyes. Don't miss this three hour fuck-fest!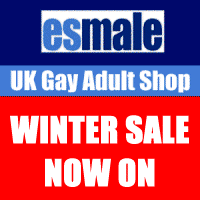 Esmale (UK Gay Adult Shop) sells a large range of gay adult sex toys including a range of fetish and restraint products, Cock and Ball play items, Whips, Paddles and Slappers, Blindfolds, Masks and Hood and are the UK stockist of Mr B leather and fetish products. They also sell a large range of men's designer underwear, condoms and lube, fleshjacks, jock straps and anal toys. Treat yourself!
Save an extra 10% on top of their already discounted prices with our exclusive code 'GAY10'. Click here to shop
See also: www.gayadultshops.co.uk