Description / Review:
The Trap is the journey of a sexually innocent man who follows a handsome stranger and takes an unexpected trip down into the depths of San Francisco's underground. This is not your average sex club however. Not only do these men have great sex, but they are very passionate with each other, often combining deep kissing along with rough and energetic fetish. In the club, you'll find everything from light bondage to dildos, vacuum pumping and fetish wear.
Scene 1: Junior Stellano and Bruno Bond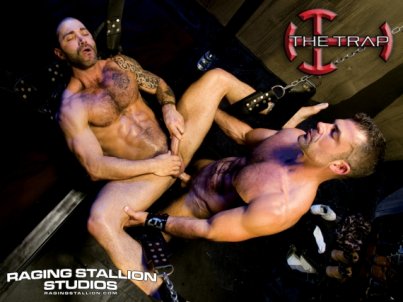 Walking along a San Francisco street, Junior Stellano cruises a hot muscular mystery man in sun glasses. Junior can smell the sex on him and rightfully so as the man only has sex on his mind. The mystery man - Bruno Bond, opens a trap door in the sidewalk and climbs down into it, enticing Junior to join him. Junior climbs down the ladder, turns the corner to find Bruno almost naked except for shoes and a wrist band. Slightly surprised he asks "Where are we? Is this ok?" to which Bruno answers, "of course it is," and starts to undress Junior. Bruno gets down on his knees and sucks Junior's hard cock. When Bruno finishes he moves onto the large iron bed where Junior returns the favor giving Bruno an amazing sucking. Bruno breaks off and turns around. As he does he pushes Junior down so his face is in front of Bruno's ass. Junior, who hasn't licked ass before, puzzles for a moment knowing he wants it and finally realizing he wants Bruno's hole to be the first one he tastes. He goes at it with vigor until he drives Bruno crazy with ecstasy and Bruno spills his hot cum all over Junior. This makes Junior shoot a hot load all over the floor. Bruno tells Junior that he has to go. Junior thinking about getting back up on the street after this hot tryst gets up to leave when he realizes that Bruno isn't going back up. "Aren't you going further down?" Bruno asks. "Where?" Junior responds. "There's much more", Bruno responds. Again Junior hesitates as to whether to return on his way or go deeper into The Trap.
Scene 2: Junior Stellano and Antonio Biaggi
Junior Stellano descends to a level lower and mystery man BrunoBond is nowhere to be seen. What Junior does see is swarthy,intense, Antonio Biaggi using a vacuum pump to make his alreadyenormous cock even bigger. Antonio pumps away with a large tubeshowing off his massive cock and balls to Junior. A littleuncomfortable for watching Junior decides to continue his search forBruno. Antonio continues to pump until his cock is thick and long andhuge. Finally, blowing a creamy load all over himself.
Scene 3: Junior Stellano, RJ Danvers, Conner Habib, and Ricky Sinz
We catch up with Junior Stellano (in a non-sexual role) coming down a brick hallway where he turns another corner only to be attacked by two vicious dog-boys, RJ Danvers and Conner Habib. Their master Ricky Sinz holds the leashes as Junior runs away in fear. The dogs; complete with dog masks, paws, leashes and butt plug tails kneel before Ricky who pulls the plugs in and out of the pups. First playing with Conner's tail and then with RJ's, pulling the medium and large plugs in and out of each dogs ass. Next Conner fucks RJ doggy style. Conner's tail wags up and down as he fucks RJ's hole. Now it's Ricky's turn. He energetically pumps Conner's ass before moving on to an all out pounding of RJ's hole. All blow a sticky load.
Scene 4: Andre Barclay and Angelo Marconi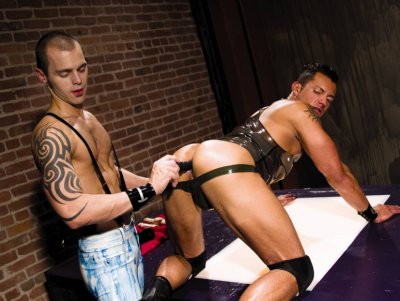 In another part of the club, Andre Barclay, dressed in rubber bleechers and Angelo Marconi in latex shorts are trying out some dildos. First Andre puts a black rubber beaded dildo in and out for Angelo's beautiful round tan ass. He hands it off to Angelo and makes him fuck himself. Junior wanders through and Andre gives him a friendly nod before he continues on his search. After Angelo's hole is opened up he pushes Andre down unzipping the bleechers exposing Andre's creamy ass. Angelo grabs a purple rapture anal probe and fucks Andre's ass getting it ready for a bigger black dildo that he pushes with vigor up Andre's eager hole. Angelo's eyes smolder as he enjoys every moment of the plowing. Next the men get out the Vick Versatile fucking machine. Andre operates the controls as Angelo's ass takes the penetrating dildo. The steel arm rotates round and round and plunges the dildo deep into Angelo's hole. Next it's Andre's turn to feel the power of the fuck machine. It rotates faster and faster pushing into Andre's wide open hole. Finally, the two share a long double ended dildo before spraying big loads.
Scene 5: Junior Stellano, Spencer Reed, Tristan Jaxx and Austin Reed
Scene 6: Junior Stellano and Bruno Bond
Junior Stellano finds his way back and runs into Bruno Bond who isready to leave. 'I lost you', Junior says. 'That happens', Brunoanswers. 'Did you have fun?' Bruno reaches down a feels Junior'sstill wet open hole. 'I see that you did. Now it's my turn.' Bruno andJunior finish what they started earlier. First Bruno fucks Junior in asling hanging from the bed. It is a tender yet energetic fuck. Then thetwo flip and Junior fucks Bruno on the bed. Finally Bruno fucks Juniora final time and they both finish with creamy loads. Bruno, who wasnot supposed to let outsiders into the club decides to make it officialand gives Junior his very own wrist bad with the Trap symbol on it sohe can come back again and again.
+ additional solo scenes