Summary:
BarBack is another non-stop sex movie from Ben Leon which brings you a never-ending sex fest of men fucking in bars.
Scene 1: Matthieu Paris, Scott Tanner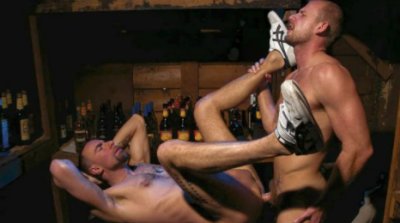 In the backroom, among the bottles and boxes, Scott Tanner finds a quite place to release a load. When Matthieu Paris comes along Scott already has his massive cock out. Matthieu doesn't miss a beat and offers up his cock for sucking. With the skills of a master, Scott swallows eagerly, choking on Matthieu's big cock. When Scott stands up to offer his cock up for sucking, Matthieu doesn't hesitate. He opens up his throat and swallows the whole thing. With both men warmed up and ready Matthieu bends over to get his ass filled with dick. Scott pushes deep into Matthieu's hungry hole, fucking him from behind. As Matthieu moans, Scott pounds away, pushing every inch into the cavernous ass while his huge balls bounce back and forth. Then Matthieu turns over and offers up his ass for a second round of thrusts from Scott. With Scott still deep inside of him. Matthieu pops and covers his chest with one load of cum. But Matthieu is not done. These two studs go for one more round with Scott sitting back and Matthieu riding up and down on his dick. This brings Matthieu over the edge one more time and he shoots a huge load. With Matthieu out of the way Scott brings himself to climax, spilling cum all over himself and the floor.
Scene 2: Tamas Eszterhazy, Antonio Biaggi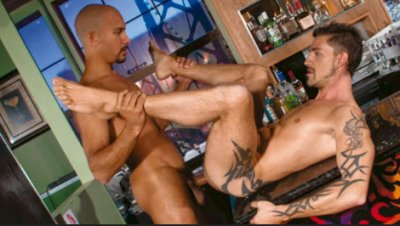 Tamas Eszterhazy has a new day job in a bar. As he stacks clean glasses Antonio Biaggi carries in the liquor. These two waste no time getting to work - on each other. Antonio's massive package is obviously an interest and Tamas reaches for it right away. On his knees he works his tongue along the top of Antonio's jeans and undoes his belt and buttons. What pops out is no surprise but it is huge! Tamas struggles to swallow the whole thing as it grows in size and fills his throat. Antonio uses his dick as a ram and shoves it down Tamas's hungry throat. Tamas also has a gigantic appendage attached to his muscled body but Antonio seems more interested in his hole. He turns him around and dives in tongue first. After a nice warm tongue nothing is better than a huge cock and Antonio's got one. Standing behind the bar Antonio penetrates Tamas, stretching his hole with every inch of his thick cock. After a nice stand up fuck, Tamas lays back and spreads his cheeks. The fucking is incredible - all 11 inches pushed all the way in and all the way out of Tamas's hole at an amazing speed. In between thrusts Antonio pulls out and reinserts his tongue into Tamas's loose butt. Tamas dumps his load all over his abs and is followed by Antonio's huge load.
Scene 3: Vic Rocco
Vic Rocco must have passed out the night before because he wakes up alone in an empty bar with his pants open and his dick rock hard. As he wakes he reaches for his huge cock buried in his underwear. Vic has a massive dick and it only compliments his rock hard, built body. He strips and jerks, worshipping his muscles and showing off his huge, round ass, spilling seed all over.
Scene 4: Maximo De Leon, Virgil Hawkins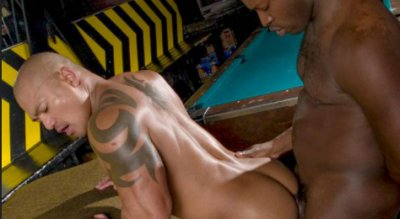 Virgil Hawkins and Maximo De Leon are cruising each other in a bar. Before long they are making out by the pool table and sucking dick. Virgil is a beautiful black man with a nice big dick and Maximo is after it. He takes it out and swallows it in one movement. When Maximo gets naked we get to see his tight muscled body, his large pecs, and his beautiful tattoo. With Virgil on his knees, Maximo feeds his dick to him while tweaking his own nipples for extra pleasure. Virgil sits back and lets Maximo climb on top and ride his fat cock. With that big dick up his ass Maximo groans and moans as he bounces on it. Maximo's huge muscled ass is spread wide to swallow Virgil's dick as he bends over for another round. As Virgil pounds away, Maximo strokes his dick and pushes back against Virgil for every inch. Maximo lays back for one more round of deep dicking and Virgil supplies the dick. Maximo shoots a load with Virgil's dick in his mouth and Virgil covers Maximo's pecs in cum.
Scene 5: Ricky Sinz, Max Schutler
Ricky Sinz is working behind the bar when Max Schutler arrives with boxes of beer. After a quick glance, Max has his mouthful of Ricky's cock. On top of the bar Ricky's muscles glisten as Max services him. Max works his way up and down Ricky's dick, taking a chance to chew on his nipples and work his way down his eight pack. With attention to detail, Max works Ricky's dick and then eats his hairy asshole. But these two boys are more interested in fucking. Max bends over and offers up his beautiful ass for Ricky to plow. Ricky fucks away with abandon, filling Max's ass with dick. When Max climbs on top the view is amazing, and the camera follows as Max bounces up and down on Ricky's cock. Max strokes himself off with Ricky's dick up his ass followed by Ricky, who covers his abs in cum.
Scene 6: Clint Wolf - Solo
Clint Wolf is cleaning up in an empty bar and decides to entertain himself. He plays a round of pinball before playing with his own balls. Clint is quite a sight to see, a beautiful sculpted body with a tattoo that stretches across his abs, plus he's got nice big balls. Clint climbs up onto the bar and jerks his dick until he shoots a load that falls right onto the camera lens.
Scene 7: Logan McCree, Justin Jameson
Logan McCree is drinking a beer in a dark bar. The bartender catches his eye and Logan heads to the bathroom. In the bathroom both men whip out their dicks but head back to the bar for the action. Justin Jameson, the bartender, knows what he wants and gets on his knees for it quickly. Logan's big cock fills Justin's mouth and his throat. Logan slaps it against his lips. When Justin bends over, Logan eats his ass and fingers his hole, stretching his ass to make room for his big tattooed cock. When Logan puts it in, Justin almost squeals as Logan pushes deep inside. Once these boys are fucking Logan let's go and pounds away. Justin is an eager bottom and asks for more as Logan plunges deep, in and out with increasing intensity. Justin's dick is rock hard as he gets fucked enthusiastically. Logan lays Justin on some barstools and fucks him on his back. Justin shoots a huge load with Logan still inside him followed by a nice load from Logan.