Summary:
The Dark Stag, directed by Francesco D'Macho is the fourth movie from Stag Homme Studios, the hot company owned by Damien Crosse and Francesco D'Macho! This is a must own for all fans of incredible all male fucking and sucking.
Description:
Scene 1: Fight to the Top
Starring Maikel Saravia and Jonas Carvalho
A twisted scene which explores raw masculine energy in it's full aggression. Two young men, Maikel and Jonas, stand before each other in an open field. The violent tension is more than evident as they challenge each other's space, moving their face into the other's face as if daring their rival to strike first. As their faces get closer and closer, sexual tension begins to mingle with the aggression until Jonas gives Maikel a kiss. Maikel, who is shocked, shoves Jonas off of him. Jonas then slams Maikel to the ground and force-feeds his fat and heavy cock into that cute little mouth of his that keeps screaming "No! I don't like this, faggot!". What ensues is an ongoing battle for sexual dominance, or simply put, two boys struggling to rape each other. It's all about the macho tussle for power, mixed with the infantile game of homophobia and the homoeroticism that the game hides.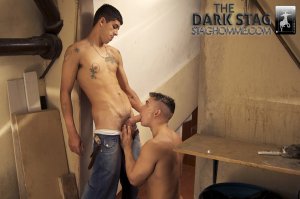 Scene 2: The Deal
Starring Jonas Carvalho and Gustavo Bartok
Jonas is waiting in his car when Gustavo arrives with a big fat brick of some illicit goods. Jonas takes out his knife, cuts open the package, and places his finger in the powder. Looks good to Jonas, but he wants to be sure. "You wanna try?", Jonas says. He then makes two lines and they sniff it up. But Jonas notices that some powder has fallen on his crotch, "You dropped some.". Gustavo goes to Jonas's crotch and snorts up the rest, only to find that Jonas has got a mighty hard fat cock waiting to be pleased. What follows is some of the hottest sucking, rimming and fucking you've ever seen both inside and outside of the car. Followed by a monstrous cumshot from Jonas that covers Gustavo's face and hits the back of his throat.

Scene 3: The Last Sin
Starring Sebastian Cole and Rick Moreno
Two luscious and thick dicked Argentine monks kneel praying side by side at their altar in an isolated mountain monastery as the bombs of World War III explode in the distance; as the walls shake and the world seems on the verge of extinguishing itself, the monks do the smart thing and stop fingering their rosaries and start fucking each other tenderly yet intensely lustful, savoring and swallowing every single drop of each other's load.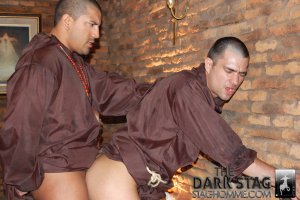 Scene 4: Thug in Public
Starring Lucas Gabo
Lucas Gabo is a hairy Argentine bodybuilder with a monster cock to match the rest of this massive thug. Lucas starts off chugging some beer before he decides to strip out of his gear and give us and the neighbors quite the show. Gabo takes the rest of his beer and pours it all over that huge furry chest of his soaking his entire upper body and his white jockstrap. This is where all the fun begins!!! Get ready to worship Luca's every muscle, that tight lubed-up virgin hole of his and his ass-breaking cock before he laps up all of jizz.

Scene 5: From Dusk Til Dawn
Starring Alan Efron and Gaston Jimenez
After a night of drinking, Alan slips into bed with his sleeping friend Gaston who has no idea Alan's into guys. He pulls down the covers and timidly licks and kisses Gaston's chest and hairy pits. Alan then begins to caress the bulge in his tight white briefs, eventually getting up the nerve to peel back those briefs and marvel at Gaston's gorgeous and heavy uncut cock. Even though Alan is scared that Gaston will wake up, he gets caught up in the dangerous heat of the moment and swallows to the root that juicy cock of his. The next morning Alan decides to touch Gaston one last time before he wakes up, but this time he isn't so lucky and he gets caught by surprise. Gaston is pissed and feels he needs to teach Alan a lesson, a lesson which involves pounding his cock deep inside this pervert's ass.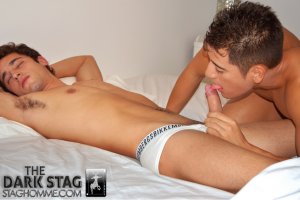 Scene 6: Security Cams
Starring Alex Deseo and Valentin Carrera
This footage comes to us from a Buenos Aires paper factory and is presented in a split screen format with two different points of view. Two hidden security cams catch two unsuspecting employees during a quick and intense fuck session! Valentin Carrera has got a big fat piece and Alex Deseo has one crazy bubble butt that's eager to be drilled. This is purely raw and uncut sex which makes it clear that staged porn can never compete with real sex!