Description / Review:

In Paradise Found, Director Kristofer Weston takes no prisoners as he boldly explores three distinct and equally arousing fantasies, making them a reality for three men who are curious and bold enough to explore their deeper lying sexual cravings. At a secluded tropical resort exclusively for men and with a host who seems to have all the keys to unlocking their deepest desires, Fantasy Resort brings these men to the edge of their dreams and pushes them over the brink. A place that promises to make your fantasies a reality, on a tropical island with a troupe of COLT Men at your beck and call, dedicated to fulfilling your deepest desires... such a place can only be called Paradise and if you ever make it to Fantasy Resort you will wonder if you have found paradise or if paradise has found you.
Scene 1: Tory Mason - Solo
We come to the island to find a tanned and sexy resort assistant (Tory Mason) hiking up to a serene post overlooking the resort's secluded and peaceful surroundings. When he reaches his destination he looks back and is inspired by the natural beauty all around him. Realizing he is alone in nature he frees himself from the little clothes he was wearing so that he can truly become one with his natural surroundings. The warm sun on his naked body feels wonderful and looks even better. Feeling the abandon of his nakedness our young island dweller begins to explore his own body with his hands. His soft skin soaks up the sun as his huge cock begins to sprout up and stand erect in tandem the hard wooden tree trunk that stands behind him. With each stroke his sunlit cock glistens and grows and soon this young Adonis finds his entire body craving attention.
Scene 2: Kane O'Farrell and Antton Harri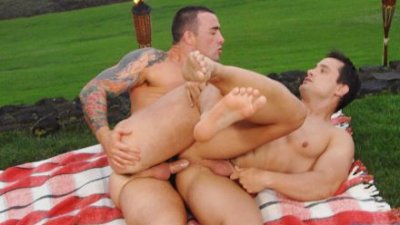 Having traveled a long distance doesn't seem to have slowed Antton one bit. He is quick and to immerse himself in the pleasures of the resort, and more specifically, the pleasures of the resort staff. Being a master-chef, Antton wanders into familiar territory and he likes what he finds in the kitchen. Cooking up a storm is the resort's very sexy chef Kane O'Farrell, and in his kitchen, shirts are not required. When our chef realizes he has an admirer he welcomes Antton and reveals that he is cooking a Crème Brule, one that he claims will be the best he has ever tasted. Antton is thrilled to have a chef as hot and hunky as chef Kane preparing food for him. Just then chef Kane offers to whip up a platter of all his special treats, an offer which leaves Annton all smiles. As if on cue, COLT Man waiter (Eric Valentin) appears to guide Antton to a very special table that has been prepared just for him, a table for one set alone on a grassy bluff with a beautiful view of the ocean and a moody evening sky at early sunset.
Scene 3: Dean Phoenix and Zack Randall
Sitting on the beach with his face still buried in that ridiculously large book you'll wonder just what it will take for this guy to relax and have some fun. Just as that thought crosses your mind, something in the water catches Zack's eye, something a lot better than anything that in that stuffy book.
Slowly, from the shallow waters of a nearby reef emerges a sun-soaked, speedo-sporting Dean Phoenix. Zack squints in disbelief, he isn't sure if what he is seeing before him a mortal man or a Greek God of the Ocean Deep emerging from the simmering waters. Dean notices his admirer and confidently returns a steady gaze and a warm smile. Zack then realizes that this stud is heading straight for him. That vacant beach blanket nearby must belong to this dripping wet hunk from the sea. What luck that Mr. Chandler selected such a great spot on the beach!
Scene 4: Jason Ridge, Alex Chandler and Toby O'Connor
After a swim in the resort pool, our leather top Jason meets with Mr. Chandler. This handsome and dark haired top sees the kidnapping fantasy as an opportunity to be alone to get into some 'mischief' with the resort staff. His 'power bottom' boyfriend (as he refers to Patrick) will be off being kidnapped, leaving him free to enjoy 'the staff'. Mr. Chandler smiles and assures Jason there will be plenty of mischief to be had and instructs him to be at their bungalow, with Patrick at exactly 2pm that day.
Scene 5: Alex Chandler and Tory Mason
Mr. Chandler carries his naked young lover in his arms to the resort pool. With an infinity edge the pool appears to flow into the ocean beyond and the water and the sky blend together to provide the perfect backdrop for some hot love making.
Mr. Chandler sets his lover down by the pool. They kiss passionately as Mr. Chandler's big hands fondle and caress his young lover's naked ass. Fully aroused and with a throbbing cock that stands at attention the Tattooed Man drops to his knees and gives his boss some much needed pleasure. The young assistant definitely earns his keep at the resort and it is easy to see how. Mr. Chandler clearly enjoys the way his assistant services his cock. But he also enjoys having that cute ass to fuck.