Summary:
Multi-award winning screenwriter/director Jerry Douglas has delivered another winner in BEYOND PERFECT. This adult video with a plot tells the story of two tops in love… and the problems that happen when neither one wants to bottom. Inspired casting has given us three actors with a genuine flare for dialogue in Brad Patton, Jason Kingsley, and Joe Gage. And they're matched with a cast of co-stars who have enough sexual heat and screen presence to make this video a must have!
Description / Review:
Scene 1: Adam North, Andy Briggs, Brad Patton, Chad Thomas, Danny Lopez, Jason Crew & Jason Kingsley!
The first action scene in BEYOND PERFECT is in Brad Patton's recounting of how he met Jason Kingsley. It's in a sex club (San Francisco's Powerhouse Bar), where Brad comes to get a piece of ass but winds up watching. The action is enticing. Chad Thomas is getting a down to the balls blow job and soon Danny Lopez joins in and turns up the heat. Then Marcus Iron and Jason Crew pile on, and so do Andy Briggs and Adam North in a potent scene of exhibitionism and voyeurism. When everyone else has cum and gone, Jason is left watching Brad and comes to him with dick out and an awesome kiss.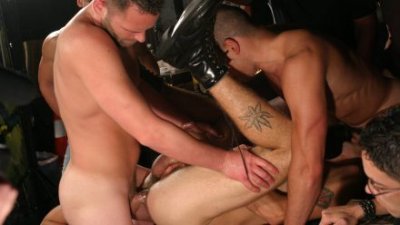 However, Jason Kingsley remembers things little differently, walking in while Danny Lopez is sitting on the lap of Jason Crew, having his ass royally reamed. Jason's eyes are wide at the side of Jason Crew's huge dick pounding up into Danny while he sweats and groans. Then he notices a guy bending over and pulling his pants up - Jason. But when Chad Thomas bends over in an invitation to Jason's giant tool - he's distracted. They both watch as Chad reverses things and gives a rough pounding to Jason until loads fly. Then Brad Patton comes to him with his dick out, and they have the same awesome kiss.
Scene 2: Brad Patton, Marc Sterling

Scene two starts as the Brad Patton and Jason Kingsley going cruising together on Castro Street. First to score is Brad, as he picks up (or is picked up by) Marc Sterling. The two walk to a nearby house under construction and soon Brad's huge cock is the object of sincere worship. They then reverse, as Brad prepares Marc for a hard fucking by fingering him loose. When he's loose enough, Sterling bravely takes Brad's dick of death and loves every inch of it.
Scene 3: Brad Benton & Jason Kingsley
In scene three Brad Benton is back on Castro Street to get Jason. In a nearby garage he's soon down on Jason's monster member. Following an oral warm up, Brad is bent over a car and fucked hard. In fact, he gets fucked hard in three different positions on the car, and shows how much he loves it.
Scene 4: Brad Patton, Jason Kingsley, Justin Gemini, Pete Ross & Timmy Thomas!
Brad Patton and Jason Kingsley visit their next door neighbors, played by Timmy Thomas, Pete Ross, and Jason Gemini. Following several brewskies they soon get into a three way piece of hot oral exhibitionism while Brad and Jason watch with their cocks out! The boys try to get them to join in and soon the action is literally on top of them, but Brad and Jason are too inhibited to enjoy themselves with someone else in front of each other. But they're having the time of their lives watching, even as each of the three is both a fucker and a fuckee. After they all cum on top of Pete Ross, Jason and Brad are visibly embarrassed and can't leave quick enough.
Scene 5: Brad Patton & Jason Kingsley
The next day at the counselors office, Jason Kingsley and Brad Patton start making love under the doctors encouragement. It's all oral, and the doctor produces a pair of beautiful clear lucite butt plugs. They both put them in and continue sucking. The doctor tells them it's time to go home and finish, but they have to leave the butt plugs in their asses. They clearly have trouble walking with them. Back at their apartment the butt plugs come out. Jason gives a painful but slow and loving fucking to Brad, followed by Brad taking his partners ass the same way. Inevitably, the action builds as their asses loosen up, and soon neither one can get enough of the other's ass.
Review:
Even on the rare occasions when director/screenwriter Jerry Douglas' main theme is not relationships, that's still what his movies are about because the dynamics of human relationships - whether between family, lovers, tricks, friends - are relentlessly fascinating to him.
Usually, we are left to observe his characters on our own, but in Beyond Perfect we're taken right inside a deteriorating relationship as Brad Patton and Jason Kingsley visit a couples counselor, Joe Gage (pre-nom Non-Sexual Role), to try to figure out what's wrong and whether to split up or stay together. Of course, they know what's wrong (and Gage's remedy is at the same time amusing, right, erotic, and a perfect ending for a porn film), but like most people they'd rather avoid the truth for as long as possible.
This is quite advantageous in porn, however, because that's how we get the sex scenes. The first is in a sex club and, except for the brightness, between the comings and goings and the watchers, this is a pretty good depiction of what happens in a sex club.
The sex, in two parts with lots of cumshots, is very good too. Brad and Jason have separate duos with Marc Sterling (great cum-spurts!) and Brad Benton (who jacks Jason off). A spontaneous threeway between friendly neighbors that happens practically in their laps is imaginative and sexy (pre-nom Group Scene), and the final Jason/Brad duo is the kind of sex you'd want to have yourself - and excellently video'd. With a strong brand, director, and cast, this is recommend to fans of story-driven movies.