Summary:
The boy next door is the one you'll always dream about. He gave you your first kiss, confided in you his deepest secrets, showed you unforgettable new experiences, and made you feel wild, out of control, and free. Helix Studios brings you five sizzling stories of young love and lust. What begins as innocent fun evolves into explosive episodes of unrestrained sexual exploration!
Description / Review:

Scene 1: Cum With Me
Cast: Jessie Montgomery, Troy Ryan

What is there to do after a sweaty baseball game but cool down with the hot blond on the team who's been eyeing you since the beginning of the season? The boys put away the bats to test their physical limits with a different kind of hard wood.
Troy takes Jessie home to blaze through the bases to a home run pounding with his thick 8 inches filling Jessie's hole as he fucks him so hard that Jessie can't help but moan and groan his way to orgasm.

Scene 2: Picture Perfect

Flirty photographer Kody Knight knows how to work all the angles to get the shot he wants and when he sets his sights on Luke Allen he sees a master piece of ass in the making. Kody uses his camera to undress Luke and capture the teen's trademark bright smile. To get Luke hard for the money shot Kody takes things into his own hands (and mouth) by going down on the tan twink. The Picture Perfect boys proceed to make love to the camera for a photo finish worth a thousand words.

Scene 3: Dyland and Sage: Unspoken


Love does crazy things to the mind and when Sage Porter spies Dylan Hall at the park his reality begins to fragment into the surreal. Their serendipitous encounter is charged with sexual tension as they're drawn together by a captivating and lustful curiosity.
Staring deeply into each other's eyes the boys are gripped by a love so strong it remains unspoken.

Scene 4: Playing With Fire

Best friends Mitch Hudson and Andy Taylor have grown up doing everything together: they laugh, they play, they joke around and of course they share their closest guarded secrets. But when Mitch starts developing feelings for Andy the line between friend and lover begins to blur. Mitch is worried he might ruin the relationship but bravely decides to force himself to open up to Andy. Is falling in love with your best friend "Playing with Fire" and waiting to get burned or have the boys finally realized they're meant to be together?

Scene 5: Tyler Takes Two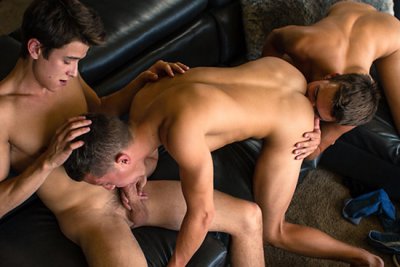 Fresh face model Troy Ryan films his first porn scene as Evan Parker's new boyfriend Tyler Hill enjoys his first threesome with two very cock hungry young jocks. Troy's big dick gets instantly hard when Evan tweaks his supple and sensitive nipples before Evan and Tyler begin working on stimulating every part of the newbie's pulsating body. Then it's Tyler's turn to scream out 'fuck me!' as his two tops pound their poles deep into his tight hole.