Description / Review:
This is the first instalment of Helix' new teen range! This fresh, young cock filled collection is absolutely busting at the seams with barely legal, ball slapping, butt banging action from the finest young school boys on the planet! These sexy students hit the books, then hit their study buddies tight, young butts! Cock class is in session and these pupils with barely there pubic hair, have done some dirty homework and every one of them gets straight, HARD "D's!"
Packed with five bareback scenes culminating in a three way cum soaked finale, this is one "After School Special" you won't want to miss! Coby knows just how to play it right with Tanner. After making all the right moves Coby dives deep into Tanner's willing twink ass making some sweet sexual music of their own.
Scene 1: Study Buddies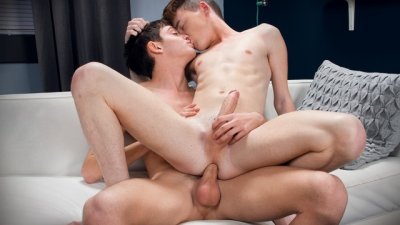 Watching two millennials go through a book about the 1960's is quite comical; naturally, the young turks bore easily and Grayson's hard-on burrowing into the small of Hunter's back takes precedent. The boys wind up in a torrid make-out/cock-lick combo mombo that is much more interesting than the book they were reading, even for anyone that grew up DURING the 1960's! The smooth squirts squirm about fumbling at each other's clothes, mining for cock. Once the newbies get a taste, there's no turning back. Both boys have ample appendages, but Hunter's hog is HUGE and Lange licks that lovely beast like a lollipop! That is, until he discovers Hunter's hind end! The Heaven's blessed Hunter in the front AND in the back! The boy's beautiful alabaster ass is shiny an new and absolutely edible, especially to Grayson! Once he primes the pucker Grayson gathers his groin and plunges fast and hard and RAW into his buddies behind. Graham grabs his mammoth manhood and lifts his legs high as they can go! Moaning with the perfect measures of pleasure and delicious pain before climbing on top for a ride. He faces forward so we see his giant cock flop as he's fucked before flipping again to take it doggie style like a champ! Grayson grabs ahold of the kids hips and heaves his whole cock inside, slapping the boys butt with his balls until both boys explode like volcanos! Hunter winds up covered in hot love lava careening down and into his freshly fucked crack. Lange lets some go up inside as he plugs the happy hole one more time.
Scene 2: Quick Learner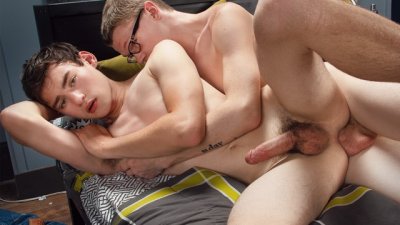 Book worm Jimmy Andrews is studying hard when Alan Davis saunters up behind him just as hard! Davis is devilishly sexy and Jimmy is unable to focus on books when the beautiful bad boy drops to his knees. A cock swap suck-a-thon ensues but then straight A student Andrews decides to crack open Alan's ass like a best seller and dive into the plot. Alan lets Jimmy know he needs the kid's fat cock in his ass. That's all Andrews needs to hear. He aims his ample apple headed appendage at Alan's hot little hole and barrels his bareback boner deep inside. Jimmy takes his bottom boy on a tube steak tour through several steamy positions as the study buddies make out like the horned up high schoolers they are. After a thorough thrashing, Alan decides to dip his wick inside book boy. Jimmy is rock hard and tight as a drum. Alan eases his schlong inside, taking it slow as this young guy is tight as fuck. The tight bootied bottom strokes his skyscraper of a boner bringing it to a boil. The sexy student has been hitting the books and definitely needed this release, cause this amount of delicious cum has obviously been cooped up for way to long. Davis follows, hosing down his fiery friend good and gooey.
Scene 3: After School Special
Cast: Hunter Graham and Drew Baker
Study buddies Hunter Graham and Drew Baker are tired of hitting the books after school and get to hittin' some ass instead! The high school hotties make out like the horned up teenagers they are, grabbing at clothes and cocks like devious dick demons! These boys may be young but their cocks are FULLY grown and they would definitely get an A+ in sucking cock! After their extracurricular cock swap, Drew dives into Hunter's hole and hunkers down, preparing it for a beating. Baker breaks Graham's gorgeous ass in with his big bareback boner and pushes forward full force. He pulls the kid's hair gettin' good and grimy which makes Hunter's dick diamond hard.
Graham decides to give his classmate a taste of his own medicine and the boys switch places. Hunter heaves his hefty hard-on condom free and carefree deep inside his study buddy. The new bottom bitch plays with his tasty piece as his ass is filled which causes his balls to fill as well. This is all Drew can take and he douses the duvet with hot young semen. Hunter likes what he sees and shows it by blasting Baker's butt with a nasty amount of nut. Then he slides his slippery schlong back inside Drew's delicious cream pie.
Scene 4: Testing The Tutor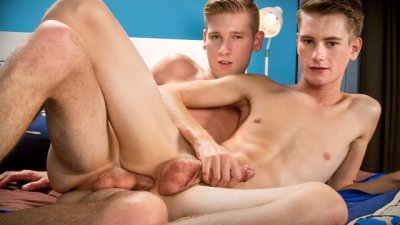 School bad boy Trevor Harris isn't great at math, but he IS great at getting what he wants. He manipulates math master tutor (and all around hottie) Julian Bell into coming back to his place for some homework help. Once his bedroom door is closed, Harris helps himself to a mouthful of Julian's pretty blond boy joystick. Bell is obviously happy to get his mind off math and his mouth on Harris's bountiful boner. The kid's cock is curved just right. While Julian is on his knees, it glides effortlessly down his wet, warm throat. Bell's booty is a stunner and doesn't go unnoticed by Trevor who buries his face in his hot tutor's tush. He spit shines the boy's smooth sphincter till he's able to slide his beautiful bareback dick right in. Harris takes it easy with his tutor at first, sensing this may be the boy's first time since his nose is always in the books. The school bad boy kisses his tutor gently and clasps onto his hands, fucking him tenderly. Well, it's either that or he doesn't want to pay for his tutoring! Either way, the bad boy definitely wants to get his ass banged too! Remembering how Harris handled it, the timid tutor does the same. He spreads Trevor's smooth cheeks apart to get that hot, young hole ready for a ramming with some lusty, wet licks to his love button. It seems our timid tutor learned a thing or two during his time as a bottom because once buried balls deep inside Harris, his thrusts are making Trevor's toes curl! He gets bad boy on his side and gears up a ball slapping, ass banging rhythm so good Harris hammers on his hog till a humongous hose down floods the bed! Julian pulls out and nuts on our bad boys butt, then shoves his dripping cock back inside, reminding the school bad boy just who the real teacher is here.
Scene 5: Schooboy Threesome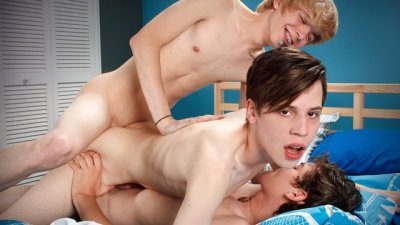 Young boys can always benefit from a little learning. School chums Alan Davis and Jamie Ray have had their eye on Devin Lewis, the new kid in school. They invite the sexy schoolboy over to teach him a thing or two he definitely won't learn in class. Alan and Jamie give Lewis some lusty lessons on deep throating dong, eating ass and taking bareback cock long and hard! With the perfectly pervy teacher to student to ratio, Devin is a quick study and it isn't long before the boy is taking dick at BOTH ends. Study time cums to a close and the REAL test begins as Ray and Davis double dick Devin and the kid passes with flying colors! After all his hard work schooling young Lewis, Ray's rump could use a good ramming and bad boy Alan is up for the task. Class is cumming to a close and the sexy threesome celebrate by tossing off all over Jamie's sultry tight twink bod. Devin is definitely a straight A student and we'd venture to guess on his way to becoming head of the class, vale-DICK-torian!