Description / Review:
We hope you like your chicken spicy because these tasty young turks are serving up some severely HOT bareback action! This finger lickin' good hardcore collection has the freshest young boys on the block banging, blowing and rimming their way to your hearts. Our jailbait jack off jockeys are smoking hot, hung and enjoying every hard inch of one another in this big bareback collection of barely legal, lusty lads. Every twinkie is cream filled to capacity and stuffed deep to their succulent center!
Scene 1: Joy Sticks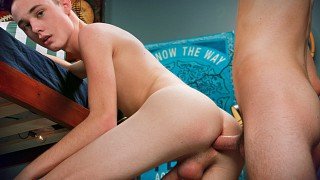 Chillin' on their bunk beds for a sleep over, Alan Davis and Jay Thompson are locked into what seems to be an intensely competitive video game! It looks like Jay must've lost this round because he jumps off the top bunk and onto Alan down below, eager to enact his revenge! An innocent wrestling match ensues before some not so innocent bunk bed boners sprout up! These guns are way more enticing to the young gamers and they start firing away, jacking one another's joy sticks, each determined to win this round! The too-cute twinks are smooth and angelic with surprisingly large love muscles for their tasty, tiny frames. Davis dives into Thompson's tender tush, tongue fucking it with a vengeance before the kid cries out, "I'm ready for your dick!" A delicious expression of pleasure and pain washes over Jay's cherub like face as Alan ass fucks the boy bareback! Jay has a confidence well beyond his years and knows exactly what he wants. He orders Alan, "I want you to ride me," and our dicks and hearts just skipped a beat! #HOT Davis climbs on board and takes a seat, swiveling his hips on the slippery schlong as the two tender morsels make out like the school boys they are! Thompson takes the lead once again, belting out "fuck me till I cum!" #WeLikeThisKid Spread open as far as his legs and hole are able, Alan plows his piece deep inside, hitting the boy in the right button as buckets of nut jut out splashing the young slut's sternum. Davis pulls out and lets loose his juice, coating the kids caboose with a divine cream pie surprise.
Scene 2: Playing Rough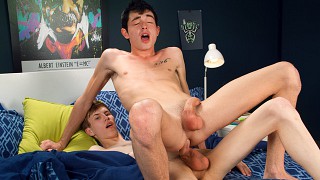 New cummer Gabe Isaac makes up a game/good excuse to get his hands on gorgeous Grayson Lange outside in the park. Having heard stories of Gabe's gargantuan goo gun Grayson plays along. Naturally the boys wind up in they're teen boy bedroom studying one another's biology. Grayson gets his knob gobbled before digging deep into Isaac's underwear to get to the 'bottom" of these big dick rumors. Gabe's package is absolutely enormous and looks like he's smuggling a monster in there that's growing by the second. Lange laps at his perfect piece like a puppy and then moves on to Gabe's gorgeously smooth young hole with probing fingers and a warm mouth. He slaps the kids tight ass with a couple spankings for good measure as Gabe does some spanking of his own on that mammoth member. After Grayson has geared up Gabe's hole for some grinding, Lange launches his cock inside for a ball slapping bareback good time. Lange's beautiful bubble butt plunges ass as it flexes and fucks feverishly. Grayson couldn't let all that fresh cock go to waste, so he climbs on top like a good little bottom. He must go slow at first to readjust everything he thinks he knows about bottoming, this is a "horse" of a different color! Gabe makes it go down easier by playing with his buddies boner. Lange taking Isaac doggy style is a dick dripper of a good time. Pounds of cock being stuffed inside such a tiny twink is porn perfection. Lange's hole has had a penis punishing, the boys switch hit and Gabe is there to pick up the dick. Lange lays into the kid, and our big dicked twink launches a big hot load! Grayson pulls out, nuts nasty on the boys butt then shoves his slick schlong back inside. Flip flop, big dick perfection!
Scene 3: Drawn Together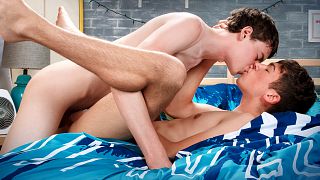 ared Scott has several talents, one of them being art. Using chalk on the basketball court at the park, he's creating a cock catcher of a creative piece that draws Alan Davis towards him. Alan gives praise to Jared's talents and invites him back to his place to find out if the hottie has talents in other areas. Davis quickly finds out that Scott is a skilled schlong sucker as well. Davis is impressed, AND raging hard! He pulls the creative cocksmith by the back of the head to get deep down on that "D." Being an boy that appreciates the arts, Alan is always willing to give back to talent so he downs Jared's jock with gulping gusto! Jared has QUITE the PIECE, big and bold and definitely delicious. Confident he's found a boy who appreciates his art, Scott dives into Alan's ass in a scalding hot 69 ass eating, cock sucking extravaganza. The artist always primes whatever he's working on and Alan's smooth ass is no exception. Wet and ready, Davis obeys orders and climbs on Jared's giant jock for a bareback joy ride. Scott's schlong slides right in and Davis's dick swings with swagger as his ass enjoys the pure pleasure of a raw cock. The boys rearrange this art installation and Davis dicks the artist's amazing ass as Jared handles his huge hog. The cock cam goes in from underneath, capturing all the bone banging action thats entering our artist. Scott strokes his cock and knocks out a pure white work of art all over his smooth six pack. Alan is about to bust, he pulls out and paints the kid with his cum, blasting the boy wonder past his chest. This hot teen fuck is an absolute work of art.
Scene 4: Bareback Boy Play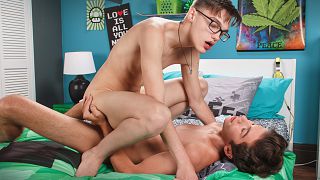 In the bedroom playing video games, Jared Scott and Dustin Cook find some much better joysticks to fool around with; and, once adorable Dustin is on his knees he finds out WAY bigger too! Jared's cock is big, but with super cute, tiny twink Cook next to it, the thing looks like a monster and our boy cant get enough. Dustin sucks schlong like a beast before climbing back on the bed and fucking Jared's face. Scott grabs the kids smooth, pretty, lily white ass as he downs dick, even giving that ass a few smacks for good measure. Then, he invites Dustin to have a seat on his dick. Pretty boy just sits right back and aiming his hungry hole perfectly, he engulfs the entirety of Jared's junk bareback to the balls. The boy bounces like a newborn in a Jolly Jumper enjoying every thick, hard inch as his schlong slaps Scott's tight torso. In perfect rhythm, Cook rearranges his legs so Jared can lift him in one swift motion with his gorgeously muscled legs. He plants pretty boy down on the bed and continues to beat that ass up! Jared stops slamming just long enough to give the kid's hole a thorough inspection with his darting tongue and a few fingers before getting back to some ball slapping, ass banging. Scott folds Dustin's legs up like a pretzel with his knees by his ears before the ultimate switch-a-roo happens! He gets on the bed and offers his ass to Dustin! The too cute twink has an impressive piece and puts it to good use on Jared's tight little hole. The cock cam goes in from the bottom to capture all the bareback, hole pounding action up close. The dynamic duo are cumming close to climax in unison. Cook pulls his cock out and aims it at Jared's hole as instructed by his hungry bottom. He splashes his young seed on Jared's tightening taint before slamming his schlong back inside to give Scott a creamy filling. Feeling warm inside, Jared can't hold his load any longer. Dustin puts his pouty lips around the boy's massive member and gets blasted. Cook keeps slurping cock like a kid with an ice cream cone and then shares come cream with Jared in a sexy final kiss.
Scene 5: Playing With Balls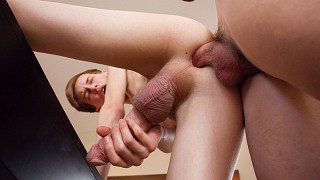 Fresh from a swim in towels and trunks, Dustin Cook and Gabe Isaac head inside for a feisty game of pool. Gabe breaks and the guys start a game, but between the phallic pool sicks in their hands and the banging of balls they both begin to hunger for the real McCoy; besides, Gabe's stick out weighs any pool que in the room. Dustin does some lip smacking, yummy damage on Isaac's enormous appendage then lifts the kid's legs up, spreads Gabe's cheeks like butter and tongue bangs the boy's bung hole. After that tasty tease, Isaac's ass is begging for something more so Cook delivers, driving his dick deep inside and not letting up till his balls hit the boy's bottom. The guys flip the scrip and Cook climbs onto the pool table to squat down on Gabe's super huge schlong. Dustin's hot hole handles the monster like a kid in a bounce house at a birthday party as Isaac strokes Cook's cock as it flops around flirting inches from his face. Dustin hops off the pool table and aims for Isaac's corner cock pocket. Gabe's huge hog looks heavenly heaving around with some mighty heft to it as he keeps stroking. The sexy pool sharks can't hold their lust filled loins for another instant! Gabe's groin stretches out even longer then lets loose a load worthy of his king sized cock. Dustin douses Gabe's ENTIRE back, shooting far and wide. He smothers the kid in cum all the way up to his shoulders, then squeezes out every last lusty fuck drop on to Isaac's ass from his bountiful load of ball juice.
Additional Information
Categories: UK R18 / XXX Gay Adult
Running Time: 121 mins, Year: 2018
Price: Around £32*
Director: Keith Miller
Starring: Alan Davis, Jay Thompson, Jared Scott, Gabe Isaac, Dustin Cook, Grayson Lange
Studio: 8Teenboy (Helix Studios)
Buy 8Teenboy Gay DVDs online at: Simply-Adult.com, Homoactive and Radvideo (USA)
Buy Helix Studio Gay DVDs online at: Simply-Adult.com, Homoactive and Radvideo (USA)
Member site: HelixStudios.net and 8Teenboy.com
Country: USA, Language: English
Additional info: No Regional Coding