Summary:
Compilation Gay DVD featuring scenes from Staxus titles

It's great when friends can get together and share pleasantries with each other. It is also great when they suck and fuck each other. Got a load and need a place to shoot it? Grab your best friend and let him have it. Just be ready for him to get you back. Being there for a quick "no-strings" attached fuck session is what friends are for. Watch as these Best Friends take their friendship to the next level as they get hard and get off like only really good friends possibly can.
Scene 1: It's A Blond-Boy Chav Fuck-Fest As Kamyk Walker Gets Banged Raw & Hard Innit!
Starring: Jaden Fox, Kamyk Walker
From: Brit Ladz: Special Brew, Scene 2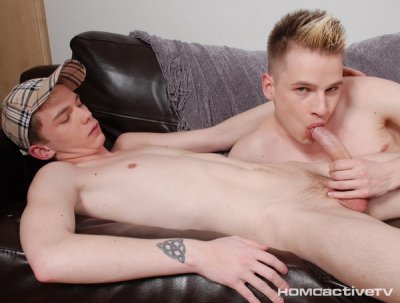 Of course it's wrong to generalise, but there's no getting away from the fact that some chavs are just plain and simple sluts – Kamyk Walker being a name that immediately comes to mind! With his comely little face and seemingly innocent smile, you'd be forgiven for thinking he was sweetness and light personified. Put him in a room with another horny member of the underclass and his true character comes shining through. Why, he's dangling his dick out of his trackies almost from the word go in this sordid encounter with Jaden Fox; and suffice it to say that it's an invite that doesn't go unreciprocated. As a result the pair of dirty hounds are soon exchanging blowjobs on the sofa like they're going out of fashion; before Walker ups the ante by opening out his ass so that Fox can give his hungry crack the kind of energetic rimming that it deserves. But let's not kid ourselves. It's not a tongue that Walker wants – as enjoyable as it is to have one poking away up there – it's a hard dick; and it's with evident relief that he eventually gets to feel Fox's thick, raw cock stretching his fuck-hole. It's a move that quickly makes a spunky climax nigh-on inevitable; and chances are you'll have nutted generously by the time Fox squirts over Walker's expectant face!
Scene 2: Flip-Flop Bareback Fuckers Enjoy Rimming & Fisting Before Dumping Their Loads!

Starring: Peter Nover and Will Sims
From: Abused, Stretched, Scene 2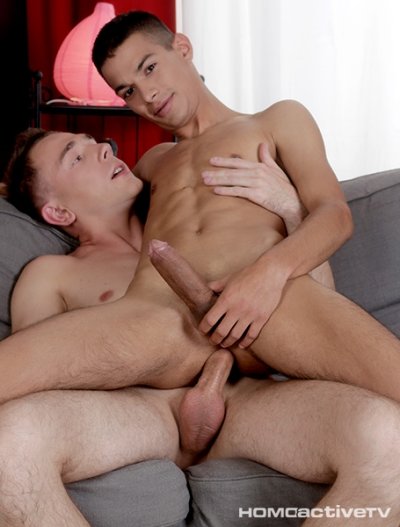 One might almost be forgiven for thinking that new boy, Peter Nover, was a total innocent, but (let's be perfectly honest now) those kinky black pants that he and Will Sims are wearing at the start of this delightfully spunktastic episode suggest that he's anything but. Indeed, what doubts we have about this fellow's history are quickly dispelled when he's presented with Sims's dick, which he immediately gets to work on with those lusciously thick lips of his. No question about it, this lad's nowhere near as prim and proper as he'd like you to think – something that will come as a great relief to all you dirty-minded fuckers out there! Besides, what vestige of innocence that's still left in the lad is never destined to survive an encounter with a character such as Sims, who's rarely if ever reticent when it comes to making his mark on a newbie. As such, it's no time at all before Sims is fervently rimming Nover's hungry little pucker, lapping at the hole in preparation for the hardcore, rubber-free fucking to come. What's more, Nover's soon taking every inch of his new buddy's ramrod like a pro, settling in a series of positions to enjoy every last second of pleasure that Sims can provide. As if not to be outdone, however, it's not long before the roles have been reversed, with Nover taking the opportunity to first fist and then screw Sims's ass for all that it's worth. It's a kinky turnaround that's sure to get you worked up almost as much as the two guys themselves, who both proceed to knock out generous wads of jizz in the process to mark a very satisfied wrap!
Scene 3: Horny Coach Gives His Dick-Lovin' Pupil A Real Rough Ride On His Thick, Meaty Shaft!
Starring: Paul Walker and Alex Santana
From: Staxus Sport Ladz, Aced, Scene 3
Somehow you can't imagine the likes of Rafael Nadal or Roger Federer sneaking off-court to enjoy a cigarette, so it's little wonder that Alex Santana's coach (Paul Walker) is rather disgruntled to find his charge puffing on a fag when the lad should be out on the baseline practising his game. Except it quickly becomes apparent that it's not this particular foible that has upset the coach, but rather the fact that Walker has discovered that the fellow has been fucking around with Orlando White – quite literally! As Walker eagerly points out, he's the one who should be doing the fucking around here – and given his rather domineering, masculine persona he probably has a very valid point.
Needless to say, it takes about five seconds for Walker to bundle Santana indoors, push him down onto a sofa and to begin abusing the youngster with some determined ass-slapping; before the coach then thrusts his handsome ramrod down his pupil's throat. If you're looking for romance then this ain't the place to begin your search. Walker is every inch the dominant party here – a point that's eventually underlined by the hardcore fuck that follows, with Santana's ass-hole taking a pounding in a whole series of positions.
It's almost enough to make a grown man weep – but on this performance we'd say that Santana enjoyed every fuckin' minute of his appraisal here, and the fact that he so keenly ruptures his nads whilst helplessly skewered on Walker's knob says it all. As does the undeniable look of delight on his pretty little face when Walker finally coats it with a torrent of creamy cum!
Scene 4: Senior Officer Lands His Thick Uncut Cock Down Tim Law's Throat & Up His Cute Ass!
Starring: Tim Shaw, Jan Saikov
From: Staxus, Army Initation, Scene 3
It's never exactly specified as to why Tim Law starts this scene down on his knees, cleaning the floor of a urinal with a cloth, but one thing's for sure and that's that Jan Saikov – a slightly older, buffer fellow – is evidently determined to take full advantage of the young twink's prostrated position. Indeed, this is a guy who won't have a smile on his somewhat rugged and determined face until he's fucking the living daylights out of Law's ass! As such, don't for one moment expect anything other than a steely, unimpassioned persona from Saikov as he begins proceedings by thrusting his ever-swelling cock down the boy's throat – an act that Law takes with noteworthy ease, it must be remarked.
That in itself may help explain the eagerness with which the older fellow is soon fingering Law's hole; and needless to say it's no time at all before that comparatively minor penetration has become decidedly more intimate, as Saikov's inquisitive digit is replaced by his thick, meaty, uncut dick! Cue a fabulous, no-holds-barred raw fuck that sees cutie-boy Law fucked in every position imaginable; culminating in the jizz quite literally being banged out of him, before Saikov squirts a very generous wad all over his face. Totally filthy, but undeniably hot!