Summary:
Chason Porne (Kaden Saylor) continues his quest to find his identity, with the help of sexy doctor Brent Corrigan, as he faces his adversary Hardstone (Active Duty's Thomas).
Description/ Review:
After an exciting recap of the events of The Porne Ultimatum, the Chason Porne saga continues as Chason searches for his identity.
Scene 1: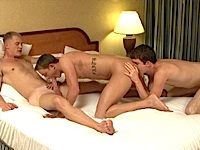 The Porne Identity begins with an unidentified Senator treating one of his trusted aides to a well-earned break. Devin Moss is the trick with a monster cock hired as a reward. From there the plot thickens. As an aide sips coffee while he works on his computer, a senator walks in (handsome military man DJ) and announces he has a treat for his hard working assistant (Spencer).
In the next room is a trick (Devin Moss), already naked and hard in bed, sporting a very thick 10-inch cock. Unknown to the senator (and maybe all three), a hidden camera is recording every lick, suck and penetration. The senator and his aide go down on their trick's cock like it was the best piece of Halloween candy in their bag. They move to a circle suck and rim before the senator plows into the big dicked trick's asshole and nearly makes him cry. The captured video makes its way to none other than Porne's nemesis, Hardstone (Thomas).
Scene 2: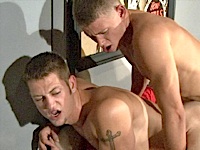 As Chason Porne (Kaden Saylor) sneaks into the park where he's to meet Hardstone, he stops to look through the all-important book he confiscated and sees a list of governors, senators and congressmen - one more piece in the puzzle he's trying to assemble. He scouts the area and notices Hardstone's armed guard, so beats a hasty retreat to his newfound friend and lover's pad (Mason Wyler). As he phones Hardstone on the way with the message, "I don't like being set up," shouts ring out and a car speeds away. Chason finds his best friend's dead body on the kitchen floor. He wipes his tears away and calls his new best friend (Brent Corrigan) for help.
Back at Hardstone's lair, three goons (Barrett Long, Eli and Gage) get reamed by Hardstone, and when the boss storms out, Barrett gets his two subordinate goons to take a break and relax. Eli and Gage suck, rim, and fuck each other better than they perform their goon duties! Eli first takes Gage's cock, then he returns the favor in spades, pounding Gage's ass as hard as he can. They take their frustrations out on each other, gush fat loads of cum, and get ready for their next assignment.
Scene 3: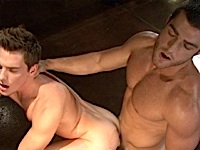 Chason gets his doctor buddy (Brent Corrigan) to safeguard the valuable book and be his lookout for his next meeting with Hardstone. But again the upper hand goes to Hardstone, who drugs Porne with a poison dart, and Hardstone's goon (Chaz) ambushes the good doctor. Both are now Hardstone's "detainees." When Hardstone pressures the doctor where he got the book, young doctor Corrigan turns on the charm and seduces Hardstone, pleading, "I'll do anything if you'll just let me go!" They each suck the other, caress their bodies and make hot, tense and sweaty sex. Thomas' big fat masculine and meaty cock inside Corrigan looks like a telephone pole ramming his ass. First doggie style, then riding on it, Corrigan wears out Hardstone, and they pass out on the couch.
Scene 4: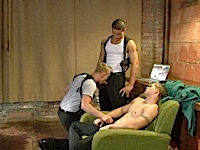 The goons guarding Porne (Chaz and Cash) get horny watching the film of the senator and take a liking to Chason. Still drowsy from the drug, Chason thinks he's with his doctor friend and joins in the fun. Chaz goes down on Cash and pulls Chason's dick out of his pants and strokes it. Chason catches on as the drug wears off and goes along with rimming, sucking and even being the meat in a three-man sandwich. The sexual trio of good-looking and well-built young men boils to a feverish pitch and, one by one, they spurt their manly loads and fall on top of each other. That's when Chason has them where he wants them and kicks their asses like Jean-Claude Van Damme.
The ensuing fast-paced action reveals some clever plot twists and leaves you wondering and waiting for The Porne Supremacy, the next volume!
See also: The Porne Ultimatum