Summary:
If you enjoy outdoor sex you don't want to miss out on this smoking hot film! Fresh hot twinks and buff muscle studs meet in the woods for a good fuck. The dads know how to please their twinks al fresco!
Scene 1: Young Blond Twink Gets A Hard, Open-Air Fucking & Hot, Sticky Facial!
Cast: Gold Star, James Jordan
Also available: Dads 'N Lads! 2 - Compilation Gay DVD
Muscleman James Jordan heads for the woods with his favourite blond twink, Gold Star, armed with little more than a blanket – but believe us, neither of these fellows have any intention of bedding down for a picnic. No, their hunger is most definitely of a much more carnal nature, as immediately becomes apparent when the horny stud strips off his vest and exposes the fine physique that (up until this point at least) he's been keeping under wraps.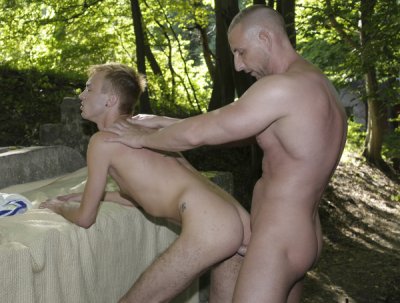 Needless to say, Gold Star's totally overawed by all the exposed bulk on offer, and responds by falling to his knees and giving the meaty, shaved shaft between his older pal's thighs the kind of eager, open-mouthed attention that has all the trademarks of a would-be super-slut. Indeed, there's simply no denying the fevered attention that Jordan's dick gets courtesy of Gold Star's mouth, as the youngster slurps on the hard ramrod on offer before allowing his older mate to quite literally face-fuck him! Don't imagine for one moment, however, that a fellow of Jordan's temperament is ever going to be satisfied with oral.
No, he's not going to be happy until he's balls-deep inside Gold Star, banging the hell out of the boy's sore, but very contented ass-hole. And so it proves, with the youngster left quite literally crying out for relief as the hunk gives him the stretching of a lifetime. It's left only for Jordan to call it a wrap by jerking off all over his mate's face, plastering Gold Star in hot jizz in the process for your enjoyment!
Scene 2: Camping In The Woods Results In A Rim, Suck & Fuck-Fest For These Two Dirty Country Boys!
Cast: David Hanson, Gold Star
Also available: Fucking Blonds Have More Fun (Compilation)
Bonding sessions come in a variety of forms, but is there anything that brings two mates closer than an impromptu trip to the countryside and the opportunity to hone your skills at putting up a tent together? Unfortunately for David Hanson and Gold Star, this is one particular erection that seems destined to fail right from the off! Still, why waste time trying to fathom out how to master the etiquette of camping when you can concentrate on more important matters? Things like sucking your pal's hard cock whilst supping a can of cheap lager or giving his ass the kind of pounding that it surely always deserved!
Certainly that's the way events transpire here, as the two horny, over-sexed pups quickly abandon their love of canvas in favour of an almost unsightly lust for dick! Still, with the kind of equipment that blond beauty, Gold Star, has stuffed in his pants is it really any wonder that young Hanson is literally salivating at the prospect of getting a healthy mouthful of meat?
Having savoured every inch of his buddy's love-pole, however, Hanson is clearly in the market to sample the boy's ass; and almost before Gold Star has chance to take breath he finds himself parting his butt-cheeks in order to accommodate first Hanson's almost over-eager tongue and finally the lad's badly swollen knob! It all marks the start of a truly superb open-air coupling, which culminates in Hanson white-washing Gold Star's face and the young blond lad knocking out a terrific wad of his own in response!
Scene 3: Older Dude Gives His Younger Mate A Hard Raw Fuck & Loads Of Jizz Up His Ass!
Cast: Daniel Wolt, Danny Watson
Older guys might not be quite as fit or physically primed as their younger rivals, but for Daniel Wolt that doesn't seem to matter one iota. What counts in his eyes is that Danny Watson has his own private chalet in the woods and a plush Audi to get them both there! Not that this pairing actually make it more than a few paces away from the car upon their arrival before they're snogging each other's faces off. Indeed, all thought of the chalet appears to have been completely erased from their collective memory as they proceed to feast on each other's dicks in an open field – seemingly the ideal location when hitting it off with another horny guy in this part of Hungary!
Eventually, however, these two dick-crazed bastards finally make it to Watson's chalet, though it has to be said that neither fellow actually manages to get through the door. Instead, this pair of over-sexed felons make the most of the veranda, with Watson eagerly rimming his younger pal's ass-hole before following the action up by sticking his aching dick deep inside!
What follows is a no-holds-barred, hell-for-leather session of unbridled raw sex, which will appeal to anyone who likes their porn to be gritty and unrefined. But the ultimate accolade to this session has to go to Watson's uncontrolled breeding of Wolt's man-cunt, whitewashing the hole for all it's worth and leaving the toy-boy coated in hot and looking well satisfied!
Scene 4: Daniel Prince Takes His Friend For A Forest Walk - Then Fucks His Pretty Brains Out!
See also: Open Air Sluts 3 (2 DVD set)
Daniel Prince and David Hanson put their best collective foot forward for a walk in the woods – except (as quickly becomes all too apparent) their quest for exercise is perhaps a little more carnal than they might ever wish to admit. For upon discovering a quiet corner of the forest, in a clearing next to a ramshackle cottage, the two fellows spread out a blanket and settle themselves down to a lengthy session of cock-sucking and ass-fucking – the kind that so often appears to be a feature of life in the Czech Republic where horny, over-sexed boys are concerned.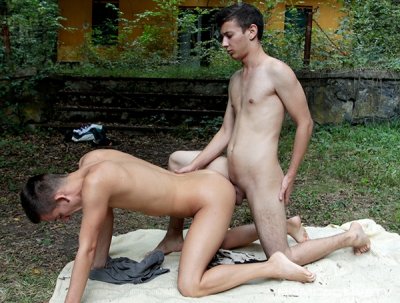 Not that we're complaining, of course. We defy anyone to watch this pair of unmitigated beauties without reaching for their zipper – most notably when the two guys have exchanged obligatory blow-jobs and Hanson lies himself down on his shoulders with his butt in the air, legs akimbo, ready for raw penetration. Something that young Prince is only too happy and willing to provide, it must be said. Cue a variety of fuck-positions that see Hanson's hole duly hammered good and proper for your perverse entertainment.
Indeed, who could have possibly complained had director, John Smith, called it a wrap there and then? As it is, however, the coupling reaches a dramatic conclusion in the form of two of the hottest, stickiest facials we've seen in a long time, leaving both lads dripping with goo and clearly extremely satisfied. As you yourselves will be when you witness these pretty, innocent faces looking totally violated!