Summary:
Some of the best-ever STAXUS scenes compiled on DVD!* Pederasty – the relationship of an older, more experienced partner with a younger, sexually-charged fresher – has always had a certain enigmatic vogue; but these horny pairings take it to a whole new level, with some of the hottest STAXUS newbies taking on a second collection of the horniest "daddies", including Xavi Duran, Robin Sanchez, and James Jordan. Pyotr Tomek and Milan Sharp lead the twink charge, as virgin asses yield time and again to the lure of Daddy's dick! Compilation DVD - 6 Scenes
Description / Review:

Scene 1: Hot Horny Top Gives Blond Twink A Real Hard Bone To Fuck Around With!
Cast: Darin Bone, Milan Sharp
From: MaXXXed Out, Scene 3

We feature lots of hot twinks in our movies, as pretty much everyone in the world must surely know by now, but once in a while we can't help promoting lads who have a slightly more manly appeal – guys like Darin Bone, who sports a wisp of chest-hair and who has the kind of meaty, uncut cock that leaves most of us gays drooling in delight.
Certainly young Milan Sharp seems completely bowled over by this handsome beauty, that's for sure – sliding down to engulf Bone's oversized boner with the kind of gusto that we've come to expect from the boy. Not that it's all one way traffic, mind. Bone himself appears more than pleased to play long and hard on Sharp's delicious ramrod, which in this instance sits poking through his pair of pearly-white jockstraps. But it's obvious pretty much from the word go as to whose hungry little pucker is gonna get a good old-fashioned stretching before it's a wrap; and before you know it Sharp is once again proving his worth as one of the hottest bottoms around.
Finally culminating in the lad getting a worthwhile facial courtesy of Bone, whilst he himself blows all over his own belly. In short, feisty, furious 'n' fucking fabulous!
Scene 2: Young Pizza Boy Gets A Deep-Pan Stuffing From A Horny Stud!
From: Use Me, Scene 2
Let's be honest here, if young Pyotr Tomek came delivering pizza to the door of your hotel room wouldn't you be tempted to make some kind of pass at the fellow? Especially if – as is the case here – he was wearing a baseball cap with a distinctly provocative maxim daubed all over it. Certainly Xavi Duran doesn't seem to have any reticence in taking full advantage of the situation, but that shouldn't come as any surprise given his unmistakably cocksure approach.
Indeed, he brushes aside Tomek's initial rebuttal, and has the cute twink down on the bed in no time at all – by which point the horny little pup is already putty in the stud's hands! Why, the boy doesn't stand a chance as Duran strips him of his jeans and promptly engages in a head-on encounter with Tomek's dick; before pushing the lad's ass into the air and rimming his hot little fuck-hole like you won't believe. Needless to say it's all more than enough to get Tomek into the mood for action, and what doubts he may have initially had about being this stud's latest notch on the bedpost are promptly forgotten as he first gives head and then finally allows Duran to finger and fuck his ass!
What follows is a superb masterclass in man-on-boy action, with Tomek banged for all he's worth doggy-style; before the lad positions himself over Duran's handsome fuck-pole and quite literally lands himself down on every inch that the dude has to offer. Little wonder that the boy is soon squirting for all he's worth; but it's arguably the sight of Tomek's winsome little face getting jizzed that'll prove the highlight!
Scene 3: Sexy Blond Twink Gets Fucked Raw By His Horny Older Pal!
Cast: Rick Nielson, Tim Walker
From: Dads Fucks Lads, Scene 1
Young blond, Tim Walker, is still very much a kid at heart. So much so that he'd still prefer to be playing with his toy helicopter than pay attention to the needs of handsome stud, Ricky Nielson, in the next room. Don't worry though, it's not a situation that continues for very long. First opportunity and Nielson has made his move, pouncing on the youngster like a lion stalking a gazelle.
What's more, Walker never stands a chance. Before he knows it the tattooed hunk has reached into his jeans and is tugging on the lad's dick like you wouldn't believe. Little surprise that Walker is soon returning the favour by chewing on Nielson's rock-hard meat like a new plaything. If anything, however, it's Walker's ass that's the latest craze on this block, as the older lad rims the boy's hole before thrusting every inch of his cock deep inside the all-too-eager pucker.
Cue a truly fantastic display of older-on-younger action that'll have you jerking off like crazy – Walker proving a total slut to his more experienced compatriot, who quite literally fucks the spunk out of the boy for your pleasure. All culminating in a delirious blast of jizz on Nielson's part, eagerly lapped up by pretty-boy Walker!
Scene 4: Horny Office Boy Gets Stripped & Fucked Raw By His Dirty-Minded Boss!
Cast: Kurt Maddox, Jason Parker
From: Dads Do Lads, Scene 1
Anyone who's worked in an office knows that it's vitally important that you keep to the dress-code, so it's perhaps no surprise that businessman, Jason Parker, takes the opportunity to give young Kurt Maddox a bit of a dressing down (excuse the pun) when the lad enters his office wearing nothing more than a pair of shorts and a tee-shirt. In hindsight, however, it's difficult to know whether the older fellow's criticism is merely a somewhat devious means to get the youngster out of his clothes.
After all, having delivered his criticism it's only a matter of a few moments before Parker has his charge exactly where he wants him: right between his legs and feasting off the thick, uncut cock that he has stuffed inside his suit trousers! That, of course, signals the start to a terrific set piece that sees both guys trade blow-jobs; prior to the businessman taking the action to a whole new level by ploughing into Maddox's ass and giving the dark-haired twink the red raw fucking of a lifetime.
A sweaty, sticky climax is pretty much inevitable; and so it proves, as Parker splatters the contents of his balls all over Maddox's cute little face. By the time the youngster jerks his own pent-up load over the floor there's every possibility that you'll have done so too!
Scene 5: Interrupting The Boss Gets This Horny Twink The Hard Hitting Fuck His Useless Ass Deserves!
Cast: Tristan Wood, Robin Sanchez
Also available: Boss Vs Twink, Scene 4

It's a brave soul who can interrupt their boss mid-flow during an important telephone conversation and get away with it, but clearly young Tristan Wood is a guy with balls – excuse the pun! Of course, it helps when you're an out-and-out harlot and have no quarms in using your sexual charms to win over your superior – as herein demonstrated by the young fellow, who deftly tackles Robin Sanchez's natural (and totally understandable) annoyance by immediately reaching for his boss' shirt buttons before heading south for a direct encounter with the older guy's handsome ramrod!
And what an encounter it is, with Wood deep-throating the beauty down to the root; before Sanchez returns the eager compliment in similarly enthusiastic style, then proceeds to rim his underling's pert little ass in anticipation of the hardcore fucking that we all know is on the cards. Indeed, it doesn't take long before the bearded manager is ploughing his handsome fuck-stick right between the twink's pert little buns; though being the boss it's perhaps fitting that most of the fornication in this scene proceeds with Wood sitting down on Sanchez's lap, as if to underline the boss' superior status.
Arguably the best action, however, comes when Sanchez finally bundles Wood over his desk and proceeds to engage in a hard hitting, ass-splitting blitzkrieg on the youngster's hole, which not surprisingly results in Wood busting his nuts in no time. All topped off nicely by the boss marking his territory by spewing a rich wad of liquid protein over the young lad's face – nigh on payment in kind!
Scene 6: Young Blond Twink Gets A Hard, Open-Air Fucking & Hot, Sticky Facial!
Cast: Gold Star, James Jordan
From: Outdoor Pursuits, Scene 1
Muscleman James Jordan heads for the woods with his favourite blond twink, Gold Star, armed with little more than a blanket – but believe us, neither of these fellows have any intention of bedding down for a picnic. No, their hunger is most definitely of a much more carnal nature, as immediately becomes apparent when the horny stud strips off his vest and exposes the fine physique that (up until this point at least) he's been keeping under wraps.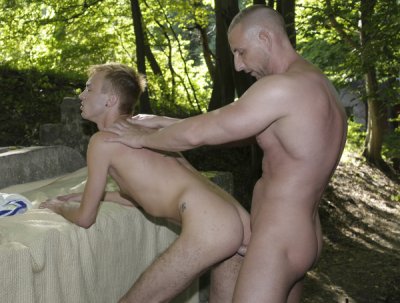 Needless to say, Gold Star's totally overawed by all the exposed bulk on offer, and responds by falling to his knees and giving the meaty, shaved shaft between his older pal's thighs the kind of eager, open-mouthed attention that has all the trademarks of a would-be super-slut. Indeed, there's simply no denying the fevered attention that Jordan's dick gets courtesy of Gold Star's mouth, as the youngster slurps on the hard ramrod on offer before allowing his older mate to quite literally face-fuck him! Don't imagine for one moment, however, that a fellow of Jordan's temperament is ever going to be satisfied with oral.
No, he's not going to be happy until he's balls-deep inside Gold Star, banging the hell out of the boy's sore, but very contented ass-hole. And so it proves, with the youngster left quite literally crying out for relief as the hunk gives him the stretching of a lifetime. It's left only for Jordan to call it a wrap by jerking off all over his mate's face, plastering Gold Star in hot jizz in the process for your enjoyment!