Summary:
When you enter the barracks, you're at the mercy of your superiors, whether it's harsh inspections, strip searches, or punishment for insubordination - you have the take what you're given without a word back. For the boys here, it's a veiled treat as the Sergeants all sport thick dicks, handsome faces and muscled bodies which know exactly how to perform. Teaching the boys some invaluable lessons, it's systematic throat fucking, ass eating and butt pounding from beginning to end, with twinks split open and covered in load after load of Sergeant spunk, designed to pull them into line and be thankful for the fucks they are given. From muscled Matt Anders, to handsome Killian James, the twinks are subjected to hard ass workouts and deep penetration from beginning to end of their military training!
Description / Review
Scene One: Do Your Duty
Cast: Kamyk Walker, Matt Anders
Finding any excuse to drop to his knees, slim smooth recruit Kamyk Walker wastes no time in working his pink lips around sergeant Matt Anders' thick dick, rock hard and waiting for attention. Pushing his boys head down all the way over his shaft, Kamyk does as he's told and like any good young soldier, takes it like a man. Undoing his shirt, Matt exposes his smooth but muscled chest and torso, ripped pecs and six-pack making way to his delicious dick, turning Kamyk on even more as he hopes for more than a mouthful of daddy cock.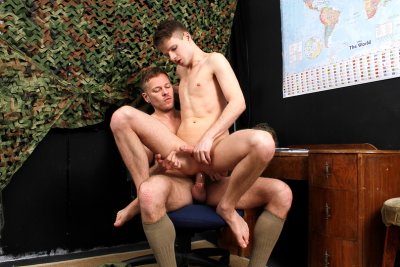 Pulled up onto the desk, his luck is in and after some throat fucking for Matt and ass eating for the boy, Matt is soon plunging his tasty meat deep into Kamyk right there on his desk. Kamyk's smooth hole is wet and stretched, pounded into by his superior, allowing the man to unleash his tension and work through his powerful hip action as Kamyk takes it all in his stride and loves every second daddy is inside him. Shooting boy juice all over himself first, Kamyk is soon covered in sergeant's spunk, pulling out just in time to cover his cock and balls in the man spray.
Scene Two: Full Inspection
Cast: Dave London, Charley Cole
Chilling on his bunk, tattooed Charley is playing deep inside his standard issue shorts at just the wrong time. Calling for inspection, Sergeant Dave strides in and catches the boy in the act. Playing it cool he sweeps glances around the area and then focuses his full attention on that impressive bulge in front of him. Told to strip and suck on Dave's solid slab of meat, Charley does as he's told eager not to get into more trouble. Flipping him around, his smooth hole is eaten out, tongue fucked deep before Dave slides his veiny dick into Charley, pumping softly at first, relishing the tightness of his hole as Charley holds onto the bed, almost biting the mattress as he's fucked hard by his superior.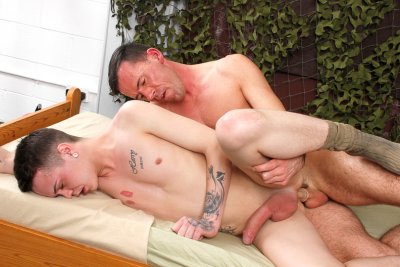 Almost breaking the bed as Dave gets as much use out of his boy as he can before shooting his load, smooth lad Charley shoots first, reaching his hairless chest with spurt after spurt, soon followed by the horny Sergeant, covering the boys balls and shaved pubic area, leaving him to clean up the mess once again.
Scene Three: Initiation Process
Cast: Alexis Belfort, Bruno Fox
Taken to his new room, dark haired Alexis is instructed by beefy Bruno Fox to make the bed - now! Leaning over to perform his task, Alexis makes the mistake to show a smooth ass crack to his Sergeant, who wastes no time giving that the once over too! Pulling his shorts down and sticking his tongue right inside, Alexis is mid rimjob before he knows what's happening. Pushed to his knees and sucking on the thick dick in front of his face, Alexis wants to please, and does his best to make sure Bruno is fully satisfied with his performance!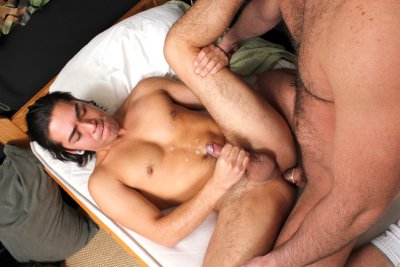 Using the unmade bed, Bruno pushes his thick shaft into Alexis, stretching him wide with the thickest dick he's had in his young life, the yelps coming from the boy just make Bruno harder, thicker and fuck faster! Using his youthful energy and tight muscles, Alexis bounces on top of the bearded Bruno, going balls deep again and again until Bruno joins the cum load already escaping Alexis and shoots over the new boy, pleased with his work and happy he's got a good fuck in his barracks.
Scene Four: New Arrival
Cast: Killian James, Cory Prince
Shown into the Sergeants room, tiny tattooed twink is inspected by the strict superior Killian James. He's not one for tattoos on his boys and strips Cory butt naked to see how many he really has. Liking what he sees, he's willing to forgive the ink, but only if he's good enough to fuck. Not wanting to be out on his ear, Cory slurps on Killian's thick cut dick, the muscled hairy chested man working the boys head up and down over his shaft, arm up showing his hairy pits and handsome face in full view. Looking down at his boy giving him a great oral workout, Killian wants to step things up a gear and gets his big dick buried into the smooth butt-crack on offer.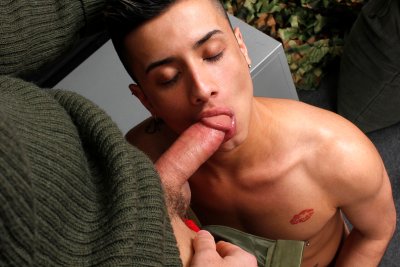 Working his boy hard, Cory pushes back, wanting more and more dick up his delicious ass, and Killian is only too happy to give it to him! Flipping him over and onto his desk, the muscled stuff sprays Cory with spunk, whipping his dick out of his ass just in time to unleash his load after Cory clenches his butt as he shot his own seconds earlier.