Summary:
We all look up to and respect the Priests. Given responsibility to ensure the spiritual wellbeing of our young men, they are entrusted to help as well as punish where punishment is due. Here are a whole load of naughty young men, ready and willing to take their Penance, with some even going for gold and seducing the priest's themselves! It's not hard to see why, with priests as muscled as Giorgio and as hung as Craig, and as devilishly handsome as superstar Jessy Ares. Catching their boys 'looking for bibles' or giving fake confession, the best way to teach these boys a lesson is to give them the taste of what a fully grown man wants from life, and it tastes just like cock and ass! Forgiveness is the key to their happiness, and penance is the only way these priest's give!
Scene One: Priest Office Punishment
Always trying to please his superior, blond cutie Jason brings his priest a hot cup of coffee to his office whilst working hard. Jason has a nervous crush on the father, so much so he gets distracted by his muscled body bursting from beneath his black shirt and spills the hot drink over the desk! Father Giorgio has a bad temper at the best of times, something Jason's always found to make him even hotter, and when told to clean up his mess, Jason jumps to it and is soon found on his knees in front of the towering mountain of muscle!
The perfect height to swallow dick, Jason's dream comes true as Giorgio takes his anger out on the poor choir boy, fucking his throat before taking further action on that peachy ass of his, right over the coffee-laden table! Ramming home his big thick dick, Jason has no option, or inclination, but to take this penance and be thankful for it! Spurting huge amounts of boy juice over himself as the father fucks him hard, Giorgio adds to the spunk and swiftly leaves his office, telling the boy to clean that u as well!
Scene Two: Choir Boy Seduces the Father
Locking up the church after working late, head altar-boy jack knocks on the vestry door to tell father Nick everyone's gone and he's ready to leave, but that's not really what Jack wants to do! Handsome priest Nick North has a fan with Jack, and it's Jack that makes the first move on the gorgeous muscle man! Pulling his trousers down and getting his role-model's thick hard dick out and down his throat, Nick doesn't know what's happening, but loves it nonetheless! Stripping his boy's shirt and sucking on his youthful long dick, Jack has finally got what he's prayed for, the Father about to fuck his smooth hole hard and fast! Jack can't wait to climb over him and slide Nick's thick dick inside his boy-hole, working down towards the balls, taking as much inside him and savouring every inch going deeper! Rocking the building with each heavy thrust, Both end up covered in cum, Jack especially!
Scene Three: Caught by the Priest
The best excuse for a cheeky wank in the storage room is 'Looking for a Bible', however, super hung priest Craig Daniel catches horny young man Johny in the act and what he's jerking over definitely isn't a Bible, it's a porno! Catching sight of the hung boys Johny's getting off to, Craig decides the right punishment for this cock hungry twink is one hell of a real dick, all 9" of it being gobbled down his throat. Soon rock hard and eager for more, Craig's giant dick has its eye on Johny's delicious ass, and as Johny is pushed against the shelving, his cheeks are spread open, exposing the puckering hole, getting wetter with each lap by the priest, ready and desperate of the big thick dick to slide inside! Slamming away again and again, Johny pushes back, taking his punishment as hard as he can, and Craig is more than happy to dish it out for as long as possible, ending up covering his boy in holy semen!
Scene Four: Taking Confession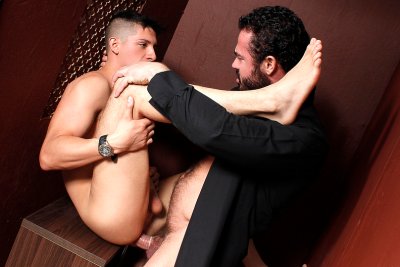 Taking confession is really spiritual rite, and when hunky priest Jessy sees his favourite choir boy sneaking in to hear some guilty confessions, there's only one punishment to be given, and it's one that is kept purely in the confessional booth itself. Ushering the naughty confessor out, Jessy and Danny are left alone, and Jessy unzips his trousers as he towers over the olive skinned beauty, whipping his cock out and presenting it to his boy! Taking the cue, Danny takes the length into his mouth and pleasures his priest perfectly. Father Jessy isn't fully convinced Danny has learnt his lesson though, and proceeds to prop his young smooth body up against him, ass to his face and spreads those peachy cheeks, allowing him and us unrivalled access to his pink hole, twitching in anticipation for his penance to be given! Jessy fucks this boy so hard the confessional booth rocks, almost giving the whole game away, but luckily, the spunk flies before the walls collapse, leaving Danny's chest and shoulders dripping, and with one final instruction from Jessy, Danny is let off the hook!
Themes: Religious, inter-generational, muscle, twink, blond, big dick, altar-boy, facial hair
Additional Information
Categories: UK R18 / XXX Gay Adult, British Gay Men, British Gay Youth, Older with Younger
Running Time: 90 mins, Year: 2016
Price: From around £29*
Starring: Jessy Ares, Danny Montero, Giorgio Arsenale, Jason Goddard, Nick North, Jack Green, Johny Cruz, Craig Daniel

Director: Andy O'Neal
Studio: Dads Fucking Lads (Eurocreme)
Buy DVDs online at: Simply-Adult.com
Downloads & Video On Demand: Dads Fucking Lads, See also: www.gayvod.co.uk
Country: UK, Language: English
Additional info: No Regional Coding