Summary:
Superhung Matthew Brannan stars in Midnight Run with Hunter Scott, Doug Perry, and Mark West in a sexual adventure from 1994 with slings, dildos, and hard-driving action.
Scene 1: Johnny Rey and Justin Bailey
Justin Bailey looks on as Johnny Rey sucks a load out of an uncredited cock at a glory hole and then soaks the stall in his own.
Scene 2: Jackson Phillips and Mark West
Jackson Phillips and Mark West slip into the theatre for a hot and dark session of making out, frottage, sucking, rimming, and fucking.
Scene 3: Devon Rexman, Max Grand, Tyler Gray, Justin Bailey, Hunter scott, Doug Perry, Joshua Scott, Matt Masters
Also available: Buddies, Pits and Playgrounds (2 DVD set)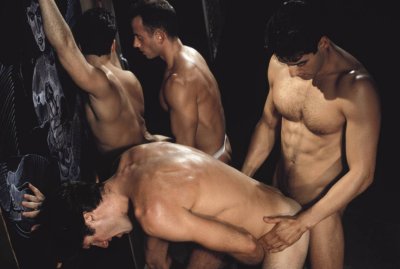 Justin Bailey wanders through a maze of sexual activity...finally settling down to watch Matt Masters give Devon Rexman a hard ass-fucking. Then, in a dungeon-like room bathed in red light, Justin Bailey (non-sexual role) watches Joshua Scott deepthroat two faceless studs standing on a platform. He takes one cock, then another, then both as he does his best to swallow these hard tools. When Joshua's sucked them both well, they blast their loads over his chest as he shoots his own. Finally, Hunter Scott and Tyler Gray work a pair of cocks poking through glory holes. They suck and work the cocks tenderly, switching positions and trading tools as Justin Bailey (non-sexual role) watches from another room. Soon Max Grand and Doug Perry step onto the other side of the wall and begin sucking Hunter and Tyler. Sucking becomes rimming and finally Max and Doug have their cocks buried deep in Hunter and Tyler's asses. The intensity increases until one by one each of these lusty men has shot his load...soaking each other in thick cum.
Scene 4: Paul Bain, Dallas Taylor, Anthony Moore, and Justin Bailey
Jockstrapped Dallas Taylor greases up a double-ended dildo and works it into sling-bound Anthony Moore's ass. When Anthony's good and opened up, Dallas tries ...
Scene 5: Justin Bailey and Matthew Brannon
Justin Bailey catches up with sex club attendant Matthew Brannon. He pulls Matthew's cock from his jockstrap and lovingly sucks it deep. Then Justin rims ...