Summary:
Gorgeous young studs in suits, threesomes and cum in the mouth, most lads are bigger than average and it's up to the usual high Dreamboy standards. British lads in suits are waiting for you, to come and get them
Description / Review
Scene 1 Will Jameson
An office boys life is a hard one and Will Jameson has no problem having hard ones all day. The camera first opens up with Jameson coming into shot, with his back to the camera walking into his shower. In just these first few seconds alone you get to see that he has a pair of peachy buns, softer and firmer and rounder than anything Mr Kipling could ever bake. Jameson's dark boyish, yet slightly rugged, but also with a hint of boy next door looks, makes him look very sexy indeed and as for his body, well he's toned and tanned to man boy perfection. Jameson soaps him self down for us in the shower and wanks himself off. One other thing about Jameson is that he has a unique looking tattoo, on the top, left side of his chest, in the form of a lion.
Scene 2 Ryan Benson, Robbie G
Jameson introduces the next scene with a voice over, which is a scene between the guard played by Ryan Benson and the steward played by Robbie G. Ryan is the tough slim smooth good looking one and Robbie is the shorter, smooth, Twinkie come and get me looking one. Benson treats Robbie like any hard man should and soon stuffs his cock where it belongs, right up Robbie's teen boy arse. It's not long before Benson has broken Robbie in, so you won't be surprised to learn that Robbie ends up, sat riding on Benson's stiffy, like a Jockey riding a horse about to win a race. Robbie's own enthusiasm for Benson's stiff long boner soon brings his teenage hormones to boiling point and he has to let go of he his juices. Benson wastes no time himself and as Robbie gets up on his feet, Benson man handles Robbie into kneeling before is cock, so he can come on his face.
Scene 3 Gareth Sean Dawson, Office Handyman Scott Black, Will Jameson.
Now Jameson looks even sexier in a suit and he introduces us to Gareth played by Sean Dawson, who is in his office telling Jameson about what he got up to the night before and almost at the same time an office handyman walks into the office to do some decorating. Anyway before handyman played by Scott Dawson can get his tools wet, we see both Dawson and Black at it with each other, whilst Jameson starts to rub himself off watching them both together. Black is the tallest and thinnest of the three and looks very council estate type, with cropped dark hair, whilst Dawson, who is nicely slim and smooth with blond hair, looks very posh and horny. Whilst Dawson is laid on the desk getting his cock gobbled on by Black, Dawson sucks on Jameson's cock deep throat style. Dawson soon ends up getting his blond butt hole screwed by Black and a little later on, Jameson fills Dawson's mouth with his squirting man cream.
Scene 4 Deliveryman Fery Shemin, The Boss Arelien Duval.


Those who like cum in the mouth will like this scene as the blond guy in this, takes every drop of the darker haired guys sperm in his mouth and swallows every drop. Both lads in this scene are just as good looking, smooth and young stud like as the rest of the cast.
Scene 5 Interviewee Jak Williams, Will Jameson.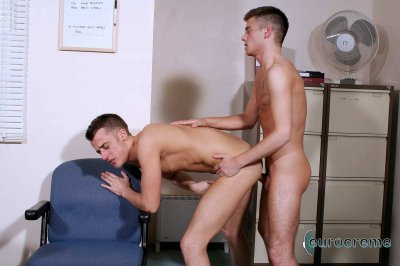 Whilst the boss is servicing the deliveryman Jameson keeps a waiting interviewee Jak Williams entertained. For me these two look very hot together, Williams looks like a clean cut, sexy young stud, sex god in his suit and he's a little taller than Jameson and has a slightly longer face. The way these two start to kiss each other, you can be forgiven for thinking that this might not be the first time they have actually kissed each other. Anyway Jameson is soon down on his knees cock worshipping his new sex god boy toy orally, which leads to Williams shooting his load over Jameson's lips. Williams returns the oral favour on Jameson, which is a joy to see and a very horny Jameson soon cant help himself, squirting is cock juices into Williams's mouth. Now if you think it is the end of this scene oh no, no, no, you will be glad to see that Jameson takes full advantage of Williams and bends the sexy bit of stuff over and fucks him (well so would every top boy if they had Williams around!).
Scene 6 Young Tattooed Exec Richard Said, Young Blond Exec Johan Volny, New Employee Nicholas Santos.
This is the second threesome of the film, of course fans of Eurocreme's films will already be familiar with Johan Volny, him and Richard Said seduce the new boy Nicholas Santos. Volny fucks Santos and him and Said end up cumming all over Santos.
Scene 7 Will Jameson, Office Boys Date Thomas Dyk.
Since Jameson is so good looking you would of course expect him to have a date for the evening at the end of a hard days work, so he goes round to his dates house and just walks straight into his dates conservatory, where his date Thomas Dyk is sprawled out half naked wanking himself off. Jameson of course wastes no time seducing Dyk, whose another smooth stunner, with slightly long dark brown hair, which is quite well styled, he has a stud below his mouth just above his chin. Jameson ends up screwing Dyk who gives us a nice squirt when it's time to empty his balls. At the end of this scene for good measure Jameson wipes his spunk and Dyk's spunk, off Dyk's torso with his posh tie, then Jameson licks the spunk off his own tie.
What more can I say this is yet more good clean sexy fun from the Eurocreme Dreamboy series. Jameson was a good match for the lead office fuck boy and all the guys are of good looking, smooth young stud star status, so you can't complain and lets face, don't some guys just look all that and some, when they are all suited and booted. The extras on the DVD include a photo gallery, a solo wank from Jameson and interview given by him as well.