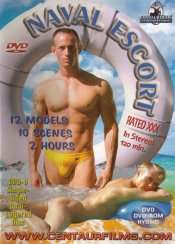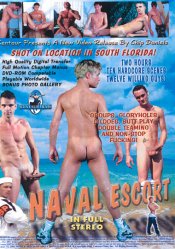 Summary:
The blond twink's bubble butt alone would make this film a winner, add big black cock, hairy daddies, dildo work, sailors, a sling, a glory hole, group sex, gobbing in gaping holes and a teen who shoots like a high pressure hose.

Description / Review:
Ignore the crap cover. Star of the film is Anton, young, blond, cute, barely able to speak English, smooth, toned and a complete slut. And with more than a passing to resemblance to Leonardo DiCaprio, well, if you half shut your eyes.

The piss-poor plot involves him being kicked out of home, and after about three seconds on the streets finding work a whore. Something he does more than convincingly. Meanwhile his sailor boyfriend hears of this and goes awol to 'save' him.

Right, now that's done, lets get on with the sex.

First scene is a scorcher, Anton gets shafted by suspiciously attractive client Yuri, a huge muscle guy, smooth, toned, dark hair, really handsome, and the roughest top this side of the Ukraine.

Anton gets fucked within a quarter inch of his life (that's a few millimetres for all our lovely continental customers) by Yuri, every which way, my favourite being when Yuri grabs his legs, holds them up high and rams a chunky portion of cock up the startled teens arse.

Anton looks helpless for most of it, although he does bite the pillow at one point, and the shots of his arse hole, well, any closer up and the camera would have been less like gay porn and more like a discovery channel documentary about the colon.

I'm also loving the next scene where Anton gets a rough shagging off another customer, this time a hairy chested thirty year old, big, built, with a tash and cheap gold jewellery. Probably lives in a trailer. Cum gets licked up.

I'll gloss over the next scene where Anton fucks another of the whores, a cute dark haired twenty something twink, and go straight on to the sling scene.

Here Sailor boyfriend, in his thirties, tall, slim, hairless and frighteningly hung gets harnessed up and works some massive dildoes up a thirty something guy in a sling, whose shaved hole gets worked to the max.

Nice fourway in the open air next, lots of rimming and fingering, and Leo Sizemore, who is totally cute, slim, smooth, and fresh faced. And another guy gets two cocks in his mouth at the same time whilst being fucked with a dildo. Interesting party piece.

Leo comes over himself life a water fountain.

Running out of time a bit so I'll just give you potted highlights if the rest, the black military policeman, muscley, thirty-something, with the HUGE penis, fucking the guy in the gimp mask, the hairy masculine pimp, and two guys spitting in to one open ass hole.

Also, the glory hole scene with four guys fucking and sucking either side of a fence.
Additional Information
Categories: UK R18 / XXX Gay Adult
Running Time: 120 mins
Price: Around £29 *
Starring: Anton, Robert Black, Corey Black, Buck Meadows, Jeremy Brooks, Kevin Bailes, David Anthony, Lance Corell, Leo Sizemore, Rory Mason, Santiago, Yuri Breschnev
Director: Chip Daniels
Language: English
Studio: Centaur Films
Buy DVDs online at: Simply-Adult.com
Gay Video On Demand: Centaur Films, See also: www.gayvod.co.uk
Country: USA
Additional info: No Regional Coding