Summary:
Some of the best Staxus scenes compiled on DVD!

It's not only happening on the cover of this gay twink DVD that the jizz is cumming out of hard boy boners, no! These greedy pups 'Love To Cum', love to play with a super-hot buddy whose cock is as hot as their own, love to slowly stretch tight bubble butts with their rigid night sticks and love to receive the creamy nectar from the boys they fucked with! This jizz-laden escapade will be a definite hit for both you and your hardon, and will be an excellent addition to your XXX DVD collection!

Five scene compilation with two hours of alfresco butt banging!
Description / Review
Scene 1: Loving Every Single Minute
Cast: Jack Cameron and Jack Rider
From: 25 Cocks, 1 Blond Twink
As bonus scenes come, this is most definitely one that you won't want to overlook, as STAXUS exclusive, Jack Cameron, proves once again why he's the man of the moment – on this occasion in the company of his blond pal, Jack Rider. In fairness, we very much doubt that you'd want to kick either of these twinks out of bed in a hurry, but Cameron's thick, uncut shaft is always the star of the show in any scene it appears in, and this scene is no exception, as Rider slurps on the aching meat with understandable relish.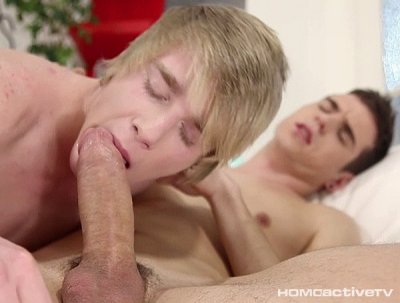 That said, it's not Cameron's dick that's destined to be doing the shafting during the course of this fabulous coupling. Instead, the young exclusive quickly finds that it's his own ass-hole that's having to do the accommodating, as Rider takes his mate from behind for the kind of balls-slapping union that Cameron won't be forgetting in any damn hurry. With his knob bouncing up and down in appreciation throughout, it's a miracle that Cameron doesn't quite literally get the spunk banged out of him; but in the end both boys take it in turns to conclude their unexpected encounter by splurging all over the other with typical teenage fury!
Scene 2: Smooth Blond Cock-Lovin' Punk Gets His Ass Pummelled Hard!
Cast: Peter Jensen, Dennis Nickolero
From: Soviet Sluts, Scene 1
Peter Jensen and Dennis Nickolero should be busy doing their Chemistry homework or preparing for tomorrow's Russian class, but who can blame them for being a little distracted from their studies? After all, all that smooth flesh on show is bound to get the blood rushing away from the brain – and headed for much more intimate quarters!
Indeed, it isn't long before the blond-haired punk and his dark-haired pal are getting down to the much more serious business of sucking cock and fingering ass – all captured in filthy, close-up detail for your perverse entertainment. If you can imagine the cutest, smoothest, most pert arse you're ever likely to come across (excuse the pun!) then you've got a very good idea of what's on offer here, as blondie grinds his way down onto his mate's thick, uncut shaft for the kind of fucking that wet dreams are made of.
Needless to say, this beauty of a slut grunts and groans his way to ecstasy, mounted in every direction until his shaved cock can quite literally take no more, spewing all over his belly. But it's the dozen-shot eruption from his best mate that'll secure greatest acclaim, plastering the bottom's face in sticky goo!
Scene 3: Horny jock takes a cock, a billiard ball and a cue up his arse!
Cast: Jack Cameron, Jack Rider & Alex Master
From: Bare Score, Scene 5
Any scene that includes the absolute gorgeous STAXUS exclusive, Jack Cameron, and his lovely fat cock is almost inevitable destined to be a winner, but add a bit of kink into the mix and you're awarded with a scene that's truly unforgettable. Jack Rider is Cameron's partner in crime, as the two twinks take the opportunity to play a somewhat unorthodox game of pool that involves Alex Master's pert ass pocketing the cue and some of the balls! Not to be outdone, Rider gets his arse coated in beer, which Cameron and Masters lick up with their tongues.
No doubt about it, this is a scene with a distinct kink – somewhat different to your usual Czech twink escapades and one that we just know you're gonna love big time! Needless to report it isn't very long at all before Master is laid back out on the table, facing upwards, with Cameron and Rider's handsomely uncut cocks bountifully dumping the entire contents of their balls (or so it seems!) all over his sweet face. It's a defilement of the utmost order, and one that we just know you're gonna love big time. Suffice it to say that no billiard balls were harmed (or lost!) in the making of this perverse escapade!
Scene 4: Tim Law takes Israeli cock – and loves it!
Cast: Tim Law and Mark Nill
From: German Sex Holiday 2, Scene 2
Mark Nill's obsession with his camera continues – this time back up in the company of cheeky young chappy, Tim Law. Not that it's very long before he's abandoned the photography session in favour of something a little more personal and intimate with the STAXUS exclusive – and who the fuck can blame him?
Law's as cute as a new button and as horny as a dog in season, and indeed it's no time at all before the youngster has fallen to his knees and has taken Nill's curiously unturned knob in his mouth. An exercise repeated in reverse when the two lads swop roles and Nill slurps on Law's juicy boner in return. No doubt about it, both these guys has a real lust for cock; and it's no real wonder when we find subsequently find them down on the floor, top-to-toe, feasting on each other's hard meat at the same time.
Some hardcore anal action can't be far away, that's for sure; and having subsequently fingered Law's ass into life, Nill finally takes the plunge into the hungry cavern to give it the kind of workout we all know deep down it deserves. All climaxing in a very handsome volley of cum over Law's fresh face that'll have you jerking like mad!
Scene 5: Boyish smooth twink gobbles 2 stud loads
Cast: Lucas Tree, Luigi Arone, Justin Lee
From: Fuck Me Hard
Having savoured time to himself with a solo effort, young Lucas Tree finally gets the opportunity to lose that precious cherry of his – and gees does he do it in style. Beginning in the company of Luigi Arone, a slim dark-haired Latin who clearly relishes the thought of popping Tree's pucker and who makes every effort to feast of the youngster's cock in anticipation of the ass-banging action to come. But if Arone thinks he's going to be alone in giving Tree the time of his young life then he's most definitely got another think coming, as blond-haired beauty Justin Lee promptly steps into the fray to add a bit of numerical spice to the equation.
Cue a stupendous, ball-bustin' threesome that first sees Tree's mouth get stretched to capacity; before Lee and Arone take turns to thrust their aching cocks into the lad's hungry ass. For a supposed virgin, Tree sure as fuck gives a startling performance, culminating in him bouncing up and down on the Latin's shaft like a veritable pro. What's more, proceedings are concluded by the fellow taking gusto loads of jizz all over his face from his pals, leaving him to give a knowing, cum-dripping smile to the camera. Good times are about to roll!