Summary:
It takes the high sexual energy of long time Frats like Michael Lee and Paul Pratt to introduce a new gang of tight bodied young hotties into the seductive going-ons of the Fratboy world. Enter teenage newbies Kevin Kandy and Keegan Adams who give up their tempting holes to our senior frats. Packing six scenes with one rock hard tag teaming threeway, this film will have you HARD FOR FRATBOYS.
Description / Review:

Scene 1. Trystian and Trevor

Trystian drops by Trevor's dorm room after a fratparty, and the two quickly shed their clothes to make the most out of the twin bed real estate. Tattooed hottie Trevor is hungry for some hard meat, so he swallows Trystian's big one. Trystian then requests his fellow frat boy's hard ass, and has a great time sucking and fingering the boy's eager hole. After preparing Trevor's opening for a good fuck, Trystian slams his 9 incher into the slutty student. Trystian never disappoints as a top. He loves slamming ass, and this romp is no exception. Donning his favorite cock ring, he plunges into Trevor balls-deep while hot-bodied Trevor wriggles with pleasure until a creamy load of spooge drips out of his thick cock. The sight of this sends Trystian into orgasmic convulsions, spewing his load on Trevor to mix with his own.

Scene 2. Paul and Keegan

Paul is the senior power-top on campus, so we thought we'd pair him with the new frat boy with the hottest ass and watch the magic happen. Its an instant attraction which is obvious when the two begin kissing and biting each other's bodys from head to toe. Domineering Paul likes to take charge and blows Keegan on his terms. He allows Keegan a taste of his rock hard cock, but only a teaser here and there. When he's ready to rim Keegan's hot little butthole, he flips him on his knees and orders him to arch his back. His goal is to make Keegan beg to get fucked, and he certainly does. What follows is all we had hopped for and more. Keegan's hard bubble butt gets slammed in every which way. The highlight is watching the nasty freshman ride the upper class-man like a pony, and the resulting cumshot he gets from Paul all over his right ass cheek. Its an initiation you won't want to miss.

Scene 3. Tyler, Brody and Paul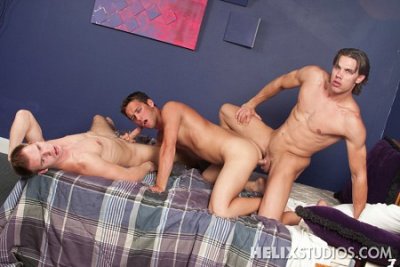 Brody West is officially part of the frat, so Paul and Tyler are showing him what happens behind the frat house doors. If you're into hot boys in briefs, then you'll love the opening of this scene. The frat brothers enjoy each other's toned, tanned bodies for a few minutes, kissing and groping one another. Paul is the first to become "de-briefed" and the other two go to work on his rock hard cock. Then its Tyler's turn to get serviced and pleasured by Brody and Paul. His amazing body quivers as all the right buttons are pushed. Paul then prepares Brody's ass for whats to cum, moistening and probing his hole with his tongue. If you've seen Paul top before, you know he's not a gentle fucker, but little brother Brody is ok with that. The little slut takes a pounding from each hot jock with as much enthusiasm as ever. Brody's hole and mouth get stuffed throughout this fuck session, leaving no one out at any given time. He ends up with two hot loads on his face, and his own load spewed on his abs. That is one creamy Fratboy.

Scene 4. Trevor fucks Jake's Hole

Jake tells his girlfriend back home that he's hanging with his frat buddy Trevor. Boy is she clueless. He's recently learned that Trevor sucks cock so much better than she does. The studs rip off each others clothes then Trevor does what he does so well, deepthroating his "straight" buddy. Jakes talent seems to be in tea bagging his new friend, tongue tickling the boys sack as Trevor kneels over Jake's face. Another thing the poor girl is clueless about is her boyfriend loves to get fucked by big cock. This scene includes two of the hottest Fratboy bodies. You get an enjoyable view from any angle, whether its Trevor's smooth, chiseled butt as the slams into Jake's ass from behind, or Jakes hard cock bouncing up and down as he gets reamed doggie style. Then jake hops on top of Trevor's fat pole and rides him like a bitch, until all the butt slamming causes him to blows his load with an ass full of dick, twitching with pleasure.
Scene 5: Michael Fucks Bentley
Michael drags Bentley to his dorm room to take advantage of the horny hottie after a few beers. These jocks have amazing chemistry and can't keep their hands off each other. Bentley really enjoys blowing Michaels anaconda, his own big cock popping out of his boxer briefs as he does this. Michael has the hottest hole at school, so Bentley doesn't miss his opportunity to rim his frat brother. Then, somehow, Bentley takes all of Mike's huge dick up his hot bubble bum, bouncing and riding on it for awhile, before he's flipped over on his belly for a hard mounting. The tattooed bottom moans in ecstasy as the Michael plunges in and out of his hungry hole. Michael continues to deep fuck Bentley until the bottom shoots a huge load all over himself, then Michael dumps a gallon of hot, drippy cum all over Bentley smiling face.
Scene 6: Kevin Fucks Bentley With 10"
Our new class of freshmen are hornier than ever. Newbies Bentley and Kevin are two great examples of this. The two young hotties have a bit of steamy foreplay, rolling around and making out in their underwear, they're hard cocks protruding out through their briefs. After getting thoroughly hot and bothered, Bentley's sizable cock comes out for Kevin to suck, and he does so with gusto. Kevin releases his 10" monster from his briefs, and boy is it a mouthful for Bentley. Even more impressive is Bentley's tattooed bubble butt squatting down on it. He wiggles and grinds on it for awhile until his hole is nice and stretched, so that the young power-top, can jackhammer the slut boy more easily. Bentley takes it until he can't hold his cum any longer, and sprays a good one all over his rock hard abs. Then Kevin works his massive dick until he gives Bentley his first Fratboy facial. Welcome to the club boys.
Themes: American, Anal Sex, Blowjob, Brunette, Cum Shots, College Guys, Muscular, Rimming