Summary:
Teachers and students secrets relationships are filmed in a fresh and funny sitcom style including humor, drama, suspense and tons of hot sex! During their hour of detention, Paul, Enzo and Gabriel expect to copy lines but their biology teacher, more perverse than ever, improvises a practical course of anatomy before inflicting them a punishment from another time.

Découvrez les méthodes éducatives de profs pervers pour maîtriser des élèves indisciplinés. Tous les fantasmes se réalisent dans cette classe très particulière où tous les prétextes sont bons pour baiser.
Description / Review:
Scene 1: Blackmail and Perversion
In this first episode of our mini series "Slutty High School Boys" Mr. Cortes, the physics-chemistry teacher, faces a particularly mediocre and insolent class. Paper planes, pens throwing, phone ringing: Enzo, Ryan, Paul, Jonathan and their comrades do everything possible to make their teacher crazy. Gabriel who's the only one to try to work in this hubbub is called teacher's pet by the others and triggers the heck again.Mr. Cortes tries to command discipline in vain, when a much more vicious educational idea crosses his mind. The bell rings and he then holds Ryan Marchal to give him a very explicit proposal to get his diploma. Disconcerted at first, the twink will take the deal and kneels before his teacher who's unzipping his pant.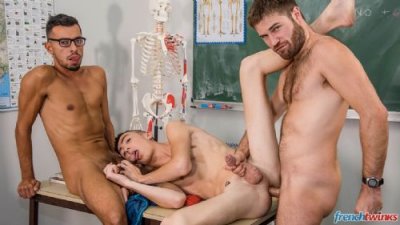 Mr. Cortes' big cock hardens in Ryan's mouth, then the teacher raises his pupil and undresses him to start playing with his ass. Ryan almost forgot that Mr. Cortes is his teacher and begins to moan of pleasure by feeling an expert tongue licking his little hole. Busy fingering and eating Ryan's ass, Mr. Cortes doesn't hear coming his colleague Mr. Marguet who bursts into the class to grab his manual of biology. The situation could be embarrassing, but the two teachers who are as well colleagues as sexfriend are not embarrassed and then decide to give a very private lesson to young Ryan. If it's at first Ryan who takes pain in ass getting fucked deeply by Mr. Marguet, he will then be able to apply the lesson using his chemistry professor as guinea pig. Indeed, Mr. Cortes will be used to unfold his pupil full of energy and resentment. The teacher gets fucked in turn until to the exhaustion by Ryan and M. Marguet before taking a masterly cumshot right on his glasses.
Scene 2: The Marguet's Method
In this second episode of "Slutty High School Boys" Ryan tells Jonathan about his sexual adventure with his teachers. After a day of classes during which a game of seduction began between Paul Delay and his Professor M. Marguet, the teacher finds the insolent Jonathan Garnier leaving in the hallways. In order to avoid punishment, the pupil tries to blackmail his teacher and threaten to reveal to the Principal his very particular teaching methods but more is needed to impress the beautiful Doryann Marguet who then decides to demonstrate by practice the effectiveness of its pedagogical techniques.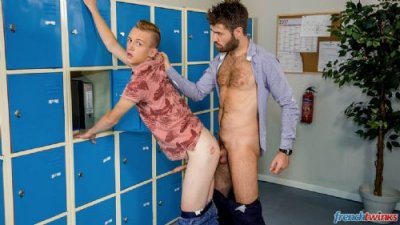 It's in a deserted corridor that Mr. Marguet will have a perverse pleasure in submitting the young Jonathan to his desires. The teacher will first get sucked in deep throat before starting an intense anal work that will quickly dilate Jonathan's pink hole. The student, who's always so insolent, will dare to tell his teacher, between two groans and with a hand almost completely introduced in his ass, that the treatment is not intense enough! It doesn't take much more for the pervy professor to let himself explode with all his power and to show the teen who's the master. It's first standing against the lockers that Doryann fucks the ass of Jonathan wildly before lying on the floor to pound him even harder and deeper. After long minutes of intense fucking Mr. Marguet sends a memorable facial ejaculation on the angelic face of his pupil. Jonathan will leave the anus well open and the t-shirt covered with his own sperm.
Scene 3: Paul's Ecstasy
While Paul, Enzo and Gabriel were fired from the classroom by Mr. Cortes, Paul get out running in the corridors. The student then hits Mr. Marguet who was coming out from the teachers' room with a glass of water in hand. Mr. Marguet is soaked and Paul is confused and apologizes. The twink blames himself for his clumsiness and thinks he lost his chance of seducing his beautiful biology professor; but sometimes luck does things well. On entering in Mr. Marguet's class to apologize again, Paul discovers him half naked, trying to dry his shirt. When Paul says that he's ready for anything to be forgiven, Mr. Marguet takes it literally.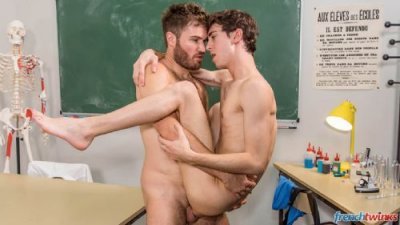 Doryann Marguet will give Paul a moment of ecstasy of incredible intensity. The student begins by sucking his teacher with application and then has right to an anal dilation session that excites him to the highest point. The tight hole of the student expands under the expert fingers of his teacher and he's now ready to get fucked deeply. Doryann starts to pound Paul and quickly the twink feels a pleasure he has never felt before. Totally submitted to the wishes of his elder Paul gets fucked in all positions and moans requesting for more and more. Doryann varies the rhythm and power to perfection until Paul explodes in an abundant ejaculation while continuing to fuck him. It's with a masterly facial cumshot that Mr. Marguet will finish his private class, a lesson that Paul is not ready to forget.
Scene 4: One Hour Detention
During their hour of detention, Paul, Enzo and Gabriel expect to copy lines but their biology teacher, more perverse than ever, improvises a practical course of anatomy before inflicting them a punishment from another time.
The innocent Gabriel Lambert is called to undress in front of his hilarious classmates to be used as an anatomical model in a true feat of exhibition. The high school student embarrassed by this unexpected situation shyly takes off his shirt but his teacher expects more. Gabriel blushes again and tries to argue when Mr. Marguet joining the gesture to the word drops down his pants and his underwear. The young man is now completely naked in front of his class and his teacher begins to describe his anatomy. M. Marguet gently pulls back the foreskin of Gabriel and explains the function of the glans before seeing that seminal fluid flows from the student's urethra who's apparently as embarrassed as he is excited by the situation.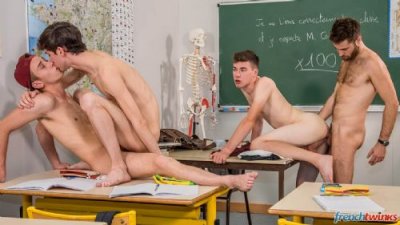 Gabriel cannot hide his erection and Mr. Marguet who was waiting for it starts to masturbate him slowly and making the student's cock growing in his hand. Enzo and Paul are captivated by the experience and cannot resist to slip a hand in their pants. The teacher is now shirtless and masturbating his student while his two friends are jacking off each other. But don't forget this is an hour of detention and that before having fun the goal is to punish these insolents! Doryann Marguet then invites the three boys to face the blackboard, pants down and he distributes violent spankings. The three small asses blush quickly and Mr. Marguet then grab a metal ruler to continue his punishment. The three twinks that the pain seems to excite, seeing how their cocks are hard, count the blows while their teacher take of his belt to whip them again. After this well-deserved correction Doryann Marguet decides to test the oral skills of his students. From this moment it's a real orgy that takes place in the classroom in which everyone sucks and caresses each other before forming two exhib-voyeurs couples who will fuck side by side before exchanging their partners. Gabriel gets pounded hard by Doryann while Paul is tasting Enzo's cock. The roles are then reversed and Gabriel rides Enzo while Doryann takes care of the ass of his favorite boy. When the excitement rise to the highest it's the angel face of Gabriel which's chosen to receive the boiling sperm of his three partners before to cum in turn several powerful jets on his belly.