Summary:
Abuse, forced sex, double fisting, dildos, pool balls - these filthy twinks have no limits beyond their crazy extreme fantasies! Watch what happens when these cute smooth twinks let go and party. A cute pizza boy gets what he deserves when he delivers to the wrong house, a smooth slut gets truly stretched after going to the wrong bar, and a young lad gets brutally buggered and slammed by the two police officers. If extreme action offends then look away now ...
Scene 1: Young Cute Twink Gets Fucked and Splattered With Thug Jizz!
Cast: Marty Love, Damian Drake
Also available: Wider and Wider (2 DVD compilation)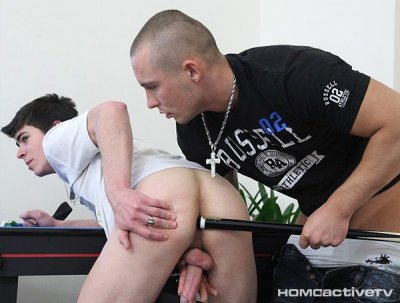 Sometimes a young guy can find himself in the wrong place at the wrong time, through no obvious fault of his own. As dark-haired cutie, Damian Drake, discovers when he encounters a rather horny and bad tempered Martin Love. Why, before the youngster knows what's happening, he's been forced prostrate over a billiard table, had his hands cuffed behind his back and is getting his arse well and truly tormented and tanned by his cropped haired counterpart. In fairness, Love is an unquestionably hot article in dominant mood, but it's hard not to feel for Drake as he's forced down onto his knees and has the older fellow's dick thrust down his throat. What's more, the boy's predicament gets little easier as the scene unfolds, as he's forced to sniff trainers and then has a baton knocked up his ass. But the piece de la resistance comes when Love finally fucks Drake over the games table, then underscores the total humiliation involved by emptying what appears to be the entire contents of his balls all over the young lad's face. Little wonder that Drake looks totally used and dejected by the scene's end – but it's that kick, of course, that marks the magic of it all!
Scene 2: Police Investigations See This Young Lad Get Totally Abused!
Cast: Aslan Brutti, Benito Moss, Daniel Taylor
Also available: Hello Big Boys (2 DVD Compilation)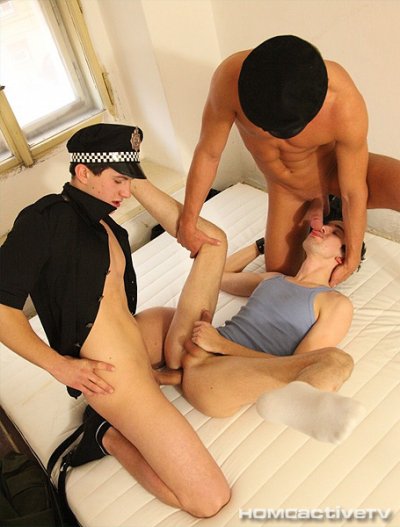 Why is it that the police always seem to get such a hard press in Czech gay porn flicks? Are they really as corrupt and abusive as these films would have us believe? Well, of course, the answer's pretty simple really – the idea of being fucked and abused by a couple of guys in uniform is hot, hot, hot! Not that young Daniel Taylor would probably agree with such sentiment given the manner of hard-hitting interrogation that he had to endure to produce this particular scene; but we're sure you'll appreciate everything he went through to secure your personal pleasure. Including being handcuffed, forced to suck the officers' cocks and then being ritually humiliated by having a handcuff and a belt tied around his schlong! And that's just for starters, as the lad is then finger-fucked and spit-roasted like some worthless whore. Fortunately, we can assure you that no twink was hurt (very much!) in the making of these scene, although Taylor does end up with a very sticky face by the end of proceedings courtesy of Moss and Brutti's over-eager knob-ends. Chances are by that point, however, you'll have long since bust a nut or two yourself in appreciation!
Scene 3: No Safety At Home For This Poor Beauty In Unprovoked Assault!
Cast: Nick Deniels, Denis Reed
Also available: Wider and Wider (2 DVD compilation)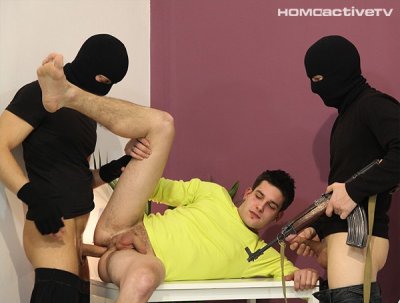 We're not one hundred percent sure as to who's idea it was, but this scene – featuring the "rape" of Nick Daniels by a pair of masked gunmen – will either be regarded as being in the worst possible taste imaginable or a piece of creative genius. Either way, we reckon there's gonna be a whole horde of folk who are just gonna get off big time to the sight of the cute little youngster being brutally manhandled by Benito Moss and Denis Reed. For all the surprise of the assault, mind, there's no denying the evident pleasure that the unfortunate victim seems to display at the prospect of being forcibly spit-roasted by his assailants; and by the time Moss is thrusting his raw shaft up the lad's ass and holding down the boy's head so as he chokes on Reed's hard dick it's pretty obvious that Daniels is quietly getting off on the encounter. As will you bunch of dirty-minded fuckers no doubt, not least of all when Daniels is ultimately forced down onto his knees and gets a faceful of jizz from the intruders for his efforts. Finally, as if to cement his worthless status, Reed pisses all over him and Moss forces him to drink the golden nectar from a beer-can. Abuse has never looked so fuckin' fun!
Scene 4: Pizza Boy's Payment In Kind: A Forced Fucking He Won't Forget!
Cast: Martin Love, Johan Volny, Mike Cage, Paris Neeo
Also available: Bareback Butt Stretches 2 (2 DVD set)
Also available: Extreme Boyz (2 DVD Compilation)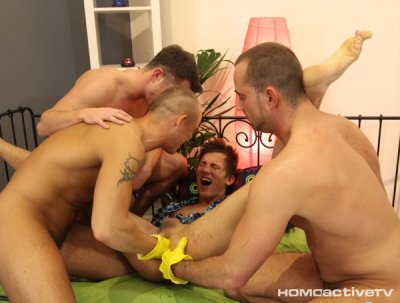 Who'd want to be a pizza delivery boy for this bunch of horny fuckers? Not Mike Cage, that's for sure, as he's confronted by a drunken and abusive trio in the shape of Martin Love, Johan Volny and Paris Neeo. Unfortunately for him, he never really stands a chance, as his feet are strapped high into the air and his arms to the bottom of the bed – rendering him completely at the mercy of the sick threesome, who promptly proceed to lube and abuse his ass. Beginning with the insertion of a collection of billiard balls and a whole raft of inquisitive (not to mention beer-coated) fingers. To his credit, Cage appears to keep a smile on his face throughout, no matter how many dildos his new-found friends try to stick up his ass at the same time – three being the max – but by the time he's being double-fucked by Neeo and Love you can't help feeling for the guy. Not that his abuse ends there, as he's then furiously fisted; before everyone takes turns to spunk over the lad's pizza so that they can force Cage to eat it with its tasty additional topping! Altogether, it's an unquestionably sick fiesta of hardcore sex that'll have all you evil fans out there tossing off time and again!