Summary:

We can all remember the time our cherries were popped, well now you can watch the moment these young and very cute Eurocreme twinks got their cherries popped, courtesy of hot director Mike Esser in the aptly Cherry Pop!
Sexy Harley Everett stars as the one older and beefy, top guy and he's joined by sexy Luke Desmond, gorgeous Eurocreme Exclusives Billy Rubens and JP Dubois and a five more pretty young things. From office-based shenanigans to hardcore rooftop gym sessions, these memories are brought to vivid reality right in front of your eyes for all to enjoy over and over! See these Eurocreme twinks' first time fucks!
Scene 1: Luke Desmond and Torn Bishop
Tall, slim and hung like a donkey, Torn Bishop recounts his first time, and boy what a first time this is! Walking out his room with a morning woody, right in the line of sight of fit young boilerman Luke Desmond. Flirting outrageously with him, Luke knows he's onto a winner with this shy by very open young lad. Showing him the ropes, he's pushed to the table and his ever hard dick is being gulped down Luke's throat with no problem whatsoever – what a pro! Repaying the oral favour, Luke's famously massive dick is given the attention it deserves before Torn's cherry is well and truly popped by that monster meat!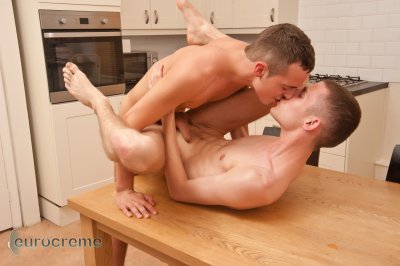 Right there on the kitchen table, his legs resting on Luke's shoulder, giving us the best view imaginable of a virgin hole being stretched wider and deeper than most of us have had ever! Getting faster and faster, Luke's not in a hurry to end this innocence-taking, and from the way Torn's ass seems hungry for more, both are enjoying this as much as the other! All good things must come to an end however, but these guys do it in style, leaving Torn with a face full of cum and Luke truly in his memory forever.
Scene 2: Billy Rubens and Jonny Parker
Staying with a family relative, this Eastern European beauty is excited to be in such a great city, and staying with his gay family member has really confused him.. Fantasizing about this new found intrigue, it's not long until the sneaking around and private jerk-off sessions become something much more exciting for both of them! As they chat in the living room, Jonny, the cock hungry bottom boy comes out with the best line in Billy's life, and wants to be the first guy he sticks his cock in! Standing up, sporting a massive hard-on already, Billy jumps at the chance, his mind still whirring with the excitement and incredulity of the situation.
It's not long however until the animals in each twink comes to the fore, and the ass pounding nature of top twink Billy and hungry passive lad Jonny leave them both drenched in sweat and spunk!
Scene 3: Harley Everett, Dan Daley
With Dan's dad demanding his son man-up, he employs a tattooed, musclebound brute to kick him into shape. Little does he know however, that Harley Everett is exactly what turns his pussy son on, and after some rooftop stretching, Dan gives in to his semi-hard urges and kisses his trainer right there!
Harley knows what this means, and luckily it's all about a stretching of another kind, and allows this little piece of shite to service his body from head to toe, with a long stop-over at his dick! With spitting, dirty talk and some proper ass workouts, this young lad might not toughen up, but he's certainly been shown how a real man fucks!
Scene 4: Billy Rubens and Liam Strider
At his mate's one evening, little superstar Billy takes his mate on in a game of dare, and after some hot straight porn and vodka, anything goes, and they are both really up for anything...literally! As both boys dare each other to strip, showing off their already hard dicks, the dares get more and more sexual, from kissing dicks to full blown fucking!
Ready to blow after their first blowjobs from a guy, Billy entices Liam to lick his hairy ass, getting him harder than ever and ready to push his dick into his mate for the very first time! Spurting his load all over Liam's face, the way he chows down on it, we are surely looking at the next big cum hungry twink!
Scene 5: JP Dubois, Milo Taylor
If only we all had an interview like this! Eager to join the DreamBoy Hotel, sexy Scouse Milo meets up with manager JP Dubois for his job interview, and from the moment he claps eyes on him, he's lovestruck! Unable to focus on anything JP says to him, all Milo seems capable of doing is getting harder and harder in his pants, and JP is keen to make a mention of it! Feeling the same way about his wannabe employee, JP strips himself slowly in front of us all, leaving Milo in no doubt of where this meeting is going!
After some damn hot cock sucking, JP pushes Milo down over his glass desk, letting us have a great view of this virgin twink getting fucked, leaving his hot young hole worn and wet, covered in jets of spunk from JP, pulling out just in time to spray all over Milo!