Summary:
Going back to it's roots, Corbin Fisher loads up on a new crop of hot studs to get a good old fashion breeding in the Midwest!
Colt, Connor Brayden, Zeb and Kennedy head out to Kansas City to experience what the city has to offer and to suck and fuck each other mercilessly in the process!
Alpha Tops and power bottoms serve up serious poundings and cum guzzling finales. Barbecue isn't the only thing served up smoking hot in part one of Corbin Fishers Born And Bred In Kansas City!
Scene 1: Conner Feeds Brayden and Colt
You're likely aware Connor has been a part of CF's production crew for some time now, filming some of the hottest episodes that have been appearing on the site. I think Connor's work at filming some hot action all built up to make this episode as hot as it is, though, as Connor wields a camera for some great POV footage as Brayden and Colt service him. Simply put - this episode is an instant CF classic and perfectly caps off our Kansas City Born & Bred Collection.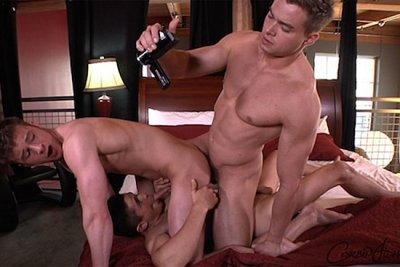 Heck, not only is this episode the culmination of this hot collection but could very well be considered 10+ years of great CF action coming together in a single episode with these three incredibly hot guys. Connor holds nothing back as he takes charge of Colt and Brayden, turns them in to his hungry bottoms, fucks each of them mercilessly, and has them both almost fighting over his cock. He takes turns on Brayden's and Colt's holes, getting them each to blow huge loads as his cock pistons in and out of their asses. To really highlight just how in charge of it all Connor was, though, it definitely seemed that the only thing Brayden and Colt wanted more than blowing a load while Connor fucked them was eagerly being able to swallow up as much of Connor's load as they could when it was his turn to cum.
Scene 2: Connor Slams Kennedy
We all know Kennedy gets looks and draws attention wherever he goes. He is beyond hot, and I don't doubt Kennedy is used to getting what he wants, when he wants it - while remarkably staying so grounded and modest at the same time. True to CF form, though, even a super hot, popular, alpha male guy like Kennedy find themselves on the receiving end of a hard and furious pounding from a guy that is even more imposing and could very well be CF's top dog - Connor. This episode starts out with Kennedy servicing - even worshipping - Connor's hot body with his hands and mouth, lovingly sucking Connor's big dick and doing all he can to make Connor feel good.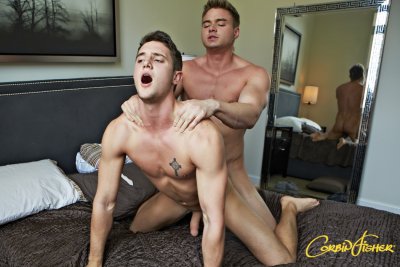 Soon enough, though, Connor throws Kennedy down so he can return the favor some and go to work on Kennedy's cock. All of the great treatment Connor gives Kennedy's dick just serves to warm Kennedy up for some serious fucking, though. Connor holds nothing back here, his big and powerful frame totally taking charge of Kennedy as he fucks him hard, fucks him fast, and fucks him deep. Kennedy wails and moans and thrusts his ass up, desperate for more of what Connor's giving him. In every sense, Connor fucks a huge load out of Kennedy before firing his load deep in Kennedy's hungry ass.
Scene 3: Kennedy Takes Zeb's Load
Zeb was in prime form during our trip to Kansas City - with his body buffer and hotter than ever, he also set out to show some of the new guys how well he knows how to fuck and how great his dick can feel inside them. You'll likely get off seeing Zeb pound Kennedy like the total stud he is here.
Don't let yourself get too focused on Zeb and risk ignoring Kennedy, though! Kennedy's hot cock is rock hard as Zeb drills him, Kennedy's facial expressions are priceless, and the noises Kennedy makes could have you getting off to the audio alone! I'm not sure if the guys got caught up in the significance of our returning to Kansas City after 10 years to film this anniversary collection, or they were totally oblivious to that and focused instead on how great everything was feeling.
Either way, they go at it with a passion and intensity that must be seen, and the relentless drilling Zeb delivers on Kennedy's hole gets them both firing off loads that seem to never stop flowing.
Scene 4: Zeb Seeds Colt
It's safe to say Zeb and Colt have two of the most impressive dicks at CF - both are big and thick and look amazing as they plunge in and out of a tight hole. With Colt being the newcomer between these two, we wanted to see him taking on Zeb's cock. Colt certainly had no problem with that idea, eager to take on Zeb's dick and get drilled by it.
It's fitting this insanely hot episode is included in our Kansas City Born & Bred Collection - it perfectly depicts what CF has been all about for many years now. A veteran, big-dicked stud like Zeb buries his dick in a young Freshman CF stud in action that is intense and passionate - guys discovering and embracing just how brilliant it all feels and getting completely caught up in the sensations, with the fucking furious and the orgasms explosive.