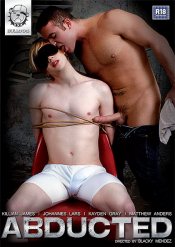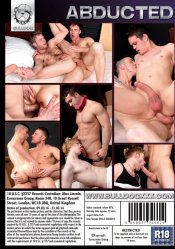 Summary:
Bound, Blindfolded and submitted to their masked masters - the unfortunate prey are submitted to an onslaught of giant dicks, sweaty pits and hungry tops eager to take their will out on them. Feeling much more fortunate once their blindfolds are taken off and ropes are loosened, just like their butt holes will soon be, the hung tops are soon sending their thick long dicks down throats and up ass, pounding hard, pinning them to the floor so no escape is possible - even if they wanted to. From milky white twinks to hairy young men, no-one is safe from the masked men who take what they want, get what they are after and leave everyone else covered in cum, sweat and spit, ready for the next man to come along and use as they want!
Scene 1: Taken Twink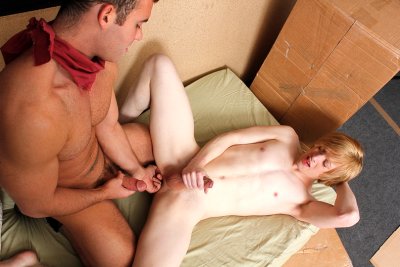 Bound and blindfolded, blond twink Johannes Lars has been taken by muscled stud Killian James to use as his plaything. Stripping him off and exposing his big twink dick, Killian laps at it, soon swallowing the entire length and he then licks and laps at Johannes' milky smooth body, tasting him from lips to balls and beyond. Sliding his big cut cock into Johannes, he's taken hard and fast, with minimal spit to ease the process, Johannes can't go anywhere and submits to Killian's will, the muscled man owning the boy completely. Working his dick back and forth, Killian watches himself fuck as Johannes holds on to the thin mattress he's placed on, his tight young body looking horny as hell as it's plunged by the big tanned torso of his captor. Told to hold on to his legs, Johannes exposes his hole and stiff dick to Killian who just speeds up his fucking, giving us the close-up views we desire the most until Johannes shoots, unable to hold on for longer, and is joined by Killian, unleashing what he's been wanting to do, all over his boy, who's quickly bound back up for next time.
Scene 2: Bound Bottom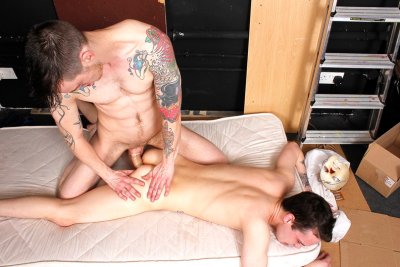 Hung twink Charley, tied down and kept there by his masked man, the tattooed top takes his time, and his pleasure worked his boy, sucking on his big dick, teasing him with his lips, all whilst blindfolded, not knowing what's going on, until AJ Alexander decides it's time to untie him, but only when he needs those hands free for his own enjoyment. Devouring Charley's giant dick, the tattooed twink isn't going anywhere, and allows his body to be used by the slim, hung top. Hungry for dick, Charley is soon given the opportunity to enjoy the thick long shaft of AJ, slapping it over his boys face, spitting down onto them both. Turning his attention to Charley's ass, AJ fucks Charley into the floor as Charley tries to relax his butt enough to accommodate the full length and thickness! Bouncing on top, Charley goes balls deep, taking it all inside, his stiff dick swinging with each thrust as AJ keeps in control and soon dumps his load, letting Charley cum first so he can feel the tell-tale clenching of the bottom boy climaxing from the inside out. Shooting a proper fountain of spunk afterwards, Charley is left completely covered but still wanting more!
Scene 3: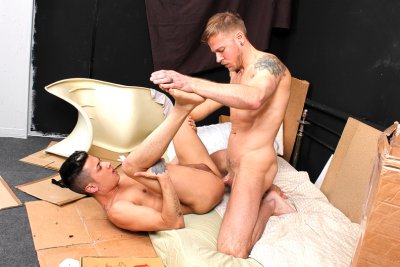 Hooded and tied to the chair, Cory Prince, a very twinky olive skinned boy is at the mercy of muscled hunk Matthew Anders. Using his stiff thick dick to tease the boy, Cory tries to work out what he wants, and moves his juicy pink lips towards it, sucking on the tip as Matt takes off his blindfold and loosens the ropes, the boy gets what he needs to do and gives him the tools to do it. Hungry for cock, Cory proves the perfect twink to use, willing and very able to take dick well, his ass is soon being exploited hard and fast, Matthew Anders taking his time to slip a finger or two deep inside, loosening his ass as well as his ropes, ready for the ass pounding he's going to be used for. Lapping at his hole, Cory prepares himself mentally for the replacement of a soft tongue to a hard dick, and as he bounces on top of Matt, the disappearing of Matt's dick into Cory is a sight to behold, the tiny twink looking like he's going to be split in two. Pushed down and fucked doggy, Cory has no escape, not that he really wants to, as his dick is quivering, ready to climax, leaving the room stinking of sex, sweat and semen!
Scene 4: Masked Master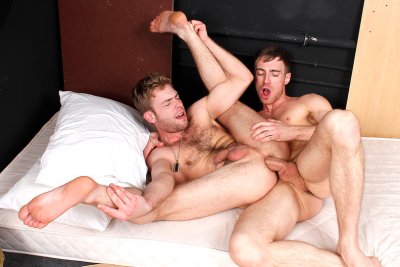 Unmasking his prey, devil-masked Kayden licks hairy young Gabriel's face, pushes his face into his hairy sweaty pit, and pulls his face into his ass crack, showing him exactly who is in charge and ensuring he won't run off if he's untied. With a dick the size of Kayden's waving in front of your face, not many would! Fucking Gabriel's throat deep, Kayden wants a taste of cock for himself and takes all of Gabriel's long handsome dick into his mouth with no problem. The hairy blond bottom is only too willing to oblige his master, and showing off his hot ass, is proven to be hungry for dick more than ever! Kayden's gorgeous toned body flexing and pumping perfectly as his slides his thick dick into Gabriel's, holding him by the face and bringing him back, making sure he's taking every last inch inside, balls deep and pushing places he has never been pushed before! Holding his hole open and even wider access, Kayden spits and fucks and uses Gabriel like the plaything he is, pinning him to the mattress and holding him in his muscled arms - he's not going anywhere until Kayden shoots his huge load, all over Gabriel's hairy abs and chest, the heavy load almost hitting his face as it runs over his hairy body, mixing in with the spunk and sweat already soaking into Gabriel's spent body.
Additional Information
Categories: UK R18 / XXX Gay Adult, British Gay DVDs
Running Time: 90 mins, Year: 2016
Price: Around £28*
Starring: Kayden Gray, Cory Prince, Matthew Anders, Jonah, Charley, AJ Alexander, Johannes Lars, Killian James

Director: Blacky Mendez
Studio: Bulldog XXX
Buy DVDs online at: Simply-Adult.com
Downloads and Streaming: Bulldog, See also: www.gayvod.co.uk
Gay Adult Member site: Bulldog XXX
Country: United Kingdom, Language: English
Additional info: No Regional Coding