Summary:
On the face of it the young lads in Schoolboy Fuckers 1 are all sweetness and innocence - but, as you already know from other Bad Boy Boarders instalments, nothing could be further from the truth! Indeed, once the lessons are over and the boys are tucked up in their beds, the world's sexiest schoolboy Jaxon Radoc and his big-dicked mates are like a pack of horned-up dingos - each taking every opportunity to suck every cock and fuck every ass in the quest for bonus house points. No doubt about it, these lads are gonna get top marks in their end of year report! Compilation Gay DVD - 6 Scenes
Description / Review:
Scene 1: Schoolboy Connor Levi Gets Fucked Raw Over A Desk By His Horny, Well-Hung Classmate!
Starring: Connor Levi, Justin Conway
From Bareback Boarders, Scene 3
We can't for one moment claim that the boys who attend the STAXUS academy are destined to get the best academic results, but when it comes to us providing them with the opportunity to see the world – not to mention plenty of hard cock! – ours is one institution that can never be criticised. As horny blonds Connor Levi and Justin Conway would almost certainly testify.
Of course, you don't need to be any kind of educational expert to appreciate that the academy boasts a somewhat unusual study ethos – after all, where else would students be allowed to sup alcohol and suck dick during the course of a lesson? But which of our fans (or indeed our students) is gonna complain? Not this pair of pumped-up fuckers, that's for sure, as Brit-boy Levi takes the chance to feast on every meaty inch that his Czech counterpart, Conway, has to offer! Of course, what Levi really wants – and what he soon gets, it must be admitted – is that same hard shaft stuffed right between his buttocks; and it's with almost a sense of heightened relief when Conway finally stakes his raw claim on Levi's eager little pucker.
Thereafter, the dirty bitch is pretty much in full spate, being crudely fucked over a desk and used as a mere vessel for his mate's relief; and it's no small wonder that he's soon knocking out a fine load in appreciation, before Conway seals the deal by nutting all over the twink's expectant face!
Scene 2: Two Horny Blonds Enjoy A Bareback Locker-Room Flip-Flop Fuck With Oodles Of Hot Jizz!
Starring: Kamyk Walker, Jaxon Radox
From: School Sucks, Scene 4
Playing sport can really take it out of you, but the ever-gorgeous Jaxon Radoc is always assured of a warm welcome back in the changing rooms – not least of all from Kamyk Walker, whose appetite for cock is always second to none! A point that's underlined in this ball-bustin' escapade, when Walker immediately falls to his knees so that he can start rigorously slurping on the thick meaty dick that pops out of the Aussie demigod's jocks! What follows is an almost textbook display of full-on cock-worship, with the young Polish lad deep-throating his school-mate's knob right down to the fuzz; before Radoc promptly returns the favour, albeit maybe a tad less enthusiastically.
That, of course, is a totally forgivable misdemeanour given Radoc's nigh-on untouchable porn status; but what (if anything) he fails to deliver in the oral stakes he more than makes up for when he first rims his buddy's ass-hole and then follows on by thrusting his ramrod deep inside! Clearly unwilling to be outdone, however, Walker promptly pushes the tempo of the scene up even further by flip-flopping onto Radoc's fuck-hole – even to the point where he's banging away from underneath whilst simultaneously giving head. But as dexterous as such antics may be, it seems only right and proper that the coupling reaches its conclusion with one last switchover – Radoc topping Walker's ass a second time, before both lads spew the pent-up contents of their balls in all directions for a cum-drenched finale!
Scene 3: Super-Twink Connor Levi Savours A School-Time Bareback Spit-Roasting Delight!
Starring: Connor Levi, Thomas Swings, Sven Laarson
From: Bareback Boarders 2, Scene 2
Some might call it walking into the wrong place at the wrong time. Others (and we include most of our fans here) would regard it as the complete opposite. But whatever view you take, there's no disguising the surprise that Connor Levi gets when he steps into a room and discovers fellow students, Thomas Swings and Sven Laarson, sifting through the drawers of a desk.
Their reason for pilfering is never dwelt upon; but their reaction to being interrupted is immediate, as Levi is pushed down onto the desk and promptly drawn into a no-holds-barred suck-and-fuck threesome that'll have you wanking off in next to no time. Not that the cute Brit-boy shows any sign of resistance. Indeed he's clearly more than willing to engage in their antics, slurping on both dicks on offer like the common whore that we've long-since known him to be. But whether you expect to see Swings thrusting up the fellow's ass and Laarson banging down his throat quite as quickly as actually proves to be the case is another matter entirely.
Still, the ever cock-mad Levi has never been one to do things by half, and by the time his assailants have reversed places the whole situation seems the most natural thing in the world! As indeed does the sight of the lad taking Swing's load in his mouth, whilst Laarson spurts over his belly. Some boys are just born to be dirty bitches, whatever circumstances life throws up – and Levi's one of those boys!
Scene 4: Billy Rubens gives his study buddy something to remember – Eight inches of hard cock up his ass!
Starring: Billy Rubens, Sam Kirby
From: Lights Out, Scene 1
Billy Rubens is bored – and no fuckin' wonder! Having your head in a book all day is not exactly the most stimulating activity, after all. Never one to just sit around and suffer in silence, however, he's soon pestering Sam Kirby – a young British Asian lad – to engage in some less-traditional studies, which (initially, at least) Kirby holds out against. But as we all know, Rubens is a determined sod, and before you know it he's eagerly ripping into his mate's clothes like a fellow possessed! Given the intensity of the guy's libido and the fact that Rubens is a much more physically bulked individual, little Sam Kirby never really stands a chance.
All he can do is lie back and let his buddy do his worst – and, believe us, that's exactly what Rubens does! Before Kirby knows what's happened, he's got Rubens positioned between his legs and sucking his dick like a feckin' vacuum pump! It's a turn of events that can only ever have one effect on the lads we know, and it'll come as no surprise when we tell you that Kirby is soon busily engaged in returning the compliment; before lying himself prostrate on the sofa and allowing Rubens to thrust his thick, meaty, uncut pole deep inside his hungry little fuck-hole! Cue a deliciously ball-bustin' fuckathon, which sees Rubens bang his now hyper-horny pal in a succession of positions – as if to rid himself of all that pent-up student frustration! All culminating in a very fluid demonstration when the fellow spews his wad all over Kirby's face. Beautiful!!
Scene 5: Hot, Fun-Lovin' Schoolboy Picks Up A Big-Dicked Gardener For A Raw Fuck In The Woods!
Starring: Jaye Elektra, Jayden Middleton
From: Bareback Boarders 3, Scene 3
It's exactly the kind of thing that your mother always warned you about, but for a horny lad like Jaye Elektra that fact just adds to the thrill. Meeting mixed-race gardener, Jayden Middleton, at the side of the road, Elektra lets his dick do the thinking – as per usual – and soon finds himself bounding into the woods with a complete stranger.
And let's face it, these boys aren't going with the intention of observing the local flora and fauna – as becomes even more apparent when the handsomely-endowed Middleton whips off his white dungarees and pulls that big black mamba out of his jocks. A move that immediately gains Elektra's totally undivided attention, as he falls to his knees and gives Middleton the kind of open-mouthed adoration that a dick like this surely deserves.
At which point you'd be quite forgiven for thinking that it's the schoolboy's ass that's gonna be playing host to raw cock. But having subsequently enjoyed the feverish delight of Middleton's mouth on his own hard shaft, Elektra promptly turns tables on such expectation by giving the dark-skinned, green-fingered pucker an eager, tongue-stretched rimming; then thrusts his own bell-hard deep into Middleton's fuck-hole for an exquisitely tight outdoor ride that both lads are gonna recall for a long time to come! All nicely signed off by Elektra spewing all over Middleton's cute face in a final act of unexpected scholarly dominance. In short, fuckin' ace!!
Scene 6: Nocturnal Emissions All Round As Four Horny Schoolboys Suck & Fuck All Night Long!
Starring: Aaron Aurora, Kurt Maddox, David Hanson, Oscar Roberts
From: After Lights Out, Scene 3
Life in a school dormitory has its drawbacks – the lack of privacy being the most obvious – but it can also provide the perfect backdrop for the kind of group shenanigans that we've all almost certainly fantasised about. Not that either Aaron Aurora or Kurt Maddox seem particularly overjoyed at the start of the scene when their sleep is disturbed by the drunken return of best buddies, David Hanson and Oscar Roberts. But their annoyance is decidedly short-lived – and with very good reason. For not only are Hanson and Roberts very much the worse for drink, but they're both feeling as horny as fuck; and within a few minutes they've firmly roused Aurora and Maddox from their beds in order to pair off for a frantic suck-fest.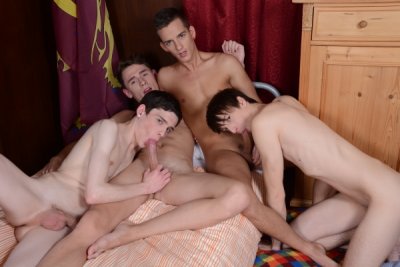 Of course with all that meaty, uncut dick on show it's a turn of events that will surprise no-one; but it you think that's gonna be the limit of the action then prepare to be blown away. Hanson, in particular, clearly can't wait to push the boundaries, and having been paired up with Aurora is soon riding cock like his life depended on it; whilst Roberts pounds away at Maddox's ass-hole on the other bed. A few minutes later and roles are switched, with Maddox now screwing Aurora and Hanson pummelling Roberts.
The crescendo, however, doesn't materialise until all four boys are engaged in a terrific chain-fuck – Roberts fucking Aurora fucking Maddox fucking Hanson! A set-piece that's only trumped by the concluding sight of Aurora's cute little face getting splattered with copious quantities of jizz courtesy of his three fit mates!