Summary:
Working with wood all day can be boring, but for these musclebound hunks, there's always another kind of wood to hand, one that's a lot harder and a lot more fun to play with. Taking their minds off the job at hand, they get busy with each other, filling their mouths and butts with the stiffest, biggest dicks ever seen in the workshop! From famed fucker Kayden Gray ploughing the handsome Logan Moore to Spanish stud Antonio Miracle fucking the life out of fellow tattooed musclemen Jason and Russ, the workshop soon fills with the scent of sweat and spunk as well as sawdust as balls are emptied and the sweat drips off the men mid-fuck, leaving everything scorching hot and soaked in the tastiest spunk ever delivered.
Description / Review:
Scene 1: Working With Wood
Ruggedly handsome Antonio Miracle takes on all the hardest jobs, and colleague Jason Domino sits back and watches his workmate getting to grips with a joist. We all know where his mind is actually wandering too, and when Antonio asks for help, Jason pops open his uniform and shows him another piece of wood he can work on instead!
Looking around shyly, Antonio is keen to take him up on the offer and drops to his knees, getting his juicy tongue around Jason's hot sweaty balls and huge shaft
Scene 2: New Man Initiation
Cast: Kayden Gray, Logan Moore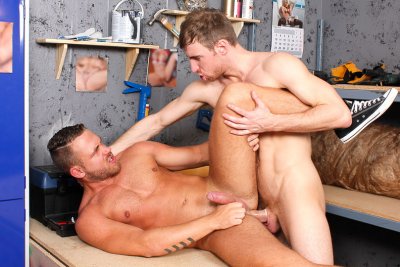 When handsome stud Logan Moore shows up at Kayden Gray's workshop, Kayden's not too happy, thinking his work is being taken from him, but when Logan explains he's here not to work, but to play, Kayden's famous bulge grows and twitches immediately. Ripping open his suit, Logan instantly goes down on the hung stud, getting his face filled with 100% Kayden cock, the most perfectly formed dick created! Kayden may have work piling up, but there's always time for a hot fuck in the shop, and Logan is too damn hot to pass up! Stripping him off and taking in his hairy tanned body, Logan then gets his dick serviced too by the hung star and soon the attention is squarely on that smooth hole of his, Kayden wants it and it gonna get it! Shoving his hot wet tongue as deep as his can into it, Kayden knows every butt he fucks needs the right preparation, and he's not wrong, not many can take a dick that huge without being eased into it! Slowly pushing his thick shaft into Logan, both muscled young men start to sweat, their toned bodies glistening and looking even sexier than before as the hard pounding picks up the pace and Kayden gives his new work buddy the fuck of his life! Sitting down on top of it, Logan thinks he may have control of the depth, but Kayden doesn't let anyone dictate how he fucks and pushes up and pulls down however he pleases!! Unable to take much more, Kayden dumps his load over Logan's freshly fucked ass, covering his butt cheek with shot after shot of spunk, the sweat dripping off both of them.
Scene 3: Giant Dick Workmen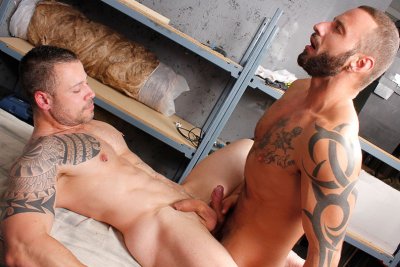 Bearded muscle man Antonio is busying himself working on a hard bit of wood, but it's not from a tree, it's from fellow slab of man muscle Russ Magnus who is butt naked and leaning back on the workbench, letting his handsome partner chow down on that big slab of meat from between his legs. Wanting more than a face crammed full of dick, Antonio licks, rubs and strokes Russ from top to bottom, covering Russ's sculpted body in salvia, making him glisten under the lights. Stripping Antonio of his workman uniform, these men know what they want and won't stop until they get it. Bottom hunk Russ slowly works his way down Antonio's buff and perfectly formed torso, stopping off halfway and indulging his appetite for big uncut cock! Slurping and feasting on the entire length, the pro sucked gets every inch down his throat before letting his ass take it all again, bent over the bench and letting Antonio slide the whole way in over and over. Pounding Russ hard, he can't take any more but that doesn't stop Antonio from giving, he wants to cum and will get his fill of ass before he does! Shooting his load over Russ, both loads swim together in a great close-up you'll want to lap up!
Scene 4: Worktop Workout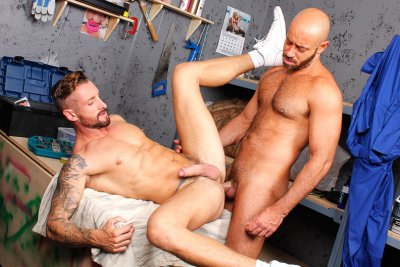 Hunky and hairy Bruno Fox is going over the floor plans of his latest contact with his buff tattooed builder Nick North in their workroom. The workroom is littered with posters of half-naked ladies, but this proves to be a façade as when Bruno checks to see if the workrooms door is locked, he quickly starts to undress the chiselled Nick from his workman jumpsuit. After revealing Nick's toned chest Bruno can't keep his hands off his muscles, rubbing him down while making out. Bruno unleashes his beautiful cut cock to Nick and it doesn't take long until he is on his knees filling his face with the throbbing slab of meat twitching in his face. Bruno decides it's time to repay the favour to Nick, full undressing him. Completely naked with a massive, hung, uncut cock Bruno takes no time to become familiar with it and gets his bearded face stuffed full. Needing some of Nick's tight arse, he picks him up and laying him across the table; Bruno starts to thrust his stunning cock deep inside the hairy bubble butt. After being fucked every-way possible over the workman table Nick dumps his creamy load over his hot tattooed body, which is soon to be joined by Bruno's own wads of spunk. If only every day at the workshop is like this!
Additional Information
Categories: UK R18 / XXX Gay Adult, British Gay Porn, Bears DVDs
Running Time: 75 mins, Year: 2016
Price: From around £28*
Starring: Logan Moore, Antonio Miracle, Bruno Fox, Nick North, Kayden Gray
Director: Blacky Mendez
Studio: AlphaMale Media
Related Studio: Bulldog XXX (same director)
Buy DVDs online at: Simply-Adult.com
Gay Video On Demand: AlphaMale Media, See also: www.gayvod.co.uk
Member site: AlphaMale Media
Country: United Kingdom, Language: English
Additional info: No Regional Coding