Summary:
With a cock that stands just over nine inches - it's also thick as hell - Mike Branson is a legend of gay porn and My Big Fucking Dick: Mike Branson is a true testament to that statement.
Combining some of his best scenes and featuring a whole slew of other studs, this film is sure to get you hard and get you off. Whether it's guy-on-guy in the bedroom or a scorching leather gang bang, there's plenty to enjoy and even more to cherish. Suck it down if you can, boys!
Scene 1 From Basic Plumbing 2 (FVP118)
Christopher Scott's kitchen sink is backed up and Mike Branson arrives to tackle the problem. Under the sink Mike gets soaked overflow and Christopher offers to launder his shirt so Mike pulls it off. Minutes later, Mike discovers Christopher sniffing the t-shirt and decides to give Christopher something more. Mike pulls out his cock and Christopher opens wide to suck it down. Mike teases him...pulling back and slapping his face before sliding his cock deep into Christopher's throat. The two studs rim each other before Mike slides his cock deep into Christopher's hole, pounding him with hard unforgiving thrusts. He grabs the waistband of Christopher's jockstrap and rides him like a bronco buster. Laying on their sides, Mike keeps up the non-stop fucking, burrowing his cock up Christopher's hole until he can't hold back any longer...then showering Christopher in his load.
Scene 2: from The Chosen (FVP111)
Christopher and his friends Derek Cameron, Paul Morgan and Damon Wolf are out cruising for action and find themselves outside a solitary warehouse. They are pushed inside and meet their new masters: Jeff Palmer, Mike Branson, Brian Cruise, Travis Wade, Buck Meadows and Michael Lucas. These six leather-clad men conquer and control the novice bottoms.
Scene 3: From Current Affairs (FVP116)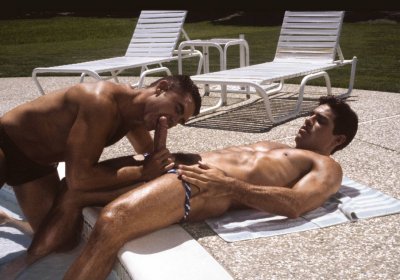 Kyle Becker describes lying poolside next to the tanned Herculean form of Mike Branson. Enamored with the provocative bulge in Mike's speedos, Kyle attempts a furtive peak...awakening the sleeping giant who quickly recognizes Kyle's intent and has his own erotic agenda. Mike invites Kyle to take a peek and he eagerly accepts the invitation, freeing Mike's huge thick cock from the tricot trappings. Kyle hungrily sucks Mike's cock-filling his mouth with the bulbous head; sliding his tongue up and down the engorged shaft-burying Mike's tool deep in his own throat. The rippled sunbathers slip off their suits and stroke their rigid cocks. They engage in a bit of swordplay, slapping their dicks against each other before Kyle kneels and offers his firm round ass for Mike's enjoyment. Mike massages Kyle's hole--opening him up in preparation for the inevitable and much anticipated fucking to come. Kyle begs Mike for his cock. Mike eases it in, then delivers his tool with rhythmic, ever-quickening thrusts as he plows Kyle's hungry hole. The sun beats down as the men become lost in their erotic play. The more they play, the more they want. Mike reclines and Kyle eagerly settles down onto his erect cock, working himself into a frenzy and finally spilling his load over Mike's chiseled abs. In a moment, Mike's own ivory fountain completes the pool and the two satisfied men heave a sigh of release.
Scene 4: The Freshmen (FVP110)
Jordan Young enters the lockerroom where Tom Chase, Mike Branson and Chris Berrara are wiping off after their erotic scrimmage with Tony Idol. The three jocks are eager for another round and Jordan wastes no time in serving these hunky studs...demonstrating his talents as a cocksucker and giving all access to the warmth of his ass. Soon Jordan is on his back as the three jocks give him a good hard fucking...feeding him their cocks in both ends and soaking him in their loads.
Scene 5: California Kings (FVP113)
Tom Chase and his virgin ass have never been fucked, but Mike Branson knows Tom wants it; Tom knows he wants it; so he finally gives in and for the first time, big-dicked stud Tom Chase gets fucked up the ass.