Summary:
Dive into the deep end of the pool with TitanMen. Summer is hot and getting even hotter with Deep End: Titanmen Poolside, a hardcore poolside romp with some of the hottest TitanMen of all time. Join superstars such as David Anthony, Hunter Marx, Dario Beck, Jessy Ares, JR Matthews and more for a deep dive into the hottest hardcore action you'll see. Scenes included are from Blind Spot, Impulse, Night Heat, Scorched, Swelter and Thrill Ride. Showcasing fourteen men and over two hours of classic TitanMen sucking, rimming, and ass pounding action, this is one collection of porn you can't afford to miss - so dive in headfirst!
Scene 1: Dario Beck, Hunter Marx, Justin King
From: Night Heat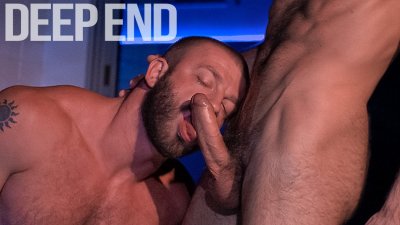 As reflections of the pool water ripple on the wall behind him, hairy Justin King sits on the patio stroking his uncut cock as the night envelops his tattooed body. At the edge of the pool, Hunter Marx strokes his big dick as he worships Dario Beck's thick, uncut slab. Justin walks over and stands by Dario, Hunter going back and forth as he sucks each steel shaft. A spit strand forms from Dario's cock to Hunter's mouth, then transfers to Justin's dick and drips to the ground in a memorable sequence. Justin and Dario wrap their arms around each other, kissing as their cocks touch while Hunter sucks—reaching up to rub Justin's furry chest. Justin then fucks Dario from behind, the bottom's mouth stuffed with Hunter's hung slab. Justin reaches over to pinch Hunter's nip, their arms connected. Justin then gets on all fours, moaning "Fuck!" as Hunter enters his ass. The bottom sucks on Dario - who is soon coated in all of their cum after they stroke side by side.
Scene 2: Adam Killian, Jessy Ares, Shay Michaels
Jessy Ares, Adam Killian and Shay Michaels show off their underwater talents, sucking each other in the pool as the sun and blue hues dance across their muscular bodies. After some ass eating, Jessy dumps his load in the pool before his buds stroke off on the lawn. Hairy Shay then gets rammed by Jessy while slurping on Adam. The verbal bottom ("Stretch me out... balls deep! Spit on me!") whips his boner on Jessy's stomach, then punches the top's pec. Adam fucks Shay doggie style, the bottom's jock ass rippling as he gulps Jessy's beast. Adam pins the grunting Shay to the ground, the top's muscular back and ass filling the frame as he reaches over to suck Jessy -- who then gets behind his buds and slides inside for a hot fuck chain, the tan and tattooed Adam grinding between them. Adam gets both of his holes stuffed as Jessy continues to fuck him, the three squirting again as an excited Adam writhes in pleasure.
Scene 3: Dakota Rivers, JR Matthews, Sean Stavos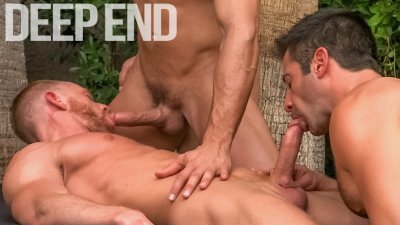 Nibbling on JR Matthews' ear as he spoons him from behind in the pool, dark and handsome Dakota Rivers has the muscle hunk under his spell. Hairy stud Sean Stavos jumps into the pool to get in on the action, the three horsing around before taking their soaked bodies out of the pool. The trio instantly assumes the position in a variety of suck chains that have their three bursting boners slick with spit. Masculine moans and the verbal encouragement of Sean and Dakota fill the air: "That's good!" whispers a breathless Dakota as the camera catches every inch of his superhuman physique. After shooting their wads onto Sean's dark and furry bod, JR gets between the two tops. Sean spits onto JR's bubble butt, rimming the bearded stud—whose mouth gets stuffed at the other end by Dakota. Sean fucks JR as both of their balls bounce away. Dakota steps above the bottom to feed the plowing Sean his tool in a hot image, then takes his turn inside JR's ass. With his own boner splayed underneath his legs, JR slurps on the moaning Sean. The trio squirts again, including a white-hot stream from Dakota that coats the bottom's bod. Sean whips his dick on JR's shoulder—then leans in for a final kiss with Dakota.
Scene 4: Logan Scott, Tom Wolfe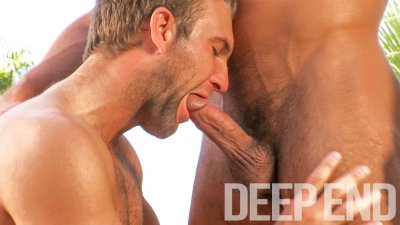 Standing by the pool, scruffy stud Tom Wolfe gets slurped by dark and handsome smoothie Logan Scott. With spit sliding down his shaft, Tom grabs Logan's hair and delivers a steady face fuck as Logan strokes his own boner in excitement. After a kiss—where tall Logan towers over tan Tom, their cocks sliding against each other—Tom deep throats Logan's meat as spit strands dangle from his sac. Tom grinds his hole on Logan's tongue, the two jacking out their loads onto Logan. Tom's abs clench as he squirts, and he whips his dick on Logan's chest before rubbing the cum into it. As night arrives, Tom fucks Logan from behind as the bottom's hot stomach and arm muscles beautifully tighten up while he supports himself on the ledge of the pool. Logan stays hard, the two kissing before the bottom gets on his back. Tom strokes the bottom's stiff slab as he fucks him, propping it up and showing it off in an impressive display. The two lock their hands on Logan's right pec, their connection getting more intense with each thrust. Another kiss is followed by two more loads, their hands still touching as Logan gets soaked.
Scene 5: Jason Diaz, Logan Scott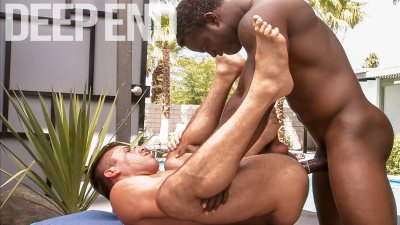 Locked and loaded with their water guns, muscle men Logan Scott and Jason Diaz exchange smiles and squirts in the pool. The two pump their weapons and shoot at each other, their huge bods shining as water cascades down. Dark and handsome Jason finally moves in for a kiss, the two leaving the pool as they lock lips. Jason licks Logan's pit and pecs, working his way down to the stud's wet bulge. Logan's jock cock is soon released, hot side shots capturing the action as Jason's dick-sucking lips pucker around the hard shaft. Jason stands for another kiss, freeing his own huge rod as the two grind against each other. Logan shows off his impressive skills by deepthroating his bud. The two stroke out their loads, Jason's ripped stomach getting even tighter. Logan offers his muscle ass as Jason warms it up with his tongue. The top slides his monster inside, the bottom's forehead clenching as he gets it hard. Soon on his back, Logan takes it like a man, stroking his own stiff meat in a solid sequence. The two stare at each other as Logan comes—the bottom then getting behind Jason to rub his massive back and shoulders as the top fires off a huge load that lands all over his tight abs, a kiss ending their encounter.
Scene 6: David Anthony, Leo Forte
From Blind Spot

Rookie golfer David Anthony sends his ball into the sunbather Leo Forte: "You gonna show me how sorry you really are?" asks the muscular vacationer. David deep throats the shaved-headed stud, gagging as he slurps. Leo returns the favor, worshipping David's huge meat. The sucker opens wide, his nose and lips buried at the base of the thick beast. The spit strands come fast and furious, clinging to David's cock and falling to the ground as the breathless sucker shows off his skill. The two squirt before Leo gets his hole munched, David warming it up as Leo strokes him. The chiseled top slides his dick in, the two staying stiff as low shots capture their banging balls. On his back, Leo gets pounded as his own boner gets stroked, the bottom beating it on David's abs. Leo grabs the top's pec as he gets fucked, two loads soon coating him.
Themes: 3-Way/Spit Roasting, Anal Sex, Muscles, Oral Sex, Outdoors, Rimming, Scenes, TitanMen
Additional Information
Categories: UK R18 / XXX Gay DVD, Bear DVDs
Running Time: 90 mins, Year: 2018
Price: Around £31*
Starring: Jason Diaz, Logan Scott, Sean Stavos, Dario Beck, Hunter Marx, David Anthony, JR Matthews, Dakota Rivers, Adam Killian, Leo Forte, Tom Wolfe, Shay Michaels, Jessy Ares, Justin King
Director: Jasun Mark
Studio: Titan Media / TitanMen
Buy TitanMen Gay DVDs online at: Simply-Adult.com (UK/EU) and TLAVideo (USA)
Video on Demand / Downloads: TitanMedia See also: www.GayVod.co.uk
Official site: Titanmen.com
Country: USA, Language: English
Additional info: No Regional Coding