18 Boys, 7 Awesome Hardcore Scenes
Description/ Review:
MaXXXimus Entertainment is a new label from the famous Dolphin studio, and Fuck Buddies 1 has an amazing eighteen boys in seven awesome hardcore scenes. These seven diverse scenes all share one thing in common - stunning Czech and Eastern European boys with long, uncut, cum-filled cocks. There's nary a weak link here, whether the action is in the bedroom, shower or locker room.
In one of the best pairings, a couple of brown-haired twinks exchange oral favours on a bed before the baby-faced one with long locks begins pounding his friend bareback. They also get into the most unusual position here, with the bottom on his back but with the top facing away from him. His cock pops out, pointing skyward, just before he shoots all over the buns below.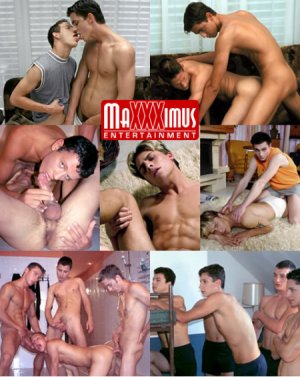 In the locker room scene, a lanky brunet keeps his jockstrap on while fingering himself as a sexy blond spies on him from across the room. Blondie eventually joins in, dining on the tasty ass, and then delivering a punishing standing fuck. The top ends up with a froth of cum on his lips after a load is sprayed across his face and in his mouth.
In the first of two shower fourways, a hot bottom gets rimmed on the floor while he sucks two cocks in front of him. He first straddles a hot cock, and then takes one sidesaddle. In the second four-man shower romp, the boys break into twosomes, with a stunning brunet plowing a blond while standing.
Meanwhile, the other two do it sideways on the floor. Ample cum is again sprayed across cheeks, tongues and chests. Fuck Buddies 1 is an excellent choice for fans of young men - a top-notch batch of scenes filled with great messy facials and built twinks who will keep your dick twitching.