Summary:
Pool Parties: Falcon Four Hours features 12 Speedo-stretching poolside encounters featuring the combined talents of 48 horny and demanding studs. Iconic stars - including Mike Branson, Brad Patton, Jake Andrews and Eric Hanson - drinking up the sun as they indulge in a hot splash of summer sensuality. Don't miss a moment of this sultry dip into desire.

Description / Review:
Scene One- from High Tide Featuring Kyle Becker, Rod Barry, Anthony Shaw, Christopher Scott, Kristian Brooks, Travis Wade, and Jake Andrews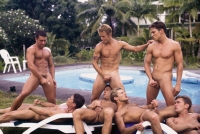 Matthew Anders meets Jeremy Penn's (both in non-sexual roles) buddies lounging poolside-Jake Andrews, Christopher Scott, Travis Wade, Kristian Brooks, Rod Barry, Anthony Shaw, and Kyle Becker-enjoying the sun. Christopher Scott takes on Jake Andrews and Kyle Becker; Kristian tangles with Travis, while Anthony devotes himself to servicing Rod Barry's stiff prick. The scene becomes a frenzied orchestra of male satiation. Jake feeds Christopher a dildo, which he eagerly accepts. Travis stretches Kristian's hole with a buttplug while Rod inches a set of latex balls into Anthony's ass. Anthony groans ecstatically as Rod pulls the toy out... one segment after another. Rod zeroes in on Anthony's ass, pounding it with abandon. Christopher sucks Jake as Kyle fucks him from behind while Travis buries his tool deep in Kristian's hole. The seven studs continue fucking, sucking, stroking and pleasuring themselves until each man-urged on by his lusty mates-forcefully ejects his load, soaking in all the masculine energy.
Scene 2: from Tommy's Tale

Cast: Talvin DeMachio, Chet Roberts, Brad Patton, Clay Foxe, Bobby Williams and Tyler Gunn
Tommy Brandt joins Brad Patton, Tyler Gunn and Bobby Williams along with Chet Roberts, Tal DeMachio and newcomer Clay Foxe poolside as they enjoy the exhilaration of a lusty group encounter. Stiff cocks probe the depths of hungry, eager throats – fingertips find their way between ass-cheeks and over the sculpted contours of their fellows.
Duos and threesomes merge and separate before these lusty studs settle into a line to be rimmed. Finally Brad Patton buries his tool in Tommy's ass and the group surrounds the lusty duo – working themselves into ecstasy and splattering Tommy with their urgent orgasms.
Scene Three- from Splash Shots III
Cast: Matthew Rush, Jason Hawke, Tommy Brandt and Josh Harting
Charlie Moore (in a non-sexual role) warns Matthew Rush, Jason Hawke, Tommy Brandt, and Josh Harting that they're not to fuck around while he's on an errand. No sooner is he gone than the four studs strip their jeans and enjoy a poolside frolic. They turn to erotic play—licking, sucking, stroking and probing, making their way over each other, enjoying the heat, the flesh, stiff cocks, and puckered assholes. No cock remains unburied for long... each finding its way into an eager mouth or quivering asshole…until finally the lusty participants spill pools of gratification.

Scene Four- from Current Affairs
Featuring Mike Branson and Kyle Becker
Kyle Becker describes lying poolside next to the tanned Herculean form of Mike Branson. Enamored with the provocative bulge in Mike's speedos, Kyle attempts a furtive peak…awakening the sleeping giant who quickly recognizes Kyle's intent and has his own erotic agenda. Mike invites Kyle to take a peek and he eagerly accepts the invitation, freeing Mike's huge thick cock from the tricot trappings. Kyle hungrily sucks Mike's cock-filling his mouth with the bulbous head; sliding his tongue up and down the engorged shaft-burying Mike's tool deep in his own throat. The rippled sunbathers slip off their suits and stroke their rigid cocks. They engage in a bit of swordplay, slapping their dicks against each other before Kyle kneels and offers his firm round ass for Mike's enjoyment. Mike massages Kyle's hole—opening him up in preparation for the inevitable and much anticipated fucking to come. Kyle begs Mike for his cock. Mike eases it in, then delivers his tool with rhythmic, ever-quickening thrusts as he plows Kyle's hungry hole. The sun beats down as the men become lost in their erotic play. The more they play, the more they want. Mike reclines and Kyle eagerly settles down onto his erect cock, working himself into a frenzy and finally spilling his load over Mike's chiseled abs. In a moment, Mike's own ivory fountain completes the pool and the two satisfied men heave a sigh of release.
Scene Five- from Mercury Rising Featuring Eric Hanson, Noel Hardwick and Nick Ford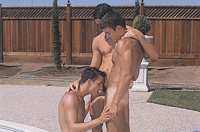 While on his way to pay for the car, Travis Wade (in a non-sexual role) spots a heated threesome by the pool. Eric Hanson has his cock at full mast, shoving it into the mouth of Nick Ford, who also fits in handsome Noel Hardwick's piece. Ford then takes turns getting fucked by his friends.

Scene Six- from Snap Shots
Cast: Brett Michaels, Anthony LaFont and Tristan Paris
As Brett Michaels, Anthony LaFont and Tristan Paris sunbathe poolside, their cocks begin to stretch their trunks. Seeing all that wood gets these boys stroking hard…and soon every stiff cock is on display. Tristan positions himself between Brett and Anthony and sucks their cocks... tearing up as the hard pricks bury themselves deep in his throat. As the men heat up, they each take a turn pleasuring each other... sucking a little... rimming a little…stroking a little. Like sexual contortionists they group and regroup affording the best access to hard cocks and tight holes. When they've exhausted a multitude of positions and pounded many holes hard these sun-soaked men shoot streams of satisfaction all over each other.
Scene Seven- from The Farmer's Son Featuring Zackary Pierce, Steve Boston and Patrick Fisher
Zackary Pierce, Steve Boston and Patrick Fisher take a dip in the pool out back — without their bathing suits. Jessie begs Erik Rhodes (both in non-sexual roles) to join them, but he wisely refuses. Jessie goes after him, leaving Zackary, Steve and Patrick to their own devices and in no time the three quickly begin having sex, culminating in an impressive double-penetration and generous cumshots all around.

Scene Eight- from Man Made
Cast: Joe Sport and Marc Williams
It's time to cool down with a dip in the pool, where Speedo-clad Joe Sport submits to buff Marc Williams' huge cock.
Scene Nine- from Soaked Featuring Kevin Miles, Brett Ford, Noel Hardwick and Michael Crawford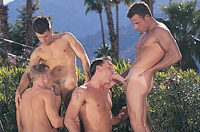 Three towering scuplted specimens of masculine perfection – Noel Hardwick, Kevin Miles and Brett Ford – are soon joined by a fourth stud – Michael Crawford – hungry for their huge cocks and balls; tight asses ripe for action; mouths and tongues sucking and fucking; rimming hungry assholes; fingers and holes; tongues and holes. The music beats on and on.
Scene 10: - from Manhandlers
Cast: Jordan West, Jeremy Penn, Bryan Williams, Eric Stone and Jeff Palmer
Buds Jordan West and Bryan Williams arrange for all of their repairmen to arrive at the same time, and the poolside work soon turns into a five-man orgy that has the two servicing their help. Jeff Palmer's cock explodes across the screen, while Jeremy Penn and Eric Stone join him in topping their bosses. Also features a hot rim chain with all five men, and memorable squirts.
Scene Eleven- from Home Grown Featuring Phil Bradley, Tyler Scott and Brandon West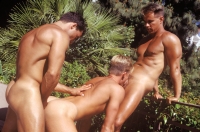 Magical mystery men Tyler Scott, Brandon West and Phil Bradley make the most of their hot bodies while the gardener is away. They work themselves into a frenzy and test the limits of their flesh under a smiling sun... this is a whole new erotic take on the story of Jack and his magic beans.

Scene Twelve- from Summer Reunion (Jocks Studio)
Featuring Colby Taylor, Brad Devlyn, Kyle Becker, Kristian Brooks, Brennan Foster, Joey Hart and Eric Hanson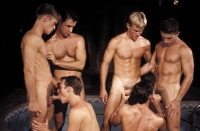 Finally, Brad Devlyn and Kyle Becker discuss the misdeeds of the past. Kyle apologizes for forcing himself onto Brad back in High School. Kyle suggests they find a way to make up, and the two horny studs are in luck, as Brennan Foster, Colby Taylor, Joey Hart and Kristian Brooks are engaged in a poolside session of speedo stretching and cock-sucking. Colby and Brennan face each other as Joey and Kristian eagerly suck their cocks... the two lusty studs exchange complicit smiles as Joey and Kristian worship their hard pricks. Brad and Kyle enter the fray, each apportioning himself to either Colby or Brennan, before the groups merges into one solid center of cock-sucking and frenetic sensuality. Each man slurps or feeds or teases or tastes as the others enjoy the heat. They settle into a line of languid cocksucking... spanning the length of the pool with their oral daisy chain. Then the men get on their hands and knees as Brad and Joey rim their tight holes one by one. Finally Eric Hanson joins the team... giving Brad first suck on his beautiful cock. As the group gives in to lust, cocks find the depths of asses and throats with a frenzy of passion. Blond Brennan fellates Eric and Kristian at the same time... and trains get pulled. Finally each man strokes himself to orgasm as his fellow alums enjoy the view of thick fountains of cum all around.