Summary:
Wrestle HARD. 2 dry regular wrestles and 2 wet wrestles. Getting the pool out we start with a good old-fashioned lube wrestle, you'll have fun watching the guys slip and slide over one another. Slightly more unconventional is our blue and red gunge wrestle which very quickly turns into purple! The guys end up absolutely covered! The dry wrestles are not so dry after all, sweat and oil make it just that little bit more difficult to grab and throw, more fun for viewing!
Scene 1: Anthony Naylor and Timmy Treasure
It's red vs blue and Anthony vs Timmy in Round 1. The boys are pumped up and ready to get it on. Squaring up and going to the floor, foreheads pressed together and arms around the back of each others neck, they stare each other down before something snaps, the red mist descends, everything tightens and they start to throw each other around. Crotches are grabbed, bums get slapped and forced rimming submission holds… we know where this is going. Anthony seems to have won this one though he's tenting in his suit, there's something big in there that has a battle of it's own to fight!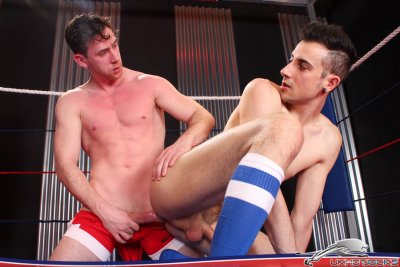 Timmy is pinned down though not complaining. He's face to boner-bulge and gives the material covering Anthony's dick some attention, soaking him through. He springs out his massive skyward pointing 8" cock and rubs it in Timmy's face, forced sucking and press-up position skull fucking, he means business! Letting Timmy up and taking the singlet straps down Anthony goes down to suck his dick. In a squat/go/ready position Timmy arches back onto Anthony's big dick, giving him the option to take control and ride him, or lose it and get fucked stupid! Naturally we see a bit of both, Anthony's slick cock plunging deep in and out of Timmy's tight and smooth fuck hole, grabbing his waist for stability and power.
Flip time! Anthony bends his sweet and oh-so-perfect bubble butt over, face on the floor and lets Timmy plunge his cock into him in a very open view position, this is deep fucking! Timmy ploughs into Anthony, really taking back control and giving as good as he got. Pulling out He shoots a creamy load over his smooth butt, dripping down the singlet on onto the play mats. Standing up Anthony builds up and sprays Timmy's willing face in jets of his thick spunk.
Scene 2: James Castle and Nathan Raider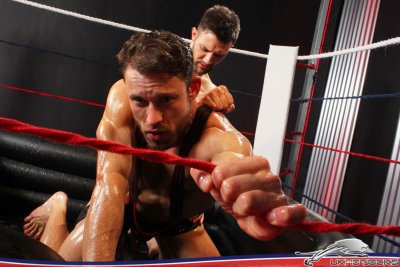 Both competitors in matching shiny black wrestling singlet's, arses cut out of the suits, not leaving much to the imagination or much to grab onto! James Castle and Nathan Raider are pitted against each other and there's a new addition to the ring, a big black pool. Both boys eye each other up and slowly step their way into the pool and get on to their knees. Hands go to the floor of the pool and scoop up a surprise inch deep layer of lube! So, they lube up! Rubbing over chest, arms and legs they make sure they're thoroughly covered, even helping each other out by doing each others backs and just instigating horniness in this already horny situation. Slicked up and ready they go head to head, waiting for one of them to make the first move. James is being intimidating, shoving him and trying to make him start, they both end up in a lock and immediately flipped over. The guys slip and slide all over one another, finding it hard to get a grip or take control, fun to watch though! The boys are clearly enjoying it too, both have obvious boners in their suits, Nathan can't even keep his hidden below the waistline. Poking out the top just begging to be sucked, so James does.
Taking his full length in his mouth again and again, Nathan is rock solid, his hand slipping down the back of James's singlet and playing with his hole. James stands up to let Nathan suck him off too, peeling the lube soaked straps of his singlet down and rubbing his own slicked up body in pleasure. Getting back on all fours James prepares his arse for a solid fucking, lube anyone? Oh wait, they're covered in the stuff! Nathan slowly pushes his massive cock into his tight tanned arse., building up to a hard and veracious pace, showing him no mercy! James groans deeply, and makes loads of noise, not surprising with the size of the cock he's taking up his arse! Slipping over into their sides in a half spoon position, Nathan can easily slide back and forth in all that lube, pounding him form a different angle, James's perfect body glistening with every thrust. Hopping on top of Nathans thick dick and riding him hard, James awesome back tattoo looking hot, all shiny and wet. Nathan holds him up and thrusts the fuck into him, taking back control and pounding the cum out of him!
Scene 3: Theo Reid and Brute Club
Yellow vs Red and Brute vs Theo. Both guys are in matching style wrestling singlet's but in opposing colours, Theo Reid in a white and red, Brute Club in Black and Yellow. Both guys look sexy as fuck, the singlet's are more like shorts with straps attached, they don't leave much to the imagination! The guys are psyching each other out right from the start, Theo keeping his body warm by bouncing up and down, Brute gives him that steely stare that he does so well, you know he means business. Squaring up, sizing up before bursting out into a double headlock and taking each other to the floor. This feels like a real power battle, both guys are pretty evenly matched in height and size and control of the floor flips both ways a lot. They really go for it, throws, grappling and pinning each other down, which they're definitely both enjoying. Theo is on top of Brute and in a moment of tense hesitation they almost kiss, Brute flips him over into the same position and takes a final charge and snogs his face off! Crotches rub and grind together, Brute is too hard to keep his giant dick in his suit anymore, so gets it out and straight into Theo's mouth. He takes his time and gets Brute to the point of bursting with excitement, licking his balls and up each side of his long and chunky cock before taking as much of hit as he can down his throat.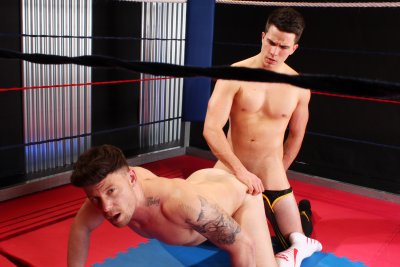 Brute is laid down at first enjoying his cock being worshiped, the he gets up, his fully super-hard dick standing proud, glistening and still being sucked on. In another wrestling move, keeping it all aggressive Brute flips Theo onto his back and tears off his singlet, pushes his legs back and delves into his ass, tongie and fingers, slapping his butt cheeks and warming up his hole for the monster cock that's about to come. Preparing to fuck, brute smacks his dick on his hole, getting the blood pumping even further, he slides in, Theo gasping and grimacing before accepting his cock and fucking loving it! Using Theo's leg as a lever he fucks into him, hard. Getting onto his hands and knees Theo prepares to take his cock doggy style, pretty intense when 9" comes at you! Pounding the fuck out of him and making him moan louder than ever, both guys glimmering in sweat.
Another wrestle flip and Theo is back on top, squatting on his cock, taking him balls deep and riding him like he's trying to get the cum out of him. Rocking back and forth Theo jerks his cock until he explodes all over Brute. Pushing him off, cum covered Brute wanks off over Theo's open mouth, spunking a huge load over his face and in his gob, taking the time to go down and share a cummy kiss with him. Beautiful finish guys!
Scene 4: JP Dubois and Riley Tess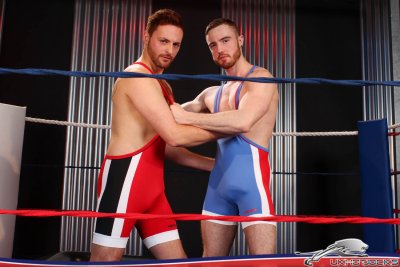 It's Red vs Blue, with JP Dubois in the blue corner in a blue wrestling singlet and Riley Tess in the Red corner and corresponding gear. Riley is giving JP a full on grimace, looking meaner than any wrestler before him. JP looks clam, determined and ready to take him on. Between them lies a big black pool, filled with evenly distributed and perfectly split, brightly coloured red and blue gunge! Red on one half and blue on the other. This is going to get messy and I mean REALLY messy! The guys carefully step in to the pool, taking care not to slip over, JP nearly topples on the first step, must be slippy stuff! Down to their knees, lowering the centre of gravity and the chances of falling over, they lock into position, hands around the back of each other's neck , one on the waist, foreheads pressed together, eyes fixed to eyes and deadly serious. Serious, even though this will probably be the most fun wrestle we've seen yet, there's no way they will keep a straight face when they go over! Everything tightens up and they start to struggle. JP is the first to go over, getting his back covered.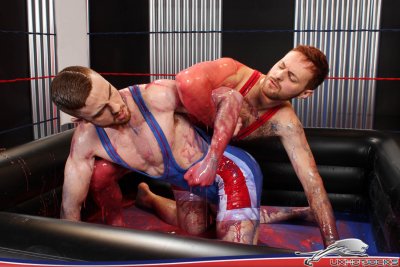 They grapple around getting a light coating of the colourful stuff, JP's perfect bubble butt looks exceptional covered in bright shiny stuff, we can tell why he likes rubber gear so much! Riley gets a few splats to the face, somehow! Within the first minute both guys are completely covered in gunk and crisp blue and red has very quickly turned into purple! Head to toe, hair, the lot. The wrestle goes on, though the guys just have no grip whatsoever, it's a real struggle and both guys are getting out of breath. You can tell they're having fun, lots of laughs, smiles and plenty of crotch grabbing and arse slapping to boot! Panting turns into a lustful and extremely sloppy, gunge dripping kiss. They have fun turning grabbing and grappling each others bodies into a horny and sloppy feel-up, well everything feels better when it's lubed up! Singlet and slime covered boners get released, Riley is first to go down on JP's big cock, hands running up his ripped gunge covered body, the purple goo sinking into all his defined bits. Riley sucks him for all he's worth, deep throating and showing off his skills. JP's turn and he tries to make the scene filthier than it already is, spitting gunge all over his dick before sucking it off, choking and gagging while he deep throats, which is only turning him on more. Peeling the soaking singlet off Riley and bending him over he smothers his back in the gunk, rubbing it over his arse before he fucks him.
Sliding his big dick up his hole, Riley moans with total pleasure, he's a big boy but that's how Riley likes it! Banging and slapping away, grunting and splashing in a sea of gunge, this is hot and wet stuff! JP gets onto his back and a dripping Riley straddles him, sitting down deep on his fat cock and starts to ride him. The gunge dripping down and splashing with every bounce and thrust. JP's abs crunched up hard as he tried to stay in control and in position, they lock eyes once again with intense dirty passion, kissing and bringing Riley close to the edge. He shoots hard over JP's tight muscular body, only adding to his already messy skin. Pushing Riley over JP stands over him and wanks his cock furiously, shooting all over his's hairy body. Well, they were already messy as fuck!