Summary:
Fresh from the first round of gooey, greased-up fornication, another batch of well-oiled fuckers enjoy a further session of naked wrestling for your well-oiled entertainment; including Florian Mraz, Nick Vargas, the super-hung Milan Sharp and up-and-cumming star, Tony Conrad. Like all sports, it's a predictable format, but with these kind of lubed physiques on offer and the prospect of yet more copious sprays of pent-up jizz to enjoy who's gonna be complaining? Once again, it's a definite must-see for all who like their sex on the wild and wet side!
Scene 1: Wrestling Buddies Oil Down For An Arse-Pounding Fuck-Fest!
Starring: Martin Muse, Tony Conrad
Also available: Sporting Monsters (2 DVD Compilation)
When you're presented with a couple of gorgeous, cock-hungry twinks like Tony Conrad and Martin Muse, you seriously wonder whether you need any gimmicks to enhance the performance. After all, these are the kind of lads that pretty much all of us could comfortably watch stroking solo in an empty room! Never ones to skip enhancing the show, however, we decided to provide these two hyper-horny beauties with a small paddling pool and a bottle of body-oil – and boy did they come up trumps in the asking! Indeed, we doubt there's any of our stalwart fans who won't be reaching for their zipper right from the off, as the two buddies gently make out on their bed. All that, however, is but a passive introduction to the main action to come; as both lads head straight into the pool for a hot, sticky session of play-wrestling.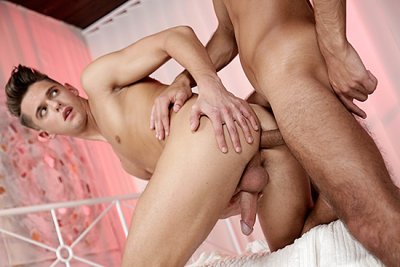 Now über hard and horny, they then promptly head back to bed to strip out of their costumes and to get down to the serious business in hand – or, to put it more precisely, in mouth! Indeed, these two lads suck dick like it's what they were born for; before continuing to rub their ramrods together frottage-style, then playing with each other's asses.
By this point you'll no doubt be feverishly wanking away and probably won't give a fuck as to which of these lads ultimately surrenders his arse to the other; but in the end it's Muse who gets the pleasure of sinking balls-deep into Conrad, which marks the start of a terrific set-piece, culminating in both boys squirting copious quantities of jizz all over the place. In short, totally and utterly ball-draining!
Scene 2: Weight-Pushing Fuck-Buds Take A Slippery, Cum-Soaked Ride!
Starring: Nick Vargas and Tony Conrad
Also available: Athletic Ass Bangers (6 Scene compilation)
You only have to take one passing glance at Nick Vargas to realise that he's no stranger to physical exercise – a man who heads out to the gym to push some weights having already spent a sweaty hour or two fine-tuning his martial expertise. Not that you'd really expect anything less from a STAXUS model, of course; and meantime young Tony Conrad is clearly keen to emulate his pal's habits by lifting dumbbells in an effort to pump his guns. In short, these two mates are at the peak of youthful fitness – a fact that director, John Smith, uses to the fullest measure here by pitching them together in an oiled-up wrestling contest.
That in itself is a veritable marvel to behold – their greased, handsome bodies rubbing against each other, literally igniting the room with erotic tension in the process. But of course it's what happens between these two mates when the action finally turns decidedly sexualised that will interest most viewers; with Vargas quickly feasting on Conrad's now swollen shaft, before the roles are then switched in a bid to return the compliment.
It doesn't really take much of an expert to realise who's going to be top and who's going to be bottom, of course; but that doesn't detract from the sight of Vargas finally taking full mastery of the situation by stretching the youngster's arse with his fingers, before burying his shaft deep into the gaping hole. Nor, for that matter, will there be many who are able to resist the sight of Conrad creaming mid-fuck, whilst Vargas spurts his wad on his pal's pucker. All in all, an unquestionably sporty, spunky classic!
Scene 3: Horny Greased-Up Buddies Wrestle Down To A Full-On Raw Fuck!
Starring: Florian Mraz, Joshua Levy
Also available: Naked Beauty, Sexual Overdose
Also available: Athletic Ass Bangers 2 (Compilation)
We're not totally convinced that the opening action is quite as dramatic as the music suggests, but there's certainly no denying that watching Joshua Levy and Florian Mraz as they play-wrestle together is a homoerotic dream-cum-true. Beginning outdoors, before heading for an indoor romp, these two greased-up beauties put in their very all as they slip and slide around the screen; until in the end, exhausted from their tussling, they collapse into an exhausted heap on the floor. It's at this point that you could very easily be left wondering whether either of these buddies actually now has the energy to lead the action to a more sexualised state; but we've a sneaking suspicion that both these lads are of an age and disposition to always pull a top-notch fuck-fest out of nowhere, and so it proves!
Indeed, it's no time at all before both fellows are rubbing their badly swollen dicks against each other – which is a treat in itself, of course, but which only seems all the more intense with the additional factor of body oil. Not that either of these boys – or, for that matter, any of us fans! – are ever going to be the content with frottage. So it comes as something as a relief to everybody concerned when Levy finally breaches Mraz's last remaining barrier and slips his gorgeously oversized shaft deep inside his pal's hungry little ass-hole. Needless to say the ensuing fuck is a pure pleasure to behold, with Mraz characteristically enjoying every inch on offer. Little wonder that the young slut is soon squirting energetically mid-fuck; before Levy calls it a day by creaming his red raw hole!
Scene 4: Big Cocked Fucker Gets Fucked In All Holes By A Big Oily Cock!
Starring: Joshua Levy, Milan Sharp
Anyone who didn't know him better would honestly think that butter wouldn't so much as melt in his mouth, but we've already seen enough of horny newcomer, Joshua Levy, to realise that he's one hot little fucker. What's more, give him a bottle of oil and he seems to get even more hyped up – as quickly becomes apparent here. Fact is he's a lad who's completely in tune with his body and the pleasure that it can give him; and the addition of a little bit of lubricant serves only to take his antics into the stratosphere. Fuck man, he simply can't leave that handsome ramrod of his alone; and it's little wonder that he's soon living out the fantasy of a romp on the sofa with horse-hung favourite, Milan Sharp. That said, it's clearly Levy's knob that's the focal-point in this encounter, with Sharp promptly kicking off by eagerly savouring every inch of hard flesh that the fellow can muster.
In fairness, Levy subsequently replicates the favour; but there's simply no denying the fact that Sharp is hyped up to the max here and won't be truly satisfied until he's riding Levy's schlong for all it's worth. Suffice it to say that the introduction of a little oil to Sharp's hungry hole only serves to ratchet up the tension even further, and it's almost with palpable relief that he finally surrenders his pucker to his incorrigible buddy. Cue a truly terrific fuck session that sees Sharp act out his inner bitch; before nature finally gets the better of him and he squirts an almost unholy wad of spunk over his belly. That just leaves Sharp the task of providing an open mouth for Levy's own eruption!