Summary:
It's the aim of the game – to get the ball into the back of the net! But for these horse-hung, over-sexed footballers, that's not the only goal here. In fact, their game-plan seems to hinge upon getting their cocks into each other's holes and the contents of their cum-sacs into each other's faces! Spanish dick-magnet, Ruben Bart, leads an all-star cast – including horny compatriot, David Sky, and donkey-dicked favourite, Jace Reed – as the best shooters in the porn-league get ready to jump out of their kits and straight into each other's hungry asses!
Scene 1: Cute Blond Gets His Ass-Hole Worked Over By Horny Team-mate!
Starring: Nick Vargas, Ruben Bart
Also available: Big Boys Don't Cry (2 DVD Compilation)
There's no hanging about for young Spaniard, Ruben Bart, when his team-mate, Nick Vargas, enters the changing-room – but then would you really have ever expected anything different? In his short time with STAXUS, the horny blond wonder has already very eagerly demonstrated his lust for other guys; and suffice it to say that he shows absolutely no resistance when the hunky Czech makes a bee-line for his football shorts and (more importantly) its contents! Not that there would really seem to be any point resisting a fellow like Vargas, who comes across as a man who doesn't readily accept no for an answer.
But Bart is most definitely ripe for the picking; and by the time the stud has worked his magic on his mate's shaft, slurping away like an old pro as well as taking time to dock their cocks together in a bit of foreskin play, the cute little twink is like putty in his big, manly hands. Cue a tremendous session of animalistic 69-ing on one of the benches; before Vargas takes aim at his buddy's ass-hole with his thick, meaty member, thrusting every generous inch deep inside the hairless hole. It's a move that promptly pushes Bart to a whole new level of aggressive bottoming, which includes sitting on Vargas's shaft and riding it like the filthy little whore he was always meant to be.
There aren't gonna be many folks who can sit through this spectacle unaffected – not least of all given the way these lads provocatively keep their socks and boots on throughout – and by the time Bart has creamed himself mid-fuck and Vargas has knocked out his thick, pent-up load onto the fresh-faced pup's lips, we're sure you'll be very well drained!

Scene 2: Team-Mates Take On A Spunky Locker-Room Flip-Flopping Fuck!
Starring: David Sky, Xavier Sibley
Also available: Young, Dumb & Splattered In Cum (6 Scene Compilation DVD)
One glance at his diminutive body tells you that young David Sky isn't ever gonna be a major threat to the regular studs in the Bundesliga or La Liga, but there's still a certain charm to the petite Spaniard as he struts his footballing credentials with Xavier Sibley at the start of this terrific locker-room duo. A charm that's only intensified by the contrast in physiques between these two fellows; with Sky clearly inches shorter than his French counterpart, who you almost suspect could easily scoop Sky up in his arms and throw to one side like one of the balls they're playing with!
Don't fall under the illusion that this sweet little coupling is all about Sibley fucking the living daylights out of his slightly framed friend, however. Truth is that that's only half the story. For having both engaged in a fine session of cock-sucking, and then having had Sibley pound away at Sky's ass over a desk – the two lads still both donning their fashionable underwear throughout! – the roles are promptly (and perhaps unexpectedly) reversed.
As a result, new-boy Sibley finds himself down on the floor with his legs splayed in the air, with only a blanket beneath him and Sky's surprisingly generous ass-pucker bearing down on his arse from above! Little wonder that the lad can't contain himself as his mate massages his prostrate with his cock – squirting out a fine load of teen-goo as a result. Seconds later and Sibley's face is getting squirted over thanks to the same shaft that's just buggered him raw; leaving this team-effort a definite score-draw, with both parties nicely drained!

Scene 3: Two Spanish Soccer Stars Suck Hard Cock & Take It Up The Arse!
Starring: David Sky, Ruben Bart
Also available: Hard Ride (Compilation)
Neither Ruben Bart nor David Sky are in the mood for foreplay – at least if the start of this terrific changing-room duo is anything to go by! These two totally stark-bollock naked cuties quite literally hit the ground running right from the off, kissing and smooching like a pair of over-sexed banshees; before quickly engaging in some very satisfying fellatio. Then again, given the quality of cock on offer here it really should come as no surprise at all that both lads are so horned-up. Sky, as diminutive as ever, lacks nothing in terms of the size of his manhood; whilst his compatriot boasts the kind of handsome butt-picker that pretty much all of us could munch on for hours on end!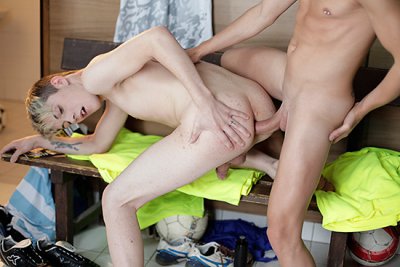 As it is, however, these boys have clearly got to get a move-on before their team-mates get back; which may in part explain the urgency with which Bart is soon rimming Sky's pert little ass, before Sky returns the favour and first tongues and then fingers his mate's fuck-hole! By this point, of course, you'll have probably guessed whose pucker is gonna get stretched; and needless to say it's no time at all before Sky is ramming his thick, swollen shaft into Bart's rump from behind.
It's a move that, not unnaturally, raises the sexual tension into the stratosphere; with Bart soon switching positions so that he can ride his buddy cowboy-style, savouring every single aching inch of Sky in the process. A further positioning sees him buggered on his back, legs akimbo – at which point he dumps his wad! That just leaves Sky to generously cream all over his pal's face to call it a wrap!
Scene 4: Hyper-Horned-Up Soccer Twink Gets A Monster Cock Pounding!
Starring: Jace Reed, Xavier Sibley
Also available: Mega Cocked, Mega Loaded Compilation
Also available: As Big As They Cum (2 DVD Compilation)
Also available: Hard Ride (Compilation)

All that hard work out on the football pitch has clearly left young Xavier Sibley feeling mega-horny – so much so that his team-mate, Jace Reed, actually walks in on the fellow feeling himself up in his kit in the changing rooms. At this point, of course, it'd be more than understandable if Reed chastised the horny little soccer star for bringing the game into disrepute.
As it happens, however, Reed does exactly what we've all long since grown to know and expect from him – immediately making a beeline for his co-star's cock, whilst exposing his own oversized ramrod in anticipation of a rampant session of hardcore sex. Needless to report, before you know it both these gorgeous guys are stark-bollock naked and taking it in turns to feast on all the many inches of hard dick that's on offer; with Sibley in particular making the very most of the generous shaft that Reed has stashed between his legs. A sentiment that continues down on the floor, when both chaps engage in a hot and sweaty 69-ing session; until Sibley's insatiable appetite for his buddy's raw schlong gets the better of him, and he parts his legs to take the full, exposed length in his guts!
It's really not at all surprising that the boy should quite literally grit his teeth as his tight but very hungry ass begins to accommodate its new guest; but those first moments of discomfort are soon rewarded with an uncompromising pounding that Sibley will remember for a long, long time, and which (after umpteen positions) finally concludes with the lad having the jizz literally pummelled out of him. Leaving Reed to work his own unbelievably proportioned pole into a creamy crescendo!
Themes: 69, Bareback, Blond haired, Dark haired, Fingering, Locker room, Shaved, Sports, Twinks (18+), Uncut cocks